Festa Major de Gràcia 2017
Gracia Festival Barcelona - street party
Festa Gracia Dates:
Tuesday 15th August to Monday 21st August 2017
Opening times:
Weekdays until 02.00 - Friday and Saturday until 03.30
Location:
Gracia district of Barcelona
Map Gracia Festival
Hotels:
Hotels near Gracia Festival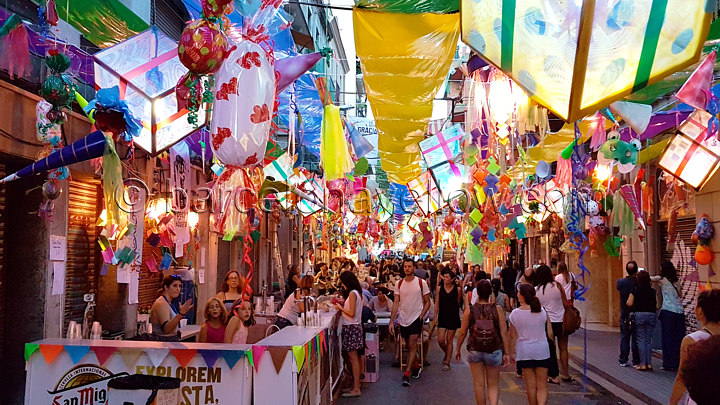 Festa Major de Gràcia 2017 - Gracia Festival. The biggest street festival in Barcelona is the Gracia festival every year in mid August called the Festa Major de Gracia and also often called the Fiestas de Gracia.The Festa Major de Gracia dates are always the 15th August to 21st August. Basically it´s a street festival that takes place in the older part of the Gracia district in Barcelona. Around 17 streets are decorate by the residents. There are hundreds of activities most of which are for local residents, but tourists and visitors are welcome to the concerts and parades. The Festa de Gracia is about Catalan traditions like parades, giants, castle building and fireruns, but most of all it is a shining example of community spirit which also has welcomes visitors. It´s authentic, fun, joyous, colourful festive and definately worth a visit!


Map streets Festa de Gracia 2017

Calendar Festa Major de Gracia 2017 (in Catalan)
PDF programme Festa Major de Gracia 2017
Twitter Festa de Gracia
Android App Festa Major de Gracia
Apple Iphone App Festa de Gracia
PICTURES Festa Major de Gràcia

About Festa Major de Gràcia 2017
Festa Major de Gracia street festival in Barcelona. The Gracia festival is the biggest of Barcelona's neighbourhood street festivals. About one and a half million people visit the Gracia Festival, which opens in 2017 on 15th August for the 200th edition. The Gracia festival is a street festival which takes place streets and some plazas in the Gracia area of Barcelona every year from 15th to 21st August. 15th August is a public holiday in Spain called
Assumption Day
.
The Gracia festival features a big and varied programme with more than over 500 big and small activities. Over 300 of them are for families and children and many are especially for local residents. Visitors can also enjoy many outdoor free concerts. This popular festival is organised for and by neighbours and families in Gracia, but visitors are very welcome. Around 18 to 20 streets and plazas are decorated by the residents and you can experience many wonderful Catalan traditions in a full programme of parades, concerts and activities that will fill the streets of Gracia every night during the festival. Each year there is a contest to design a new festive Gracia Festival poster which is used as the festival logo and T-shirt.
Guide Gracia Festival highlights
Hotels near Gracia Festival Barcelona
Map location Gracia Festival
It is easy to find the Gracia area of Barcelona. From the centre of Barcelona it is a 15 to 20 minute walk up the Passeig de Gracia street from Plaza Catalunya square. Passeig de Gracia means road to Gracia and the name comes from the time when Gracia was a separate village from Barcelona. Most of the Gracia Festival is in the area of Gracia called 'Vila de Gracia' marked on the map below.
If you take a taxi, then the taxi driver will probably drop you on on the edge of the festival area and then you just walk in. There are maps of the festival plazas and streets in many places and in the programmes which you can get free at many stands. If you take the metro then take the green line metro to one of these three metro stations near the Gracia Festival: Fontana green L3, Diagonal green L3 or Joanic yellow L4 (see
Barcelona metro map
)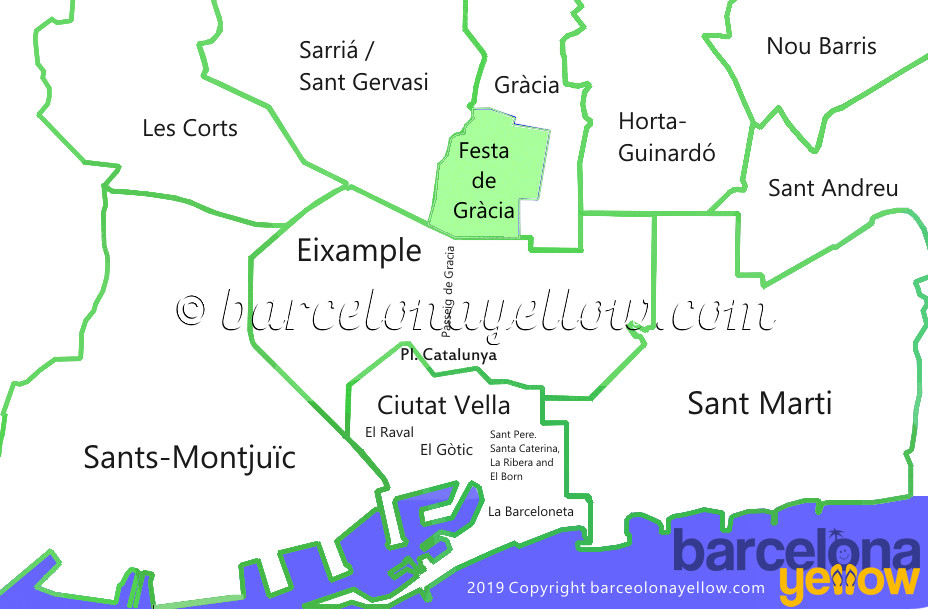 About Gràcia district /barrio
Gràcia is a district of the city of Barcelona above Eixample to the south and sandwhiched between Sarrià-Sant Gervasi to the west and Horta-Guinardó to the east. The district contains the neighborhoods barris of of Vallcarca, Penitents, El Coll, La Salut and Camp d'en Grassot. Gràcia is bordered by the districts of Eixample to the south, Around 120,000 people live in Gracia.
The name Gràcia originates from a Carmelite convent dating back to 17 de gener de 1626 1626 called 'Nostra Senyora de Gràcia -Our Lady of Graca' Until 1897 Vila de Gràcia was a separate village and municipality from Barcelona city. To get through the fields from Barcelona to Gracia you traveled on the road called
Passeig de Gracia
, the passage to Gràcia. This road still has the same name to this day and is Barcelonas most exclusive shopping street.
In 1897 Gracia village was annexed to Barcelona and as the city expanded Gracia became surrounded, but remained largely intact, which explains why oldest barrio of Vila de Gràcia still has plenty of old world charm despite being in the middle of a modern city like Barcelona. It's this special atmosphere of Gracia that makes it a popular residential area for locals and foreigners. About 50.000 people live in the quaint narrow streets of Vila de Gracia.
Gracia has plenty of narrow streets and lots of charming plazas and an independant and local feel. There are no big tourist attractions which means that tourist buses, street artists and fast food chains have not taken over the streets of Gracia leaving space for the residents to weave a neighbourhood tapestry of bohemian and artistic shops, cafes and restaurants. For food and shopping in Barcelona it is worth a visit. The most popular street in Gracia to stroll down is Carrer de Verdi, which is sort of the "rambla" of Gràcia with many charming small shops and restaurants.
The only time when the really tourists visit Gracia in their thousands is during the annual Festa Major de Gracia. This event in centred in the Vila de Gracia - the village of Gracia. Usually around 55.000 people live in the Gracia area, but during the
Festa de Gracia
street party week over half a million visitors drop in for a drink and a stroll. Thanks largely in part to the special nature of the Gracia neighbourhood and its surroundings, the Festa Major de Gracia has grown to be the most popular and largest neighbourhood festival in Barcelona, only surpassed in size and visitor numbers by the Barcelona
Merce festival,
which is in September every year.
Tweet about this event

Barcelona Events Calendar
© Copyright Barcelonayellow.com
Do not copy from this page without permission
All rights reserved