There are 14 alpine ski resorts near Barcelona in the Catalan and French Pyrenees mountains. The closest are ski stations of La Molina, La Masella and Port del Comte are in Spain and just 2 hours by car or train from Barcelona.

Andorra is a separate country bordered by Spain and France and near Barcelona. There are two big ski areas in Andorra, which are also near Barcelona, called Grandvalira

and

Vallnord

. The driving times for skiing from Barcelona to these resorts vary from just 2 hours to 3 hours. The biggest and best ski resort near Barcelona is

Baqueira-Beret ski resort,

which is just over 4 hours by car from Barcelona.





Generally the skiing resorts close to Barcelona have great snow, uncrowded pistes and short lift
. The Eastern pyrenees have 300 days of sunshine a year so when the snow has fallen generally the weather is sunny and nice for skiing. Prices are comparable to the Alps or a bit cheaper. The Spanish resorts have high altitudes and a low tree line, so there are many free ride trails and off piste runs to enjoy. Another benefit of skiing in the Pyrenees is that the pistes are much less crowded, so no morning lift queues.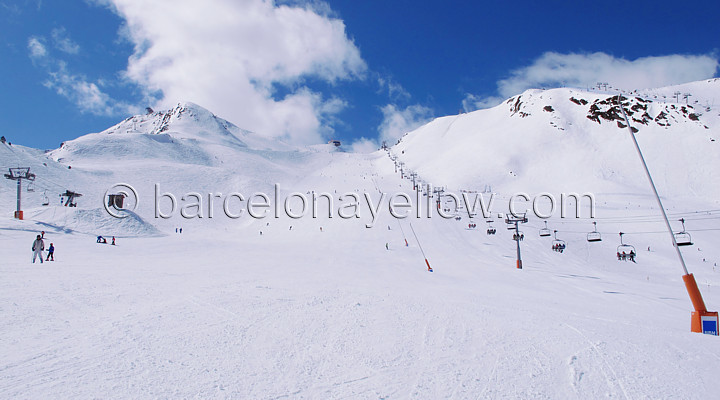 The after-ski scene is generally much quieter than the Alps. This makes skiing in Spain perfect for beginners, families and serious skiers. If you want a lively apres-ski scene, then the Andorran resorts are probably your best bet with many UK skiers and a lively nightlife scene, particulary in Pas de la Casa, which is in the Grand Valira area. Be aware that smoking is oddly enough still allowed in most bars and restaurants in Andorra, so while the skiing is good the after-ski can be cloudy!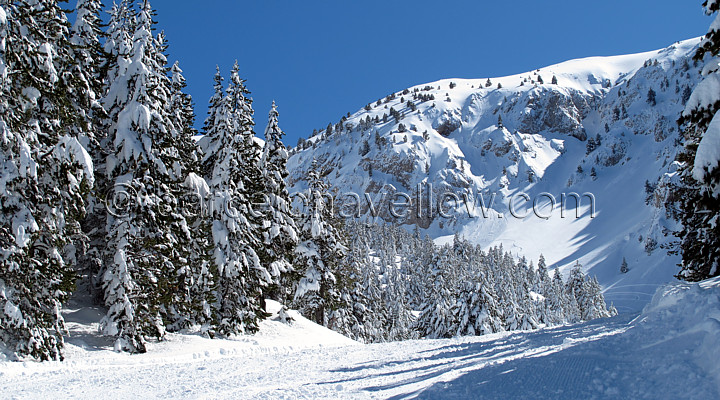 The ski season in Barcelona starts at end of November if there is enough snow. Generally many ski resorts near Barcelona are open before Christmas and many hope to be open in late November in preparation for the December "puente" public holidays in Spain on 6th and 8th December, so if you want some early skiing, then check our ski resort listings to see when the ski lifts are open and how many ski lifts are operational. All the big resorts have snow cannons throughout the resort, so you can still go skiing, even if the fields on each side of the piste are sometimes bare.

Closest ski resorts to Barcelona
The ski stations of La Molina, La Masella
Useful Barcelona skiing websites
For Barcelona residents looking for 1 day skiing trips or weekend skiing trips near Barcelona that include ski-pass hotel and transport, the best option is often to visit Spanish travel agents. They offer daytrips and weekend skiing packages by coach to the resorts in the Pyrenees. The travel agency websites are usually not in English however. For small group 1 day ski tours to ski resorts near Barcelona visit
www.barcelonaskitours.com.
They will pick you up at your hotel or apartment, take you to the ski resort and help with equipment rental and practical assistence.
Recommended travel agents in Barcelona that offer skiing packages that include hotel, half-board (media pension MP) and ski pass (forfait) for the ski stations near Barcelona.
© 2006-14 Copyright Barcelonayellow.com
.
Do not copy any text on this page without permission All rights reserved