La Mercè Falcons de Barcelona
Matí de falcons - human towers display
Event date:
Sunday 23rd September 2018
Event time:
10.30
Event location:
Route: Pl. Nova by
Av. de la Catedral
, Carrer de Bisbe and ends at
Plaça de Sant Jaume
in Gothic quarter
Hashtag:
#Mercè18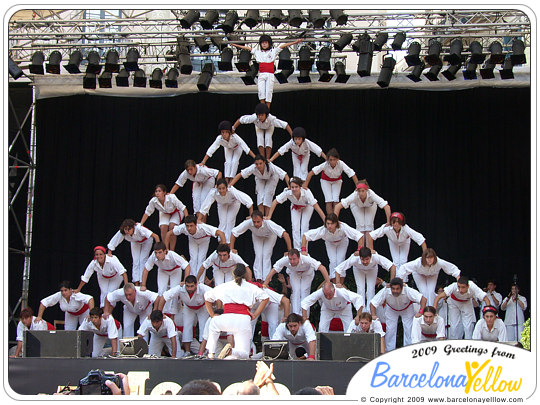 Falcons of Barcelona and Falcons of Vilanova d'Espoia. Matí de falcons i cercavila - Falcons human towers display and parade. Falcon human Tower building display by
Colla Falcons de Barcelona
. This is another kind of human tower building called the 'falcon' discipline named after a Czech tradition called
Sökol
, which means falcon in Czech language. Falcon structures were popular in Catalonia at the beginning of the 20th century, but then this kind of structure fell out of favour.
In Barcelona a young group called the Barcelona Falcons revived this tradition of falcon human towers and performed first at the Saint Eulalia festivities in 2003.
Tweet about this event
Barcelona events calendar
More about castellers tradition
Top things to do at Merce Festival
© Copyright Barcelonayellow.com.
Do not copy from this page without permission
All rights reserved