Festa de Sant Medir 2023
Sant Medir Candy festival Gracia Barcelona
Event date:

3 March 2023
Event time:
8pm - 20:00
Parade route:
Map
. Junction Nil Fabra / Gran de Gràcia to Plaça de Nicolas Salmeron
Information:
Sant Medir candy festival
(also called the 'fiesta de San Emeterio') is an annual festival in March in the Vila de Gracia area of the Gracia district of Barcelona.
Gràcia and Sarrià-Sant Gervasi always celebrate Sant Medir on a working day, so if 3rd March falls on a Sunday, the festival is moved to the 4th March.
The Sant Medir festival is fondly known in Catalan as '
la festa més dolça
' - 'the sweetest festival' because of the 60 tons of sweets that are given away every year during the colourful Sant Medir procession with over 120 horses taking part.
The Sant Medir parade in Barcelona takes place in the Gracia area of Barcelona.
Around 26 parade groups (called
colles
) participate iin the parade which usually starts from junction Nil Fabra / Gran de Gràcia then goes down the street called Gran de Gracia to finish at Plaça de Nicolas Salmeron near the Jardinets de Gracia which is the wide area between at the top end of Passeig de Grácia after Av Diagonal and before Gran de Gracia starts.
Pictures Festa Sant Medir
Twitter Sant Medir
The local legend of the Festa de Sant Medir (Medín) or San Emeterio in Spanish, tells of a farmer named
Medir.


He lived in Sant Cugat on the site of the present Sant Medir chapel
Ermita de Sant Medir
which is located outside Barcelona in the
Parc Natural de la Serra de Collserola
on the way to the town of Sant Cugat del Vallès.
Medir lived in the 4th century AD during the reign of
Roman Emperor Diocletian
whose persecution of Christians was one of the most severe in Roman history. Diocletian believed that Christianity was a threat to the traditional Roman religion and social order, and he issued a series of edicts that required Christians to renounce their faith or face punishment. These edicts led to the deaths of thousands of Christians and caused great suffering and persecution for many years.
It was fear of persecution that caused Barcelona's
Bishop Severus
(Sant Sever) to flee the city.
Outside the city at Sant Cugat del Vallès Bishop Severus encountered a farmer called Medir (the future Saint Medir,) who was planting beans on his land.
Severus told Medir, that he had accepted that he could die for his faith, and told Medir not to lie, if the Romans asked him if he had seen the bishop passsing by.
The bishop continued on his way. Soon after the Roman pursueing came by and they asked the Medir, if he had seen the Bishop Severus pass by.
Medir answered truthfully that he had seen the Bishop go by while he was sowing beans.
When Medir uttered these words, the beans he had just planted, shot up and were fully grown as if by miracle.
The Romans didn't believe Medir and arrested him and soon after they caught the Bishop Severus too. Both men were imprisoned and executed.
Medir later became the patron saint of farmers, Saint Medir.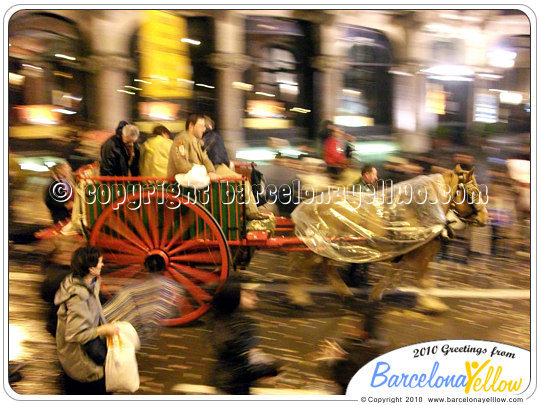 The modern day festival that still takes place in Gracia in Barcelona started in 1830. A baker called
Josep Vidal i Granés
lived in the newly opened street Gran de Gracia and he fell very ill one year.
Josep Vidal i Granés was originally from Sant Cugat del Vallès and he vowed that if God cured him, he would make a annual pilgrimage to the chapel of Sant Medir.
God cured him and the first pilgrimage from Gracia was made. To announce his pilgrimage he banged a drum and handed out sweets.
This was very festive occasion and every year more and more friends and neighbours joined his pilgrimage.
This eventually led to the establishment of the first 'colla' of the Sant Medir festival.
A '
colla
' is the Catalan name for a group or club. Today there are thirty '
colles
' who participate and organise the annual event in the assocation called 'La Federació de Colles de Sant Medir' - Confederation of Sant Medir Colles. The confederation was formed in 1926.
Tip for the Festa de Sant Medir. Bring an umbrella! The forecast is often rain and if it's not raining you can turn the umbrella over and use it to catch sweets!
FULLSCREEN map Festa de Sant Medir
© Copyright Barcelonayellow.com
Do not copy from this page without permission.
All rights reserved