El Nacional Barcelona - restaurant emporium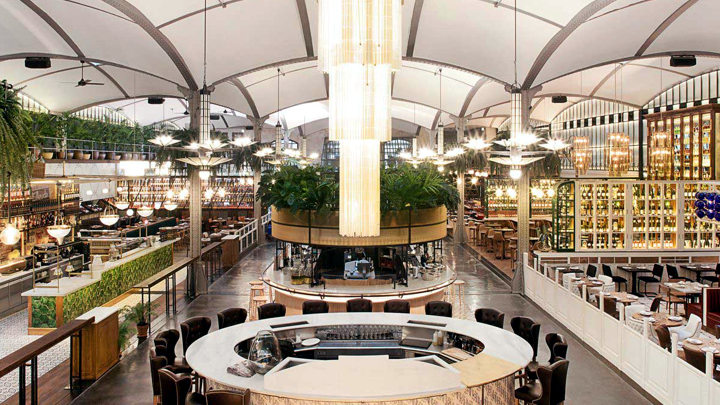 El Nacional Barcelona

El Nacional Barcelona restaurant emporium on Passeig de Gracia 24 in Eixample area of Barcelona. El Nacional restaurant emporium is a fabulous and exceptional new food hall on Passeig de Gracia very close to Barcelona's downtown central square Plaza Catalunya. El Nacional can accommodate 770 diners and is open daily from noon 365 days a year. El Nacional has 2 entrances on Passeig de Gracia down a short passageway and on Pau Claris. They both lead to 4 specialised bars and 4 culinary areas in a renovated 19th century industrial modernist era factory building.

El Nacional began life in 1870 as a modernist cafe-theatre, then later was a textile and dye factory, a car dealership, a food warehouse after the Spanish civil war and finally a car park before being abandoned. Now it is reborn as a chic, modernist styled food emporium with four restaurants and four bars to choose from. The renovation work is superbly done with fine attention to detail and quality and guest can now enjoy wonderful food and drink in beautiful neo-modernist surroundings with ceramic wall art from Valencia and incredible glass lamps from Galicia.

Each restaurant and bar serve different culinary delights from the Iberian penisula.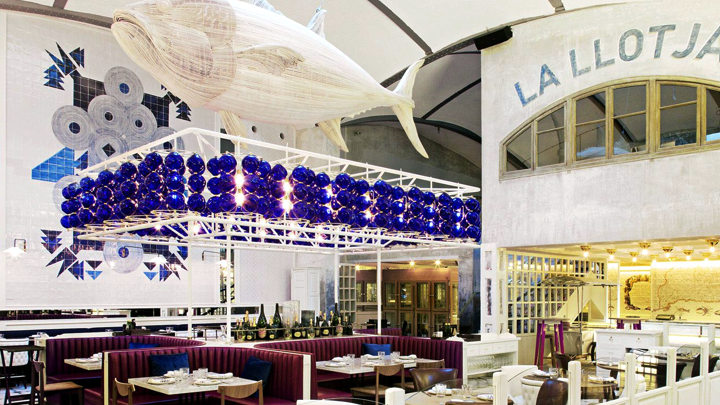 Seafood. La Llotja has a superb fish market display counter where guests can choose ingredients and purchase by weight. The fish can be prepared using 5 different cooking methods: in the oven, charcoal-grilled, steamed, fried or on the griddle.La Llotja also offers fried foods, salads, vegetables, fish soups, shellfish, stews and a few basic meat dishes for those who prefer not to eat fish on that particular day. Try the anchovies from L'Escala or sea bream baked in Formentera sea salt, among other delicious recipes.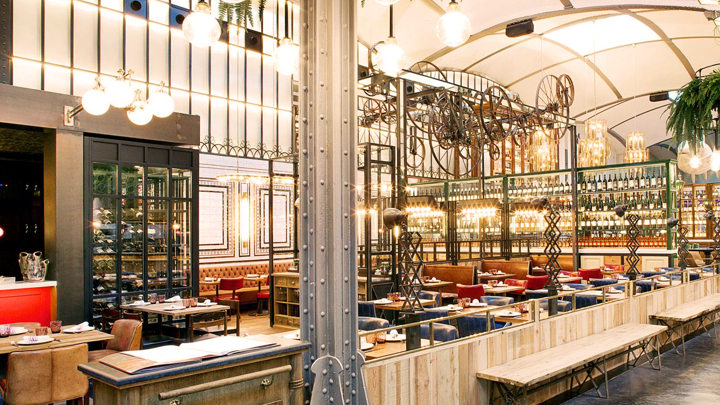 Meat. La Braseria. The glass cabinet for meat ageing is a unique feature of the brasería, specialised in meats. The star of the show is the charcoal grill, although there is also a wood-fired oven and a griddle. All meat is cooked in front of the customers. Choose from a large selection of starters and meat, to have with salad or vegetable side dishes. On the menu you will also find beef from El Capricho, once declared the best ox meat in the world by Time magazine. Try the beef burger and hand-minced Steak Tartare among other delicious dishes.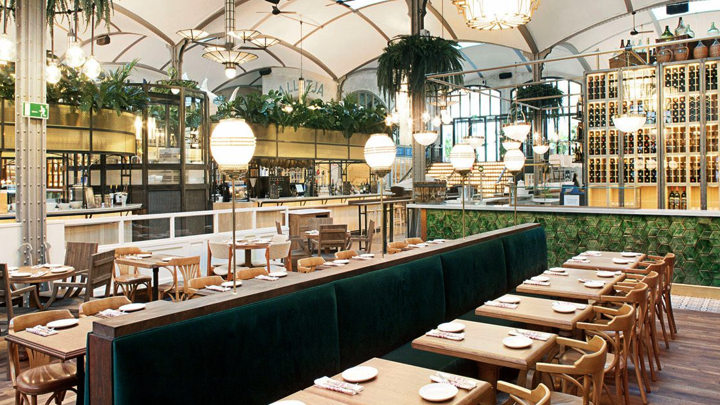 Tapas. La Taperia serving exquisite tapas including rice and noodle dishes which are auctioned "Malaga-style" by our waiters. A swift form of service which allows you to order cold tapas from our waiters while the hot ones come out of the kitchen in an endless flow. La Tapería offers a variety of cold tapas, hot tapas, rice dishes, paella fideuá. Try the delicious Tombet – a vegetable dish from Mallorca, or the classic black rice, two of the specialities on their varied menu.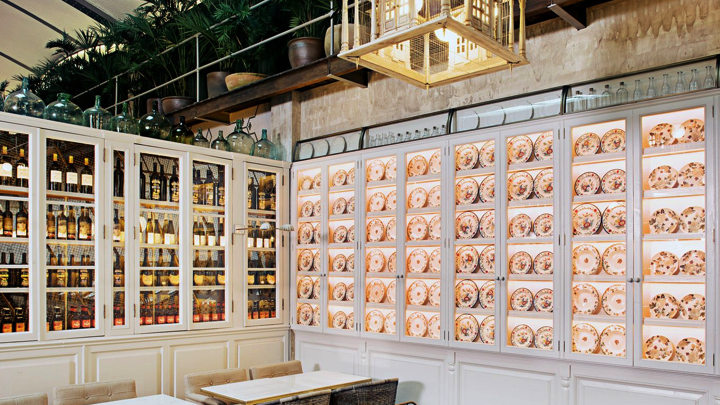 Snacks. La Paradeta. A deli snack restaurant where you can enjoy some excellent sandwiches, delicious coca pastries and light meals. La Paradeta offers a varied menu: sweet and savoury pastries, cheese, vegetables, smoked and cured products. You will also find classic sandwiches here as well as a variety of salads, sliced fruit, natural juices, milkshakes, pastries, homemade ice cream, drinks and coffee. Try the "Xató" pastry, our mushroom and onion confit pasty.

El Nacional bars are equally diverse; one serves caviar and oysters; another is cheese and wine:one is a cocktail bar and beer and preserves bar. Great selection with meals and snacks for everyone all day every day.

El Nacional is fabulous but they plan to offer even more with loft areas, a gourmet food shop and cafe-tearoom in the near future.

Visit El Nacional in Barcelona.

Open daily from noon.

© Copyright Barcelonayellow.com
All rights reserved.
Do not copy anything on this page without permission.



Last Updated on Tuesday, 07 November 2017 21:08