Snow Experience Day tour to Andorra from Barcelona - see snow near Barcelona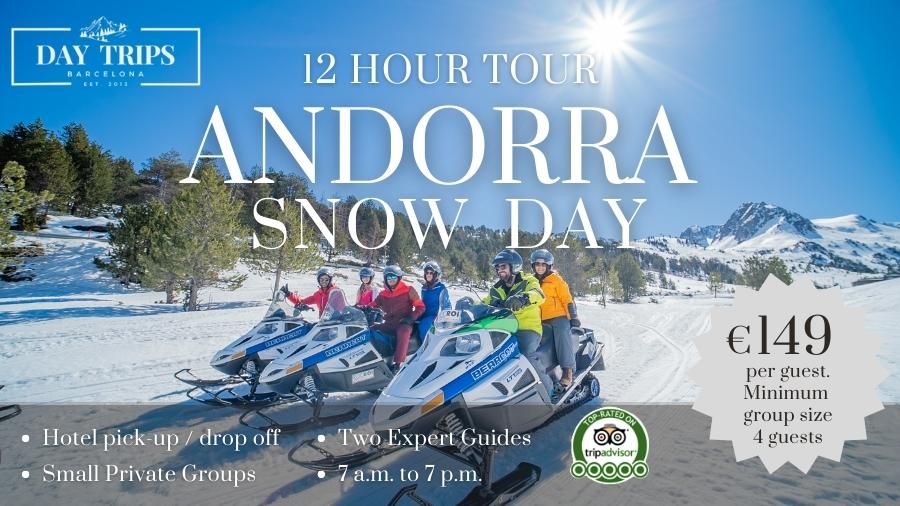 Andorra Snow Day Tour from Barcelona

B8 Andorra Mountains Snow Day Tour from Barcelona
Price €149 per person

Pyrenees Mountains Andorra Snow Day Tour from Barcelona. Small group day tour / road trip from Barcelona to Andorra in the Pyrenees Mountains via France.

Spend a unique and wonderful day in the snow in the beautiful mountains of Andorra.

We offer this tour from mid-December to end April. Visit a ski resort village in Andorra and have fun in the snow.

This tour lets you experience snow and you can choose to try from snow activities like as snowmobiles, snow-shoe trekking, dog sledding or tubing.

Note: Extra snow activities are NOT included in standard tour price. Also please note that skiing or snowboarding is not possible on this day tour.

* Includes free hotel/apartment pick-up & drop off
* Sorry, no cruise ship pick-ups or airport transfers
* Small groups of max 6 guests
* Only available Monday to Friday,
* Tour only available from mid December to end April
* Children must be minimum 8 years on standard tours
* Children must be 4 years on private tours and 1 metre (3 ft 3 in) tall and able to sit on a child booster seat with adult seat belt for the entire duration of the driving time.


Included in B8 Andorra Snow Day Tour price:
- pick-up & drop off at your hotel/residence in Barcelona
- team of 2 driver/guides
- blankets and cushions in minivan for naps during transport
- free water in mini-van

Not included in tour price:

- meals/snacks (€20-30 per person)
- optional snow activity rentals (see prices below)


B8 Prices Optional snow activities
(Note: some activities may not be available depending on weather)

Price snowmobile excursion with guide
€80 - 30 minutes on 1 snowmobile (seats 2 pers)
€120 - 60 minutes on 1 snowmobile (seats 2 pers)

ONLY adults over 18 years can drive snowmobile
Minimum age children 3 years old, if with adult
Helmets are provided for snowmobile and are COMPULSORY

Price mushing dog sled ride
Mushing sled dog ride 2 km (30 minutes)
€80 per person
Minimum age children 1 years old with adult

Price snowshoe excursion
Snowshoe excursion 2 hours
€36 per person
Minimum age children 10 years old

Price snow tubing slide
Snowtubing 20 minutes
€20 per person (cannot be shared)
Snowtubing 40 minutes
€30 per person (cannot be shared)

IMPORTANT!
Rides and snowtube cannot be shared.
One snow tube ride must be ordered for each person

Clothes you must wear for snow activities
Waterproof warm ski or winter clothing
Waterproof warm snow or mountain boots
Waterproof snow gloves and
Warm cap
Sunglasses
Sunscreen lotion



Last Updated on Tuesday, 20 December 2022 20:11