Top 10 Tourist attractions Barcelona
2023 Barcelona top ten sights and things to do. Maps & Tips.

Updated November 2023

Welcome to Barcelona and to our local, up-to-date list of Barcelona's Top 10 essential tourist attractions. Find Top 10 tips, map and advice for planning. Visit also our 3 day Barcelona guide, and our useful where to stay page and our good to know tips.


Number 1 - la Sagrada Familia
Top Ten tourist attractions Barcelona
La Sagrada Familia - famous unfinished church by Antoni Gaudí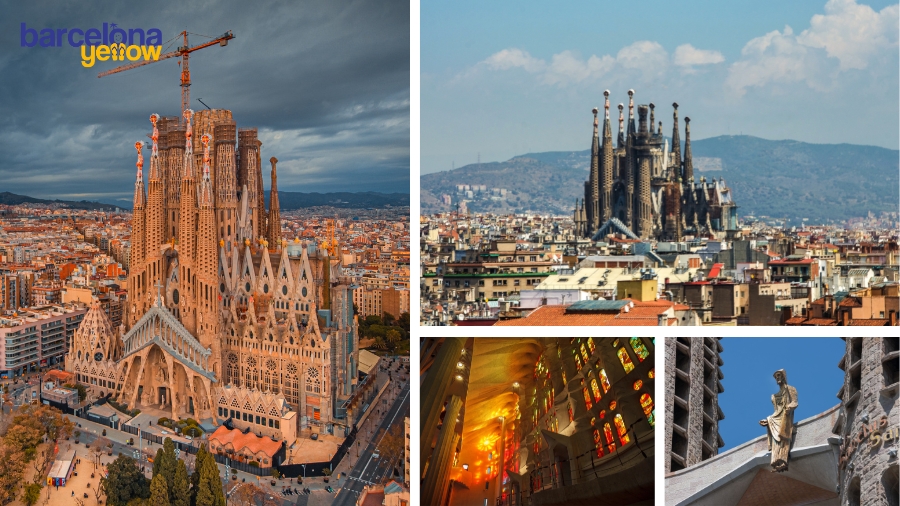 Number 1. La Sagrada Familia temple. The fabulous and unfinished temple of La Sagrada Familia (The Holy family) is the top 'must-see' for Barcelona visitors. This unique and unusual church is Barcelona's most famous attraction and also Spain's most visited attraction. This unfinished temple was designed by the renowned Catalan/Spanish architecht Antoni Gaudi. Construction began in 1882 and will be completed in 2026.

How to visit. You can see the exterior free from the street, but the interior is definately worth seeing. Around 3 million annual visitors wait patiently in lines that sometimes circle the church to visit the spectacular interior so skip-the-line tickets are recommended, especially in peak vacation periods. Plan to spend 1 to 2 hours to see the interior.

History of Sagrada Familia. The foundation stone was laid in the year 1882 when the area around the basilica church was mostly fields. It has taken a long time to build because it has always been privately funded and construction has slowed or stopped at various turbelnt times in Barcelona's history.

The spectacular interior was completed and opened in 2012. Experiencing it is a unique departure from the usual dark medieval Spanish cathedrals, especially the breathtaking spectacle of sunlight streaming through the vibrant stained glass windows. The exterior is still under construction and is 80% completed in 2023. The aim of completing the project by 2026 is to commemorate the 100th anniversary of Gaudi's death. In 1926 tragically he was struck by a tram and succumbed to his injuries a few days later.

At the time of his death, only the nativity facade was completed. Gaudi was acutely aware that completing the temple would require decades, and he is famously quoted as having said, 'My client is not in a hurry,' implying that God was his client. See how the finished Sagrada Familia will look.

To get to the Sagrada familia you can take a hop-on-hop-off bus - or take the metro to station Sagrada Familia. See map and try the virtual tour to get a sneak peak.

How long does it take to visit Sagrada Familia? The exterior of the Sagrada Familia takes 15 to 30 minutes to walk around, and is free of charge. To explore the interior, be prepared to spend anywhere from 1 to 2 hours, depending on the type of ticket you buy.

Ticket prices:
Various prices from at €15 to visit interior.

Top Visitor tip:
Buy official skip-the-line Sagrada Familia tickets in advance. Ticket options include tickets with audioguide, guided tours and access to towers.

Visitor Tip:
Dress respectfully by covering shoulders inside. See full Sagrada Familia dress code in visitor rules.

Opening times:
Open all year, but closed for some services and special religious events.

November through February:
Open 9 am to 6 pm.
March and October:
Open 9 am to 7 pm.
April through September:
Open 9 am to 8 pm.
25 and 26 December, 1 and 6 January:
Open 9 am to 2 pm.

X (Twitter) Sagrada Familia
Google maps location
Getting to Sagrada Familia
Pictures Sagrada Familia
Gaudi buildings Barcelona
Hotels near Sagrada Familia



Number 2 - Magic Fountain show
Top Ten attractions in Barcelona
The Magic Fountain of Montjuic - music and light show.

Note October 2023: The fountains are turned off as a water-saving measure due to current drought conditions.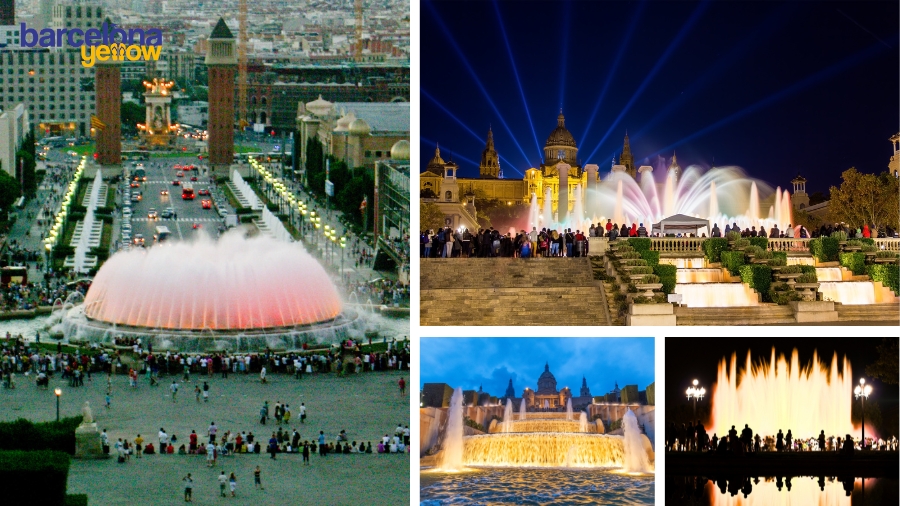 Number 2. The Font Mágica Fountain. We think that the Magic Fountain is a 'must see' Barcelona attraction. It really does feel magic to experience such a beautiful show of water, light and music. It's best in the warmer months.

The Magic fountain was built in 1929 as a main attraction of the 1929 Barcelona World Fair. To this day it's still one of the most famous sights in Barcelona attracting an estimated 2.5 million visitors annually.

In the winter the fountain only has evening shows on Friday and Saturdays. In the summer the evening light and music show are from Thursday to Sunday.

Admission is free all year. See show times below. Please note that due to trade exhibitions and events, access can sometimes be limited.

Get to the Magic Fountain by metro to station Espanya on Red L1. See map.

2023 opening times & ticket prices
FREE to visit

Magic Fountain show times with music and light
Thursday to Saturday
9 pm to 10 pm

Magic Fountain without music and light

Tuesday to Saturday:
from 11 a.m. to 1 p.m. & 4 p.m. to 6 p.m.
Sunday:
from 11 a.m. to 3 p.m.

Google maps location
Address Magic Fountain
Photos Magic Fountain




Number 3 - Picasso Museum
Top Ten attractions in Barcelona
Picasso Museum. Permanent collection of Picasso's early works and life in Barcelona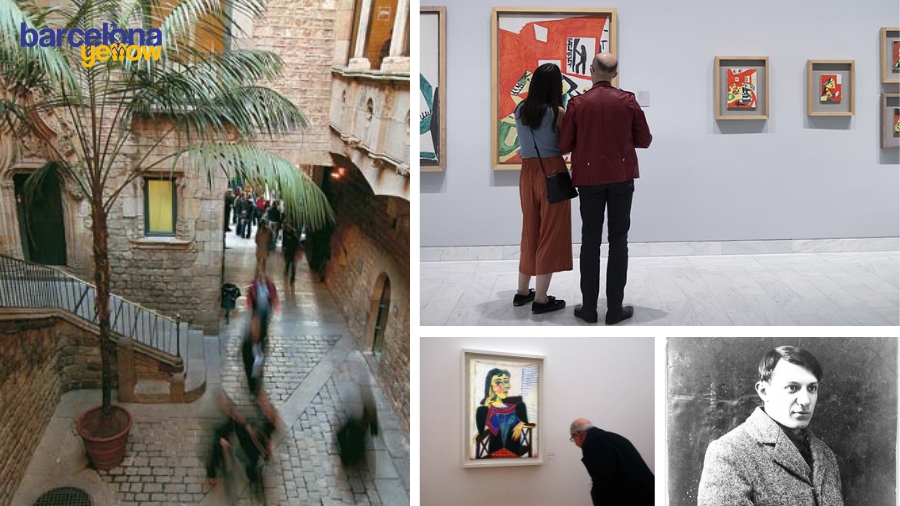 Number 3. Picasso Musuem. Barcelona's most famous museums is located in the Born area of Barcelona's old city near the areas where Pablo Picasso lived in Barcelona in his youth. Picasso was born on October 25th, 1881 in Malaga in the south of Spain. In 1895, when he was 14 years old, the Picasso family moved to Barcelona. Picasso lived in Barcelona until 1904 when he emigrated to France when he was 23.

Picasso's father, an art teacher, initiated his early artistic education. His most formative years were spent in Barcelona, where he held his debut exhibition. While the Picasso Museum in Barcelona may not house his most renowned works, it does offer a remarkable collection of 4,000 early sketches and canvases. These pieces chronicle his remarkable evolution from a budding art student to becoming the world's most celebrated artist..

The museum is housed in several adjoining gothic mansions in the Born part of Barcelona's medieval city. The nearest metro station Jaume I and then 10 mins walk. See map

Visitor Tip 1: Book a skip-the-line Guided Tour of Picasso Museum.
Visitor Tip 2: Buy skip-the-line Picasso museum tickets.
Visitor Tip 3: Free admission on first Sunday of month all day and free every Thursday after 6pm.

Opening times & ticket prices
Closed Mondays, except public holidays

Google map location
Address Picasso Museum
Top Barcelona museums

Article continues below ads



Number 4 - Las Ramblas street
Top Ten attractions in Barcelona
Las Ramblas – Barcelona's most famous street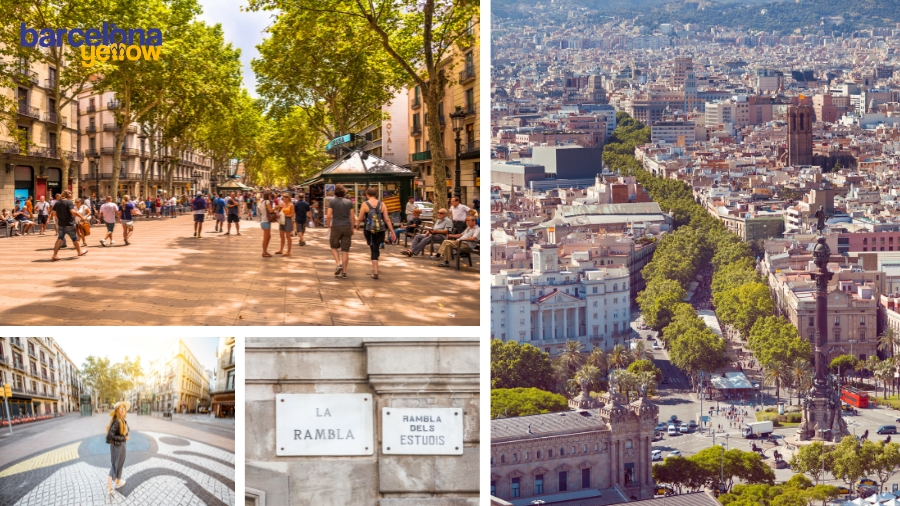 Number 4. La Rambla street. Free attraction. La Rambla is Barcelona's main tourist street and the most famous street in Barcelona. This street is also called Las Ramblas (plural of La Rambla) because it actually has different street sections, each with its own name. The Rambla connects the central square Plaza Catalunya to the Port Vell marina and Mediterranean sea.

Some visitors call La Rambla a 'tourist trap!' It is very touristy, but still charming and a 'must-see'. The Spanish poet Federico García Lorca said of La Rambla in the 1930s, 'It is the only street in the world which I wish would never end'. We agree. It's nice to stroll on the Rambla and feel the human heartbeat of the city.

Is it safe. La Rambla is safe to visit, but pickpockets are omnipresent, so keep an eye on your things. In the very early hours from 2 - 6 a.m. La Rambla is a little less safe, so be careful on La Rambla during those times and in particular avoiding the lower part of La Rambla near the harbour. See map.

Visitor tip 1: Lookout for pickpockets on La Rambla at all times.

Visitor tip 2: Always ask about prices and portion sizes on La Rambla before ordering.

Opening times and ticket prices
La Rambla is always open and FREE to visit

Google maps location
Address La Rambla
Pictures La Rambla



Number 5 - FC Barcelona museum & Camp Nou stadium
Top Ten attractions in Barcelona
FC Barcelona Camp Nou stadium and Barça football museum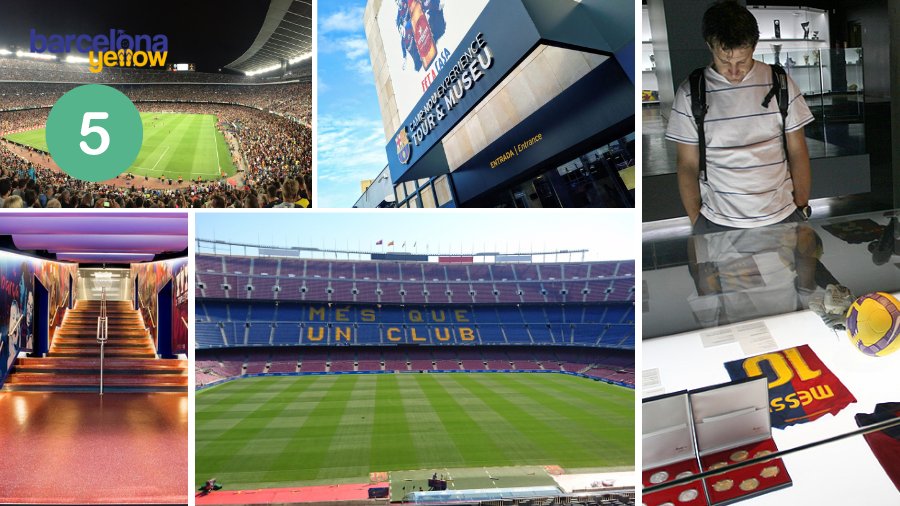 Number 5. Camp Nou stadium and FC Barcelona Museum. The Camp Nou Experience. The Spotify Camp Nou stadium is currently under renovation until 2024. All stadium tour tickets include access to the New Barça Museum and the Construction Viewpoint. The former FC Barcelona museum has been moved but can still be visited. It's the most visited museum in Barcelona and Catalonia - and the third most visited museum in Spain. The temporary museum location is near the Camp Nou stadium (where the FC Barcelona ice rink was located) until it moves into a new home at the remodelled Spotify Camp Nou in the 2024/25 season. You can also enjoy the more than 2,000 m² of the Barça shopping in the Spotify Camp Nou store which is packed with Barça merchandise.

Camp Nou tour tickets. Book official tickets to visit the New Barça Museum and the Construction Viewpoint.

Camp Nou is the legendary home stadium of the FC Barcelona football team. Numerous football icons from around the world have graced this football field, including Johan Cruyff, Leo Messi, and Maradona, to mention just a few. The FC Barcelona team nickname is Barça (pronounced "barsa") and the fans are called culés.

Camp Nou football tickets. Buy official tickets for Barcelona football mathces at Camp Nou stadium at FC Barcelona's website to avoid ticket scams. If you go to a game, then learn the words to sing along to the Barça anthem Cant del Barça.

Visitor tip 1. You can buy cheap FCB shirts and scarves at market stalls outside the stadium on match days but they might not be official merchandise.

Opening times & ticket prices

Google maps location
TICKETS FCB Museum
FC Barcelona calender
Map Camp Nou stadium
Address Nou Camp Stadium
FC Barcelona museum
Pictures old Camp Nou
New Camp Nou stadium



Number 6 - Barrio Gotico
Top Ten attractions in Barcelona
Barrio Gotico - Gothic quarter which is part of Barcelona's medieval city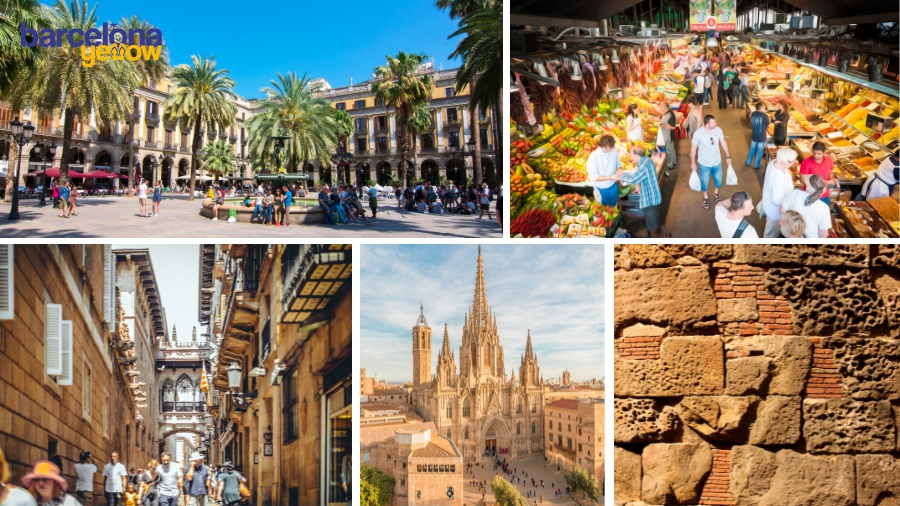 Number 6. The Barrio Gotico. The gothic quarter is in the medieval city of Barcelona. Some people confuse the names and think that all the medieval area is called the Gothic area but there are other areas in the medieval area too. Book a Gothic quarter walking tour. The Gothic area is the most central and oldest. It grew around the ancient Roman town called Barcino which is Barcelona's original area as a Roman city.

The gothic part of the city has many beautiful churches, plazas, markets and museums and you can see parts of the old Roman walls. If you visit the Barcelona history musuem Museu d'Història de la Ciutat you can see remains of Roman Barcino houses and streets under the museum.

The gothic quarter is free to visit and best seen on foot because tour buses cannot drive through the narrow streets. There are no dangerous areas in the Gothic quarter, but be aware of Barcelona pickpockets. Also worth visiting is the neighbouring medieval areas of Barcelona's old city called El Born, Barceloneta and Raval.

Opening times & Ticket prices
The gothic area is always open and FREE to visit

PIctures Gothic Barcelona
Walking tour Gothic area

Article continues below ads



Number 7 - Park Guell by Gaudi
Top Ten attractions in Barcelona
Park Guell – Gaudi's modernist park on Carmel hill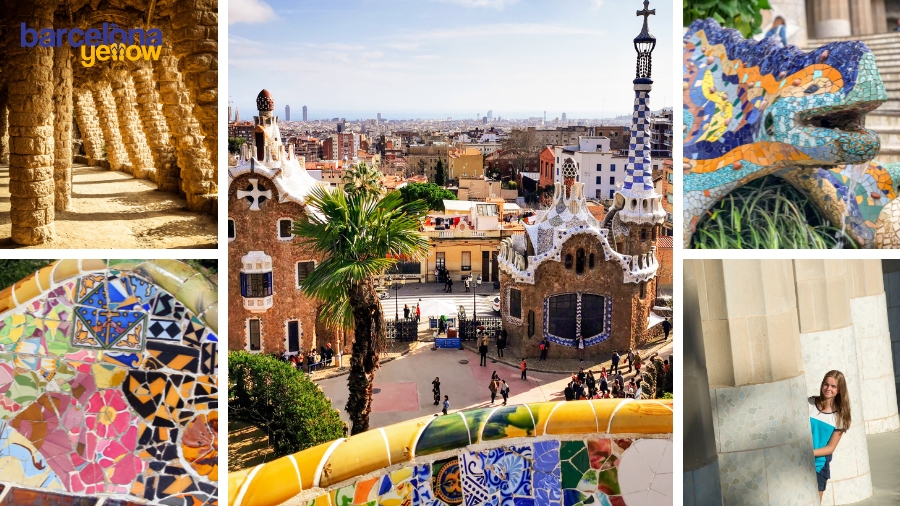 Number 7. Park Guell. Parc Guell i is a UNESCO World Heritage Site and is considered to one of Gaudi's most artistic works. Parc Guell is a Barcelona top attraction and must-see. The park is on Carmel hill so seeing this attraction involves a 900m uphill walk if you take the hop-on-hop-off bus or arrive from metro station Vallcarca.

If you prefer not to walk, then take a taxi to the Park Guell front gate. The original idea of by Josep Guell was to develop a private and exclusive residential garden village with 60 houses. It didn't work and after Guell's death in 1923 the park was donated by the Guell family to Barcelona as a public park.
See map

Opening times & Ticket prices
Parc Guell is open daily all year

Google maps location
TICKETS skip-the-line Park Guell
Address Parc Guell
Pictures Parc Guell
About Antoni Gaudi



Number 8 - Modernist buildings
Top Ten attractions in Barcelona

Modernist buildings in Barcelona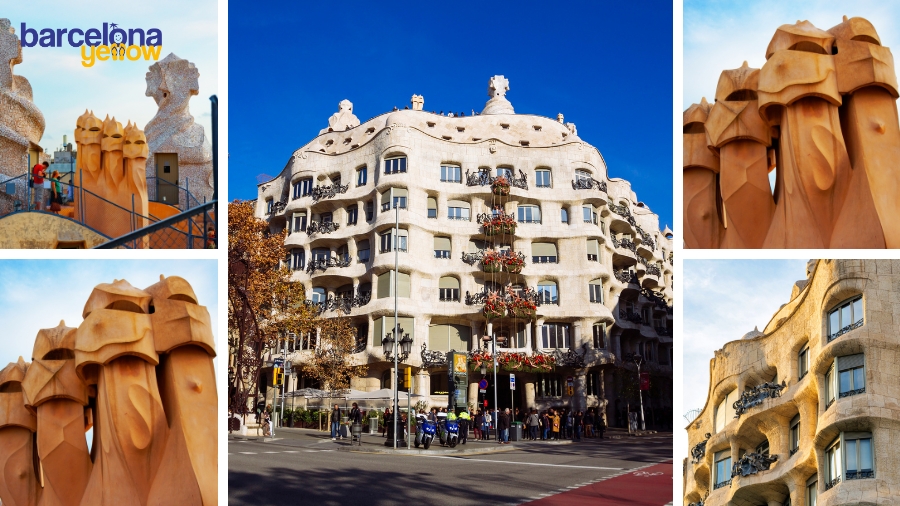 Number 8. Modernist buildings. Modernisme was a Catalan cultural movement centred in Barcelona and Catalonia from 1888 to 1911. It is most famous for its architectural expression in particular the many works of Antoni Gaudí. There are a handful of famous modernist buildings in Barcelona and three of them are in the same Barcelona city block on street Passeig de Gracia.

The block is nicknamed 'Illa de la Discòrdia' - the 'Block of Discord' because the buildings are so distinct. The most famous are Casa Amatller designed by Josep Puig i Cadafalch, the magical Casa Batlló by Gaudi and the Casa Lleó-Morera. A little further up the street Passeig de Gracia is one of Gaudi's most famous buildings - Casa Mila - nicknamed 'La Pedrera' (the Quarry) because of its design.
In the summer months there are weekly concerts on the rooftop terrace of the building La Pedrera and Casa Batllo
Another modernist treasure is the beautiful Palau Guell town house near Las Ramblas, also by Gaudi.
For modernist art and furniture visit Barcelona's Modernist museum.

Opening times & ticket prices

TICKETS La Pedrera DAY
TICKETS Casa Batllo
TICKETS Casa Amatller
TICKETS Palau Guell
Address Casa Battlo
Twitter Casa Batllo
Address Casa Amatller
Address Casa Mila
Twitter Casa Mila
Address Palau Guell
Biography Antoni Gaudi
Modernist architecture



Number 9 - Montjuic hill & Poble Espanyol
Top Ten attractions in Barcelona
Montjuic hill and El Poble Espanyol (Spanish Village)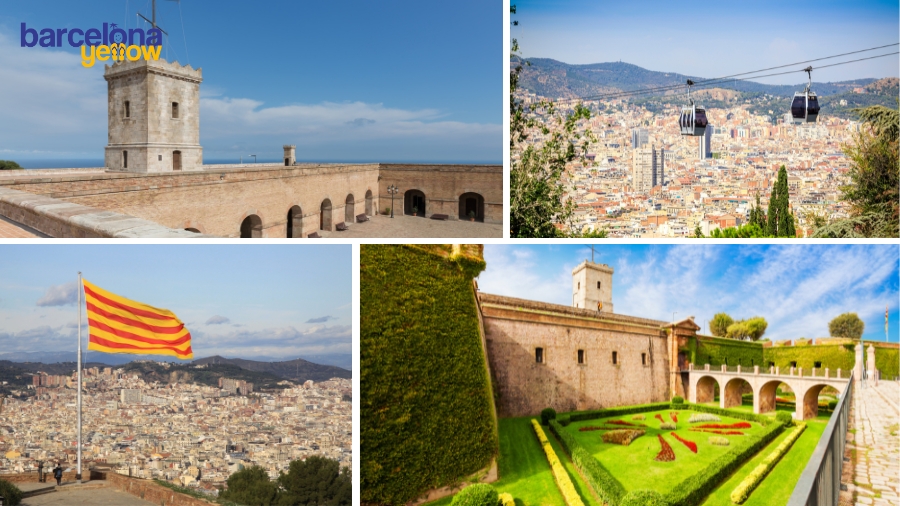 Number 9. Montjuic hill and Poble Espanyol Spanish Village. Montjuic hill is a lovely place to spend an afternoon or day. It has many parks and attractions. There is a military former fort on the summit called Montjuic Castle, which has a rich and dark history and fantastic views of Barcelona.

Another attraction on Montjuic hill is the Spanish village Poble Espanyol, which is a unique celebration of Spain and Spanish culture and architecture.

Poble Espanyol was originally built for the Barcelona 1929 World Fair as a showcase village of Spain's different regional architectural styles, which means that you can see all of Spain in one village.
It became so popular with visitors and locals alike that the city kept it as an attraction after the world exhibition ended

Now it houses a wide variety of cafés, night clubs, restaurants and over 40 artisan craft shops and workshops.
It is also home to the popular El Tablao de Carmen flamenco show and a "Fiesta" multimedia show highlighting Spain's most popular and famous cultural festivals, celebrations and landscapes.

Visitor tip. The flamenco show includes 1 hours free entrance to Poble Espanyol. See map. This attraction is on hop-on-hop-off bus routes or take metro L1 or L3 to nearest metro station Espanya and then it is a 20 minute walk to Poble Espanyol.

Opening times & Ticket prices

Montjuic castle is open daily all year

Tickets Montjuic Castle
TICKETS Montjuic cable car
Address directions Montjuic Castle

Poble Espanyol village is open daily all year

TICKETS Poble Espanyol
Address Poble Espanyol



Number 10 - Tibidabo hill
Top Ten attractions in Barcelona

Tibadabo hill, Sagrat Cor church & Tibidabo amusement park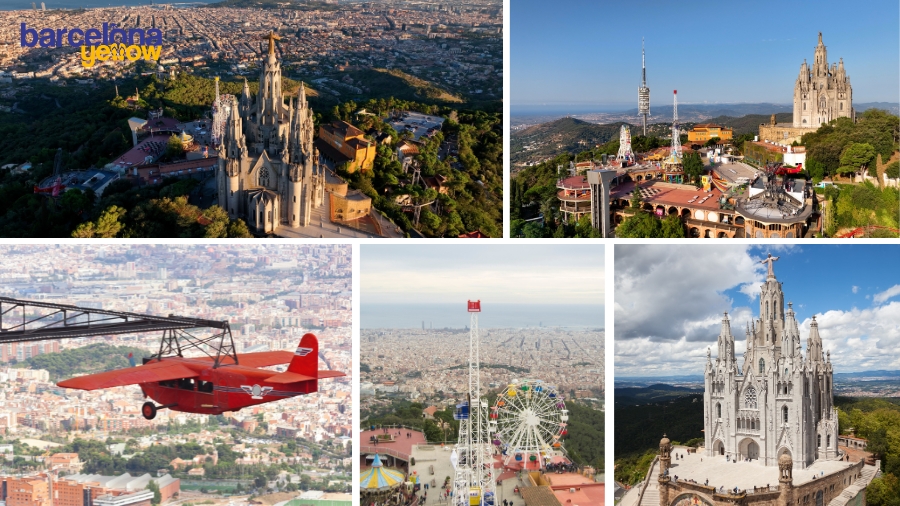 Number 10. Tibidabo. A visit to Tibadabo hill is a fun thing to do in Barcelona and perfect for families with children. The views of Barcelona from Tibidabo hill are fantastic. The Sagrat Cor church on Tibidabo hill is open all day all year and is free to visit. Below the summit, Tibidabo also has a vintage amusement park, also called Tibidabo, which is open in from March to September and during some festive seasons. Check the opening times when planning a visit. The Tibidabo skywalk area with views of Barcelona is free and open all year except a few weeks in February for annual maintenance.

You can reach the Tibadabo hilltop by bus and mountain railway. When the amusement park is open, there's bus from the Plaza Catalunya directly to Tibidabo.

See map and how to get to Tibidabo

Useful Tibidabo pages

Google maps location
TIckets Tibidabo funfair
Address Tibadabo
Pictures Tibadabo



Books set in Barcelona
While you visit Barcelona why not read a fun, interesting, exciting book about Barcelona or set in Barcelona. Find them on our Barcelona book list
Top books set Barcelona



Top day tours outside Barcelona
Top attractions near Barcelona that can be visited in one day or half a day.



Montserrat Mountains & monastery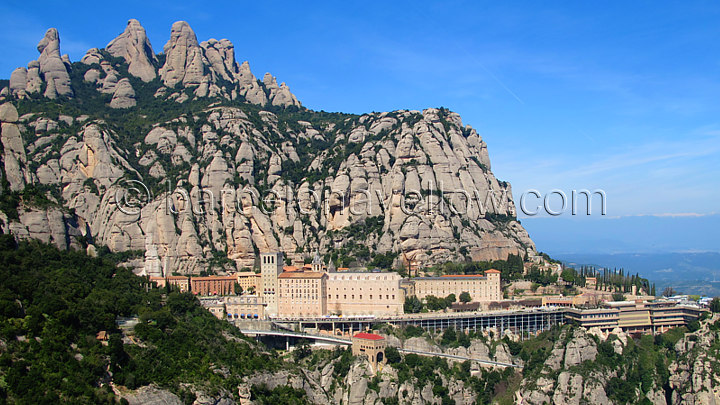 Open all year. Free to visit. 1 hour from Barcelona. Montserrat mountains, monastery and basilica is one of Barcelona and Spain's biggest tourist attractions. You can see and touch the famous 12th century Black Virgin of Montserrat, enjoy breathtaking scenery of amazing rock formations and panoramic views. Montserrat mountain is just one hour from Barcelona and is visited by 3 million travellers and pilgrims every year making it a tour attractions outside Barcelona.

Montserrat Monastery address, map and visitor information
Photos Montserrat mountain
Private Tour to Montserrat for small groups with hotel pick-up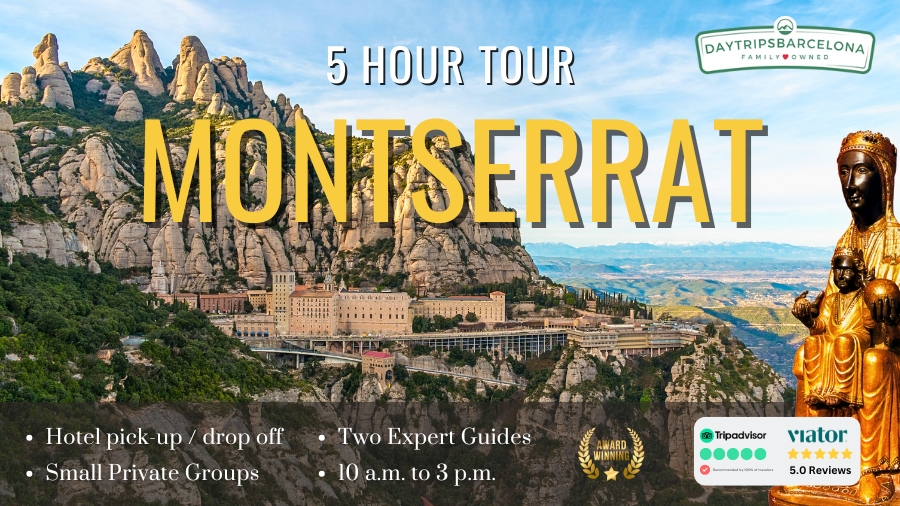 Girona - City of sieges & Game of Thrones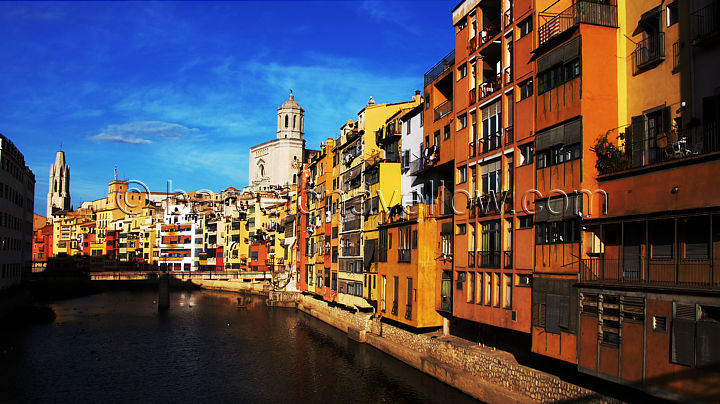 Girona is a historic jewel located just over an hour north of Barcelona by tour, bus or train. It's a city full of legend and beauty and recently also became a location for new episodes of TV show 'Games of Thrones'.

Girona is famous for its colourful hanging houses over the River Onyar, for the well preserved medieval Jewish quarter and the historic walled Old Quarter (Barri Vell) that dates back to Roman times.

About Girona
Photos Girona
Day tour to Girona with hotel pick-up in Barcelona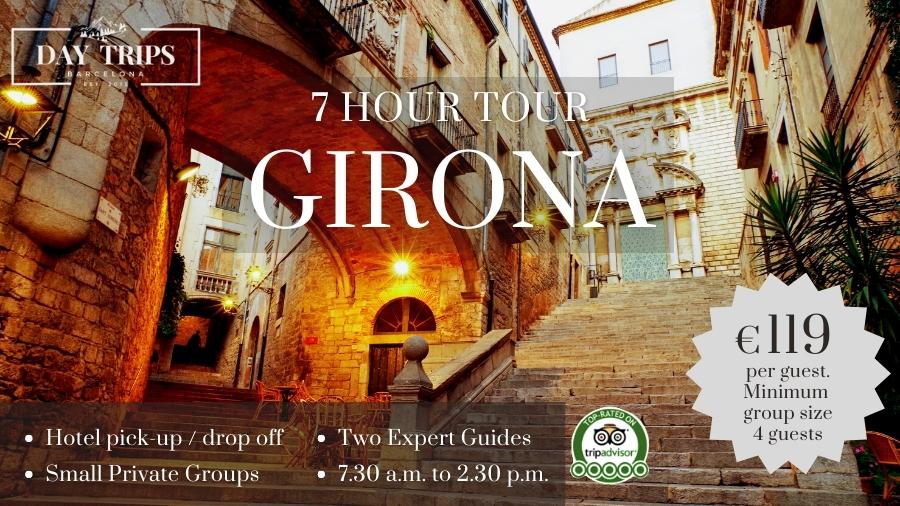 Andorra, France & Pyrenees Mountains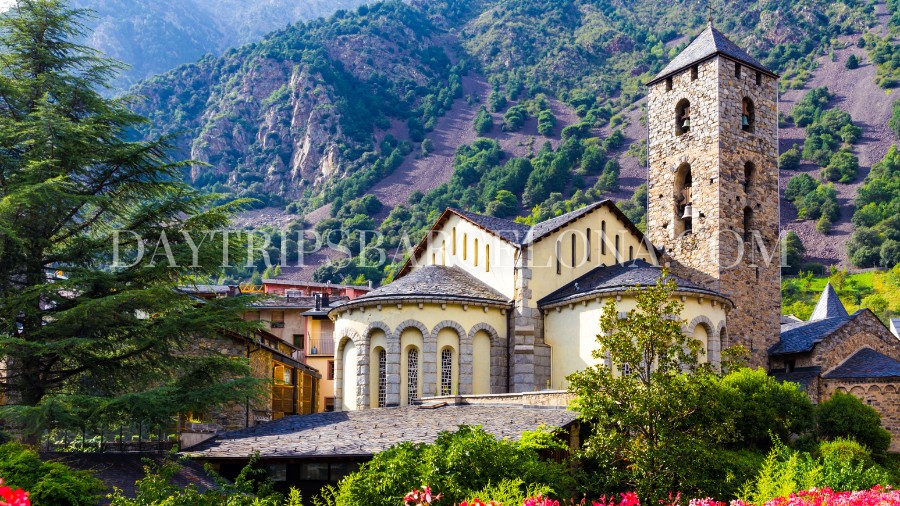 Andorra and the Pyrenees mountains. The Principality of Andorra is a tiny country nestled entirely in the Pyrenees mountain range and bordered by Spain and France. It's the 16th smallest country in the world. There is no direct train connecton or air connection to Andorra from France or Spain. Andorra is only accessible by road.

There are daily bus connections from Barcelona to Andorra but they are not suitable for a 1 day tour. For a day tour to Andorra from Barcelona you can rent a car or book a day tour from Barcelona.

There are a few companies that offer great day tours to Andorra. We can recommend an excellent tour called the Three Countries tour, which starts from Barcelona, makes a quick stop in France, then travels all through Andorra with stops in the beautiful Pyrenees mountain scenery of Andorra. This tour is a long day - 12 hours - but is unique because you are in 3 countries in one day and get to visit one of the smallest countries in the world, Andorra.

Pictures Andorra & Pyrenees
3 countries Tour to Andorra from Barcelona
Snow experience Day tour to Andorra



Map Top 10 Tourist Attractions Barcelona

Open Fullscreen Top Ten Google Barcelona





Other Top 10 Day Tours from Barcelona

Best day tours from Barcelona


This pages also answers the questions:

What are top attractions in barcelona?
What is the most visited site in Barcelona?
What is the main tourist street in Barcelona?
What are must see sights in Barcelona?

© Copyright Barcelonayellow.com
All rights reserved.
Do not copy text or images on this page without permission