Sagrada Familia Barcelona
. The Sagrada Famila (Sacred Family) temple is the world famous unfinished church by Antonti Gaudi.
Virtual tour
Its full name is 'Temple Expiatori de la Sagrada Familia'. This is Barcelona's most famous church originally designed by the Spanish/Catalan architect
Antoni Gaudi
. It's free to see from outside, but it's worth seeing the interior. A good tip is to buy the
official
advance skip-the-line
Sagrada Familia tickets
to avoid long lines.
In 2023 the Sagrada Familia temple is around 80% completed. Though unfinished it is still Barcelona's most famous landmark and the most visited tourist attraction in Barcelona and Spain.
Opening times Sagrada Familia
(Can change due to special events and services)
November, December, January, February
9 am to 6 pm
March
9 am to 7 pm
April, May, June, July, August, September
9 am to 8 pm
October
9 am to 7 pm
Special days
December 25, 26, January 1 and 6,
9 am to 2 pm
TICKETS skip-the-line Sagrada Familia
TICKETS Sagrada Família Tour

The construction of the incredible Sagrada Familia temple started in 1882, when Gaudi agreed to work on a project for a new and magnificent church in Barcelona.
It is still not finished. In 2013 about 65% of the temple had been completed. It is hoped that the church will be finally finished in 2026, which will be 100 years after Gaudi die. but this might be delayed by the Covid epidemic.
New milestones for La Sagrada Família are when the 'Torre de la Mare de Déu' - 'torre de María' - will be finished this year on 8th December 2021.
Mary's Tower will be the second tallest in the Sagrada Família, when all the towers are finished. It will be crowned by a twelve-pointed star which will bring the total height of Mary's tower to 138 meters.
Future milestones are the completion of the temple's tallest tower, the 'Tower of Jesus - La torre de Jesús', which will be 172.50 meters high and feature a transparent elevator that goes up 60 meters in the central tower to a viewing point at 144 meters altitude. The tower will be crowned by a large four-armed cross.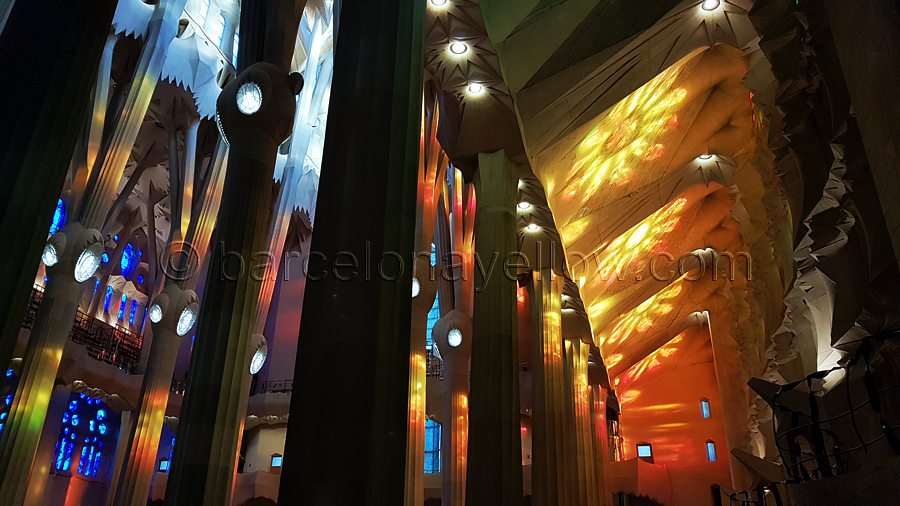 The current lead architect is
Jordi Faulí
who leads a team of 40 construction workers. Faulí is the ninth generation of architects to lead the building work.
It is expected that he will be the final architect, when this magnificent temple is finally finished 144 years after the building work started.
Live webcam Sagrada Familia
On 7th November 2010 Pope Benedict XVI visited Barcelona to consecrate the Sagrada Familia as a basilica. Visit the
Sagrada Familia
website for worship times, masses (missa) and services.
The waiting time to buy entrance tickets can be up to 1 hour, especially in peak season. Buy
Sagrada familia tickets
online. Or book a
Gaudi & Sagrada Família Tour
which includes skip-the-line admission.
Hotels near Sagrada Famlia Barcelona
Open FULLSCREEN VERSION of map
Pictures Barcelona's Sagrada Familia
24 hour parking lot near Sagrada Familia
BBC video consecration Sagrada Familia
Hotels near Sagrada Familia
TICKETS Gaudi and Sagrada Família Tour
How will Sagrada Familia look finished
YouTube how finished Sagrada Familia will look
.
About Catalan architect Antoni Gaudi