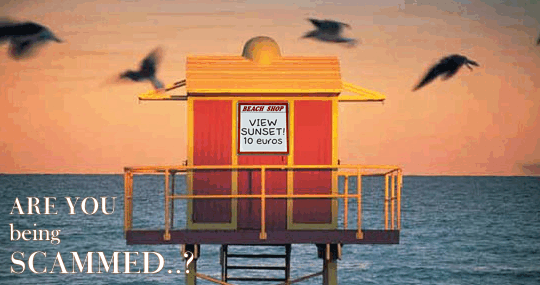 Apartment scams in Barcelona!
How to spot them - how to stop them!


If you are looking for accommodation in Barcelona, then don't worry too much. Apartment and flat scams are definately not frequent, but you might want to read these simple guidelines to avoid becoming the victim of a costly accommodation fraud or scam in Barcelona. This article explains how a typical apartment scam can fool you if you moving to Barcelona and looking for long term rental accommodation. It also has tips to avoid being cheated.

If you don't want to take any chances then consider using an international real estate agent in Barcelona. Apart from avoiding being scammed they will normally also be able to advise you on prices and areas of Barcelona.

How a typical accommodation scam works. Let's say that you have just arrived in Barcelona. Your plan is to stay in a cheap hostel or hotel or maybe in a rent-by-days flat while you start looking for a longer term and cheaper flat. A good place to find rooms and apartments in Barcelona is via the Internet so you start browsing the ads.

You find an amazing flat in the centre of Barcelona. Its very cheap and looks amazing, so you make an appointment to see this great flat as soon as possible. The owner is very nice and might tell you things like that needs to rent it out quickly because he is leaving Barcelona to work in America, so he is renting the flat out at very cheap monthly rent and deposit. Only 1 month deposit and super low rent per month for an amazing apartment. ! It's almost too good to be true that you have found this place and met this person ! But you have to act quickly! With a deal like that people will soon be lining up to grab it. So you have already made the decision to take it and you are probably thinking about how fast that you can get the cash for the deposit and first months rent, which you have to pay in advance. A few hours later you see the flat and have the cash with you, just in case you decide to take it. It is indeed perfect! Great size, location, furnished. Just amazing. 3 bedrooms. You could even rent out of one the rooms yourself. Then you will be living even more cheaply! What a steal!

When you see the apartment some of the rooms look as if someone is already living there, but your new friend explains that two rooms are rented out to some students. They will be leaving in a few days, so you can move in the following Monday, in a few days time. If you pay the deposit now and 2 months rent in advance, then the keys will be yours tomorrow. You are anxious to seal the deal so you hand over the deposit, only 500 euros without signing a contract of any kind.

The next day you meet him again at the same Internet café and fork over the additional 2 months rent, only 1200 euros. You get a set of keys and the flat is yours! The contract is not ready yet, but you arrange to meet him again the day after again. But you have the keys! Now you are floating on fluffy white clouds. There never was a happier camper! It's too good to be true, you tell your friends on the phone! And that is exactly what it is. Too good to be true. Because it isn't. The "owner" of the flat targeted you in the Internet café. It's easy to browse around behind people's backs looking for people searching for accommodation online. The next step is too make contact with them and then it all starts.

Of course the "owner" does not really own the flat. He has just rented a room in a flat from the real owner, probably using fake ID. Then he posts his own advert on the Internet with photos of the apartment and a temptingly low price. Apart from the people that he finds in the Internet café, he will also receive many replies via e-mail from people who cannot believe their luck getting such a cheap deal on a great flat. If there are other occupants in the flat, the scamsters makes sure to show the flat, when the other occupants are out. He will probably "rents" the flat to 10 or more different and unsuspecting people. Each person or persons are so eager to get their hands on such a cheap flat in Barcelona, that they practically throw the deposit on the table. What they get is a phoney contract and a real set of keys.

The "owner" will disappear with thousands of euros collected from 10 different persons. Not bad for a few days work with the only expenses being the rent he might have paid himself to get access to the room and the keys, and the cost of having copies of the keys made. About 10 euros for each key set. Nice going. For the multiple new occupants of the apartment the "no longer too good to be true" part begins when 10-20 people start moving in to the same flat at the same time. In some cases many of the occupants have nowhere else to go and several people have to up live together for an extended period, while the mess gets sorted out.
This type of scam can happen in various variations. Some people are cheated out of money before they even arrive in Barcelona. The explanations are more or less the same. Owner of great flat leaving the country and has "chosen" you because you seem nice and responsible and will look after their flat, so you get a low rent. Or owner has to leave the country fast for work and sets the rent low to ensure a quick rental. In hindsight the people who have been cheated, can hardly believe, that they were so naïve and trusting. But it can happen to anyone. The criminals are playing with your emotions and targeting our greed. The prospect of lan amazing place at such a cheap rent blocks out all rational thought.Because of the urgency of the situation, there is little or no time to consult others, who might have smelled a rat. There is no time to check things properly either. You are forced to make an instant decision if you want this apartment and many choose to take the chance. Hey you think! Someone has to get lucky in life and today it's your turn! So. Follow these simple guidelines and you will have a much better chance of avoiding accommodation scams in Barcelona!

Tip 1. "If it's too good to be true, then probably isn't true!"
This is the golden rule to keep in mind. "If it's too good to be true – then it's too good to be true!" In other words, if someone, that is not a friend or family member, offers you an fantastic room or apartment that is much nicer, or bigger, or has a better location than anything else that you have been offered, but oddly enough at a lower price and and lower deposit, then the chances are that it is a scam. It's too good to be true, because it's not true.


Tip 2. Check ID of the person that you are dealing with and renting from. Get copies if possible.
Verify the credentials of the person offering you the flat. Is he/she the person that they claim to be? You might feel a that it is embarrassing to ask for ID, but do it anyway. If they are who they say they are, then they will simply take out ID cards and business cards that you can check. If they cannot produce some ID or some proof of ownership, then it's a scam and you walk away.

Tip 3. Check the ownership of the place that you are going to rent.

Ask for some time to check the contract. Ask to talk to anyone else living in the apartment. Ask for information about the agency if it's a company. Make arrangements to see the flat again. Do what ever you can to check things. If they don't want to give you a few days to check things, then there might be something wrong.

Tip 3. Reflect on how you were approached?
Were you approached by an "amazing coincidence"? Did someone bump into you just after you got off the airport bus, when you were carrying your luggage? Or in an internet café. Ask yourselves what the chances of this really happening are? Most people who have an apartment to rent out, will advertise it through normal channels and will charge the normal rate, so good fortune like that does not usually happen, unless it comes through good friends or other contacts.

Tip 4. Always get a second opinion.

Before you do anything or sign anything or pay anything, ask one or preferably more friends for advice. Preferably from someone who has been around the city for a while and can help you check the matter more carefully.

Tip 5. Don't pay up front without a contract!

Never pay anything until you have a contract or you are sure that you are dealing with a bona-fide company. It is perfectly safe to wire money to the bank account of an established rental company or language school that offers flats or rooms. But never wire or transfer large amounts of money in advance to a private individual, who asks for the money to transferred through agencies like Western Union, Money-Gram etc.

Tip 6. Sometimes saving money costs you more. It can pay to pay a little more.

If you are booking before you arrive in Barcelona, then it pays to pay a little more to avoid any scams. It might cost more to book through a bigger and well-established company in Barcelona, but remember that you are paying for the security and peace of mind of knowing that you will not be cheated. So it pays to pay a bit more. A real company like a rental agency is in business of renting out accommodation. They would not operate an extensive website, have offices and staff, just to cheat a few visitors, so do not worry about trusting established companies.

Tip 7. If you are already in Barcelona, then take your time.

It might be a bit more expensive staying in a hotel or hostel for a few extra days, while you look for a room, but if you are planning to stay in Barcelona permanently, then you will be well advised to spend those few days longer checking out the accommodation market and talking to as many people as possible.

Tip 8. Start with a family home-stay!

Even if you are looking for your own apartment or flat, why not consider a home stay for the first 4 or 8 weeks. A family homestay means living with a Spanish host family. If you are planning to stay and live in Barcelona for a longer period, then you will probably have learning Spanish next on your to-do list, right underneath finding a place to live. So why not combine learning Spanish with a home stay with a Spanish host family? The price is usually around 7-900 euros a month.

This might sound expensive, compared to renting a room or even a whole flat, but actually it is a bargain in many ways. First of all it includes lodging, breakfast, dinner. It also includes lots of Spanish practise with your host family.
And you are buying time. You will have one month, which you can put to good use not only to improve your Spanish, but to do valuable research on finding the right accommodation. You can talk to other Spanish students at your Spanish school and share information and experiences about looking for accommodation in Barcelona. You will have time to see more apartment and to check out the different areas of town.

Many new arrivals in Barcelona move into a new room or apartment very quickly. Many do not get get scammed but they do find that they don't care much for the barrio (neighbourhood) or their room-mates, or any number of little things that they might have been able to avoid if they have spent a little more time on the project. Apart from losing a bit of privacy and being a bit tidier, than you might be in your own place, there are no real downsides to staying with a host family. It's a great deal and a fun experience!

Check out related articles about what to look out for when renting a room or flat
Print our Spanish accommodation word list.