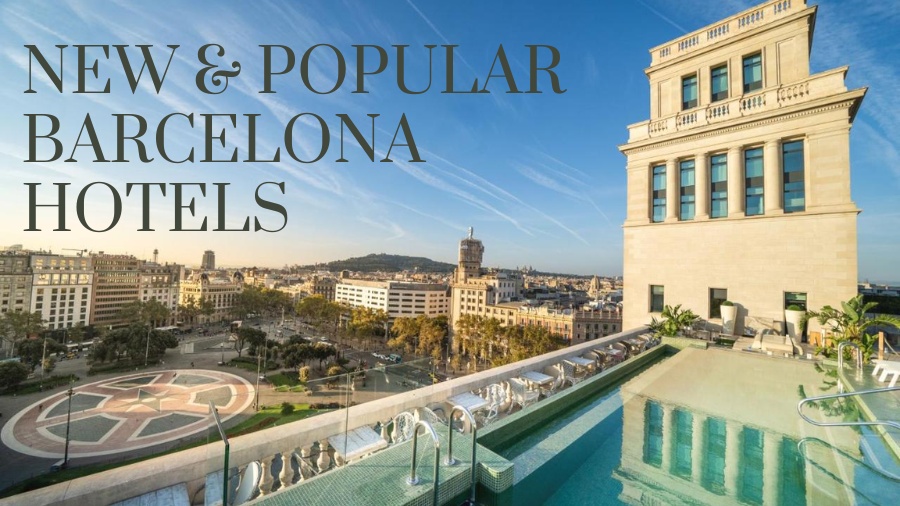 Popular new Barcelona hotels 2018
Updated October 2017

Guide to top Barcelona hotels. Booking the popular new hotels in Barcelona and finding best deals for planning a visit to Barcelona, Spain in 2018. Our new Barcelona hotel guide has tips and recommendations for the top reviewed hotels in Barcelona and some of our personal Barcelona hotel favourites.

Barcelona has many fabulous new hotels in all price ranges and many new hotels. Follow the blue links to read more, see pictures of the hotels and to read real guest reviews from recent guests. To see hotel prices or make a reservation for a specific period, enter your travel dates first and then you can refine your search with hotel facilities, prices, distances to attractions, hotel reviews and more.

You might also be interested in our guide to which Barcelona area to stay in - and if you are booking a cruise that begins or ends in Barcelona, then find best hotels near Barcelona cruise ship terminals.
TWEET about this PAGE


Top Barcelona hotel tips 2018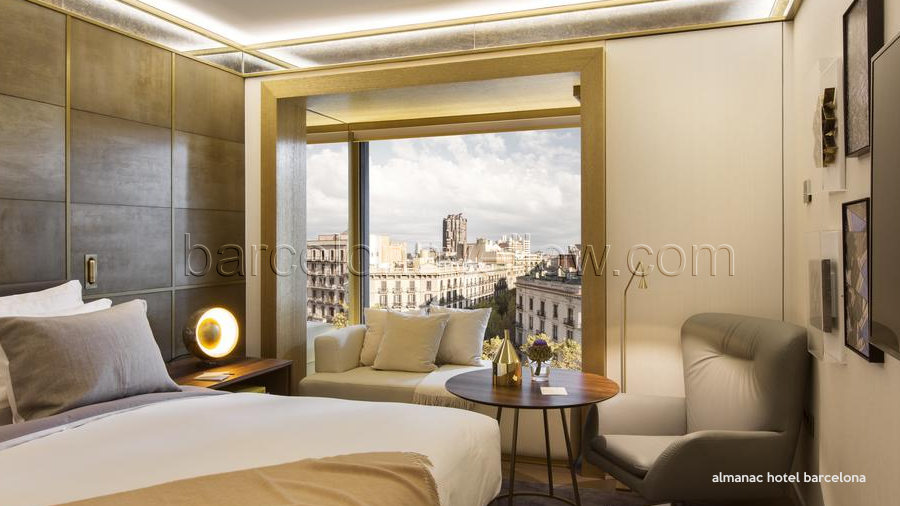 For top luxury look at Barcelona's new 5 star Alamanac hotel just 1 block from central Plaza Catalunya square. Also new is the fabulous Hotel The One by Ohla. Ohla the One is rated Exceptional by guests for its super central location on elegant shpping boulevard Passeig de Gracia and with many luxurious facilities and features from Egyptian cotton sheets to marble bathrooms to rooftop plunge pool and a luxury spa.

For more high end luxury in Barcelona look at 5 star Ohla Eixample hotel in Barcelona rated Superb by guests for luxury and for an all year roof terrace pool, a Michelin starred restaurant and a central location.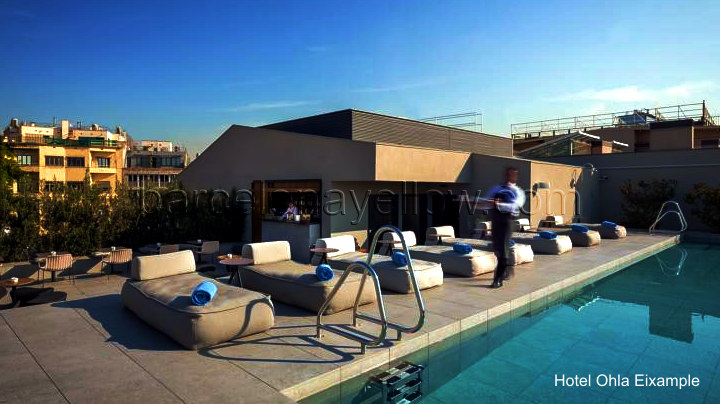 There is another 5 star Ohla Barcelona hotel on Via Laietana, which is a bit closer to the medieval part of Barcelona and which also is rated Superb rating by guests

Another new and very popular hotel for 2018 in Barcelona is H10 Cubik hotel, which has earned a Wonderful rating. H10 Cubik has a central location on Vía Laietana just inside the medieval Gothic area. H10 Cubik has stylish designer rooms and an all year outdoor pool and sun terrace.

Another hotel rated Wonderful by guests is new 4 star Hotel Casa Bonay in the Eixample area of Barcelona a little way from downtown central sqaure of Plaza Catalunya, but in a nice area and near the metro station Tetuan so well connected.

A new top choice for 2016 for guests looking for small and intimate places to stay in Barcelona is 4 star boutique hotel Margot House nestled on elegant Passeig de Gracia boulevard. Margot has just 9 rooms but gets a rating of Superb from guests.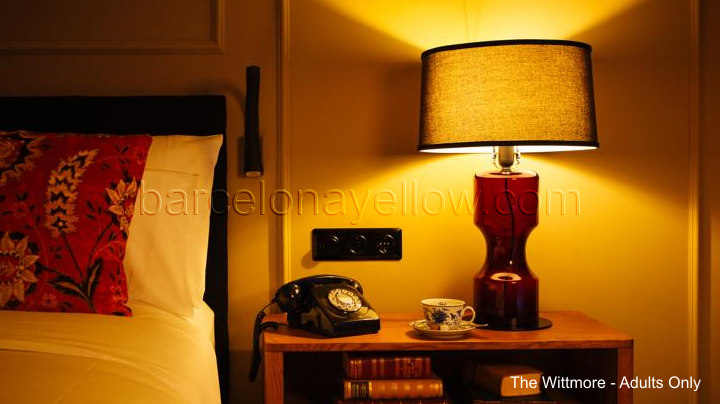 The Wittmore is a new 'adults only' boutique hotel with just 22 rooms has quickly become a Barcelona best seller and earned a Superb rating is located the gothic area near the Port Vell marina. Old world elegance meets modern functionality with top class service and attention.

The Serras is a 5 star luxury boutique hotel and rated Exceptional by guests. It overlooks Port Vell marina and borders the gothic area. The Serras features modern large designer rooms with balconies, harbour views and is just a short stroll from many historic sights of Barcelona in the ancient city areas. The Serras guests tastebuds are pampered by master chef Marc Gascons who might take creative inspiration from the fact that the hotel is at the same address as Picasso's first studio from 1897 where he painted 'Science and Charity' - Ciencia y Caridad.

Guests love new boutique hotel Cotton House Hotel Barcelona rated Fabulous by guests. Cotton House Barcelona is part of the Marriot Autograph Collection of quality, character rich hotels and is three blocks from central Plaza Catalunya square close to sights and transport connections. The Cotton House takes its name from the former head office of the Cotton Manufacturers Association. Cotton House Barcelona has 83 elegant rooms and spacious suites. Facilities include free WiFi, rooftop pool and terrace and a big garden terrace.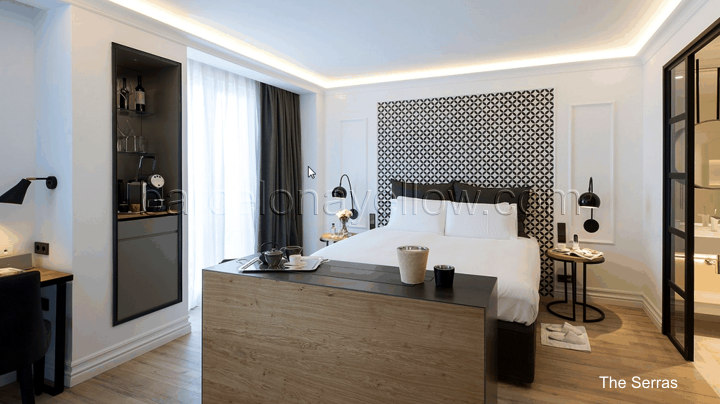 We like the 4 star Gallery Hotel - rated Fabulous by guests which is near central shopping boulevard Passeig de Gracia. The Gallery hotel has a free sauna, gym and roof-top terrace with a pool and city views. The rooms are praised for being spacious, air-conditioned and with free WIFI and free water on arrival.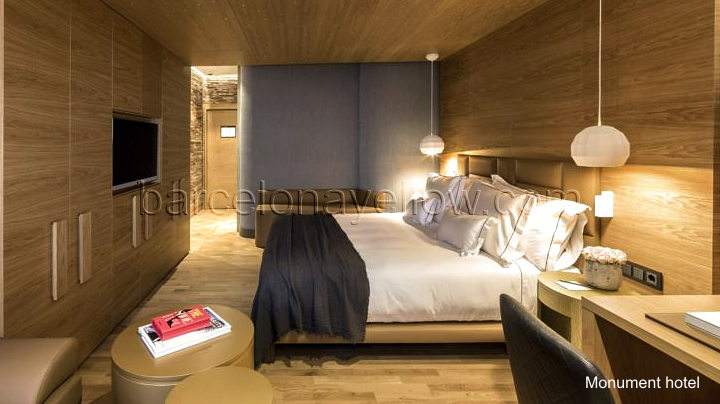 Monument hotel is one of Barcelona's newest 5 star hotels located in modernist Casa Enric Batlló building on elegant Passeig de Gracia boulevard. It has already earned a Superb rating by guest reviews. Monument hotel has Barcelona´s only 3 star Michelin restaurant Lasarte by Chef Martin Berasategui. Guests can enjoy their stay in soundproofed elegant rooms with private bathrooms with free standing baths. Room features include bluetooth speakers and room safe with built-in power supply for charging laptops. The Monument hotel location could not be more central just a few minutes on foot from two famous Gaudi buildings on the same street.

The Mirror Barcelona is rated Fabulous by guests for being a very central luxurious hotel just 350 metres from equally elegant Passeig de Gracia shopping boulevard. The Mirror hotel Barcelona has a small outdoor pool and terrace and a stylish seafood restaurant managed by Michelin chef Paco Pérez. The Mirror hotel is also near popular tapas restaurant Cervesaria Catalana.
The central new 4 star hotel H10 Metropolitan - rated Superb by guests - is just a few steps from Barcelona's downtown central square Plaza Catalunya. This hotel is perfect for Barcelona stays with a very central location between the medieval and modernist parts of Barcelona's city centre and it is close to many attractions and transport connections. The H10 Metropolitan has modern rooms, breakfast restaurant, cafeteria with terrace and swimming pool and a roof terrace with a plunge pool and sun loungers. What more do you need?

See more hotel tips below and and find hotels our map of best Barcelona hotels 2018 where you can also see locations of famous tourist attractions and areas of Barcelona

Open FULLSCREEN version Barcelona best hotel map






A quiet and new medium priced Barcelona hotel is 3 star Hotel Denit - rated Very Good by guests. It's a popular choice for modern, soundproofed rooms and a central location near downtown Plaza Catalunya.
For good value, location and luxury we also really like the new hi-tech, chic and modern design 3 star Hotel Room Mate Pau - Rated Superb by guest reviews - also just a few steps from Plaza Catalunya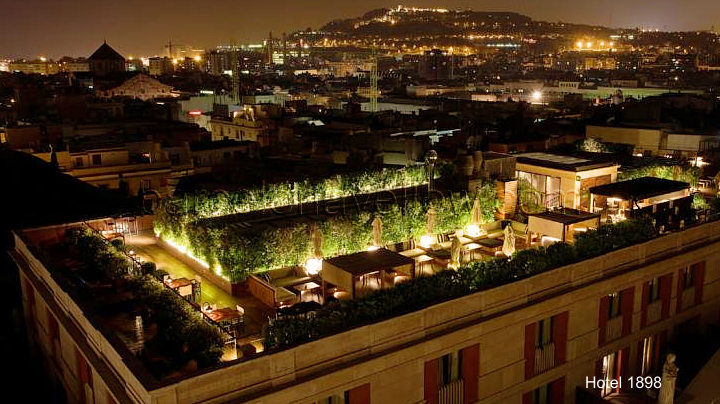 Many guests love the 4 star Hotel 1898 - rated Superb for luxury and location. It is on vibrant La Rambla pedestrian street and near downtown Plaza Catalunya making it well connected for everything. Hotel 1898 has an lovely roof-top terrace with heated all year roof-top pool and restaurant.

Another very central and top reviewed hotel is 4 star Hotel Catalonia Plaza Cataluña - rated Very Good by guests. It is on a side street just 50m from Plaza Catalunya, Barcelona's central square. This hotel is both close to the old gothic city and the newer Modernist area of Barcelona called Eixample. It has a lovely pool and garden terrace which is a quiet oasis after sightseeing in Barcelona.

A central, modern and stylish place to stay is the hotel Catalonia Square rated Superb by guests. Guests love the clean rooms, good service and friendly staff and facilities include free WiFi, outdoor pool, fitness centre and a location just 100 metres from Plaça Catalunya.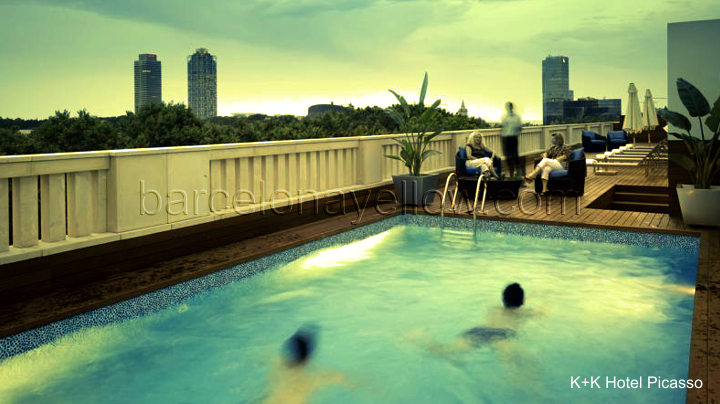 Slightly off centre but a popular hotel choice is the 4 star K+K Picasso hotel - rated Fabulous by guests. It has a quiet location opposite Barcelona's lovely Cuitadella park and is just a few steps from charming El Born medieval area of Barcelona, where you can visit the Picasso museum and impressive gothic Santa Maria del Mar church. The K+K Picasso hotel has a rooftop pool with super views.

Also near the Born area and convenient for Barcelona cruise ships is new Hotel Ciutadella Barcelona - rated Very Good by guests for location, spacious rooms and friendly staff.

Another new Barcelona hotel with excellent reviews and great location is Olivia Balmes hotel - Rated Superb by guest reviews it is located near top shopping street Passeig de Gracia which is home to two of Barcelona's most famous attractions by Gaudi, the houses Casa Batllo and Casa Mila. The Olivia Balmes hotel has big modern rooms with an open plan bathroom and guests love the roof terrace with pool.

A tiny but popular boutique hotel in Barcelona for 2018 is the exquisite hotel Circa 1905 - rated Superb by guest reviews. Circa 1905 has just 9 rooms on the top floor of a classic modernist building in Eixample but great attention to detail.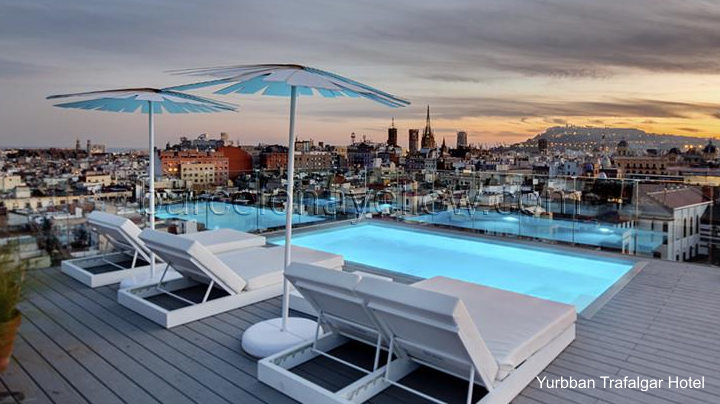 A new cental hotel rated Superb by guests is 3 star Yurbban Travel Hotel - rated Superb by reviews - a short walk from Plaza Catalanya square. It's new, modern, functional and has a rooftop terrace and pool with amazing city views.

See also our Top 10 Barcelona Boutique hotel guide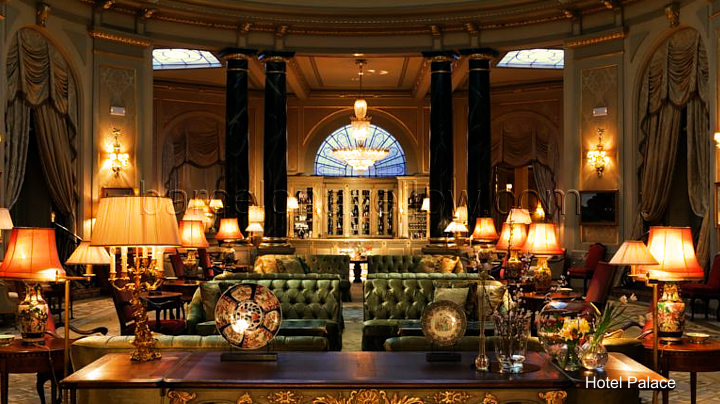 The former Ritz hotel on Gran Via is now the Hotel Palace GLand rated Superb by guest reviews. The hotel is a classic which was first opened in 1919 and totally refurbished in 2009. The Palace has been the first choice of countless celebrity guests and royalty throughout the decades. Salvador Dalí once brought a lifesize stuffed white horse up to the Royal suite of the Ritz as a gift for his wife Gala. Today the Palace Hotel is still the grandest and most exquisite of luxury hotels of Barcelona. The Palace has 125 new luxury rooms of which 42 are suites. It has one of the Barcelona's best dining from Michelin starredCaelis Restaurant.

Hotel Alma - rated Superb by guests - is a 5-star boutique hotel and a top 5 Barcelona visitors hotel choice earned by a central upscale location just by the elegant Passeig de Gracia. The decor and rooms in Hotel Alma is a little on the sombre "Gotham city" side for a happy city like Barcelona, but Alma makes up for it with great service and quiet rooms, spa and many other luxury facilities.

Then consider the quite new boutique hotel Wilson Boutique Hotel - rated Fabulous by reviews - in Barcelona on recently renovated Avenida Diagonal shopping boulevard and comes highly recommended for hotel location, staff and value for money.

For a more central boutique hotel with a roof terrace, consider 4 star Hotel Pulitzer - rated Fabulous by guest reviews - located on the Barcelona's central square Plaza Catalunya which is the perfect place for sights in both the old and new areas of the city.

We Boutique Hotel has just six luxurious rooms in a very nice location bordering Barcelona's old city area. Close to the metro and a few minutes walk from Ciutadella Park. Guests rate it Wonderful. We also love the quite new 5 star boutique Hotel Mercer in the medieval Gothic quarter which is among the highest rated in Barcelona with an Exceptional rating. Another consistently popular and classic hotel on a fabulous plaza in the gothic quarter is the 4 star Hotel Neri.

You won't go wrong with the 5 star Hotel Bagues on Las Ramblas walking street and another very popular hotel choice is boutique hotel Casa Camper in the upper part of Raval area of the old city and also near Plaza Catalunya. For a clean and centrally located hotel in the Gothic area look at 3 star Nouvel hotel which earns a Very Good rating from guests.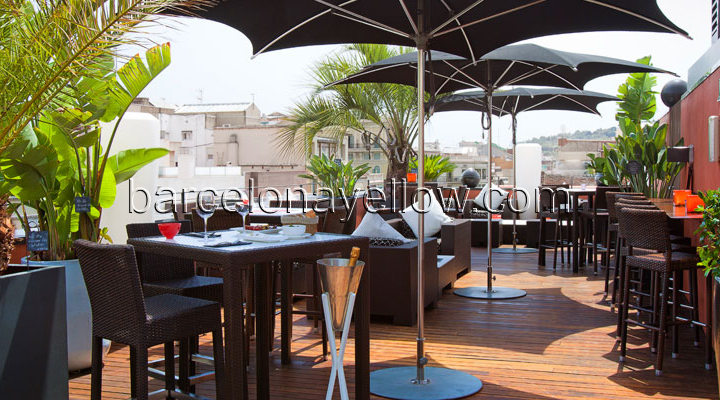 Many guests have recommended 4 star design Hotel Villa Emilia which is centrally located near Plaza Espanya and the Magic Fountain by Montjuic hill. Villa Emilia has a homely wooden deck roof-top terrace and has a Superb rating.

For great value for money look at boutique hotel 2 star Hotel Constanza, which has a central and quiet location with a nice roof-top terrace and designer decor. For cruise guests looking for a clean affordable hotel near the harbour have a look at 3 star Andante Hotel

Also close to cruise ships, but in the quiet residental Poblesec area of the city near Montjuic hill, you can find new 3 star boutique Hotel Brummel. Brummel is 15 minutes walk from famous La Rambla street and very close to cruise ships and is rated Superb by guests and features include outdoor pool, restaurant, garden and sauna, Free WiFi and rooms with artwork by young European designers.

Another popular hotel choice which is Rated Fabulous is 4 star Hotel Ofelias located near Plaza Espanya and the Montjuic Magic Fountain .

The Hotel DO Plaça Reial is a new Barcelona luxury boutique hotel which received rave reviews since opening . The DO Plaça Reial has a wonderful location on the gothic Plaça Reial square just a few steps from Las Ramblas street and Barcelona port.

Nearer the trendy Born area of the old city on Via Laietana a very popular hotel choice is the new and luxurious 5 star Hotel Ohla which houses Michelin starred restaurant Saüc and offers guests a marvelous chill-out terrace.

A famous Barcelona luxury hotel in a central location on elegant shopping street Passeig de Gracia is Hotel Omm also home to Michelin restaurant Roca Moo by the world famous Roca brothers.

For hotels near cruise ships in Barcelona consider the modern Hotel Grums and find more Barcelona hotels near cruise ships. For the best hotel terraces in Barcelona see our Barcelona hotel terrace guide.

If you are a modernist fan and prefer classic hotels we can recommend a couple of modernist hotels in Barcelona. One is the fabulous Hotel España Ramblas very close to Las Ramblas, which is a modernist treasure designed by famous architecht Domènech i Montaner. It now has ultra modern rooms and a super restaurant and terrace.

Also on Las Ramblas with soundproofed rooms and close to Plaza Catalunya is classic 5 star Hotel Le Méridien which always gets good reviews.

The iconic modernist 5 star Casa Fuster hotel is at the very top of elegant shopping street Passeig de Gracia. If you want to be very close to the most elegant shopping street in Barcelona, the Passeig de Gracia, then another popular choice is one of Europe's top hotels the Condes de Barcelona.

To be near to Barcelona beach front at affordable prices look at Novatel Barcelona City hotel in the Diagonal Mar area of Barcelona, which has 4 stars, a free gym and a rooftop pool.






Top apartments Barcelona 2018

El Palauet Living Barcelona are 5 star suites in a modernist building on elegant and central shopping boulevard Passeig de Gràcia. The spacious suites of El Palauet include 2 bedrooms with private bathrooms, a big living room and a full kitchen. On site staff serve breakfast in your own dining room! Only 6 suites available, so book in advance.



Top Barcelona hostel picks 2018
Which hostels to choose in Barcelona? Here are our picks for 2018 top backpacker hostels and guest houses in Barcelona. A good tip for 2018 is Casa Kessler Barcelona which is a very stylish hostal on a quiet but central street in the Eixample area of Barcelona. Casa Kessler has elegant and ornate rooms and an amazing chill out room with wonderful old tiled floors. The Hostal Nitz is a new and stylish guesthouse in Barcelona's Gothic quarter just a few minutes from Barcelona's cathedral. We can also recommend the new backpacker hostel St.Christopher's Inn Barcelona in a central location very close to Plaza Catalunya and La Rambla.

Another very central hostel is the Backpackers and student hostel Equity Point Centric which is on a busy corner of Barcelona's most famous shopping street, Passeig de Gràcia with six floors and a rooftop terrace. In the thick of the action and the heart of the Gothic area consider the legendary Kabul Hostel in Barcelona. Off center but very popular is modern and well-equipped Urbany hostel. And for great personal service check out the Somnio hostel in the Eixample part of Barcelona and their sister hostel Duo by Somnio. Colourful Guest House Els Angels also has a central location and gets good reviews for service and cleanliness

Find all best Barcelona hostals



Best B&B's in Barcelona

Check out Camino B&B - Rated Wonderful by guests - near Montjuic hill that gets high review scores for being clean, cheap and comfortable with very friendly and attentive hosts. Another very popular and elegant B&B in a central Barcelona location is BacHome Barcelona B&B - rated Fabulous by reviews - just 200m from Passeig de Gracia which offers an abundance of style, free WiFi, a cosy breakfast area and modern rooms. Another luxurious B&B in Barcelona's centre close to Plaza Cataluny ais Anba Bed & Breakfast Deluxe - rated Superb by reviews.

More off-centre but very popular is Anita's Bed and Breakfast - rated Superb by reviews - perched in the hills overlooking Barcelona with great views and excellent value for money. In a more central location just 300m from La Pedrera and Passeig de Gracia is Ally's Guest House - rated Very Good by guests - with 11 superb comfortable and light rooms all with heating, air conditioning and with 4 shared bathrooms. For an equally popular B&B in a more central location on the leafy street of Enric Granados look at Forget Me Not B&B rated Fabulous by guests. A functional and good value B&B near the Barcelona beachfront is Bed and Beach Barcelona Guesthouse rated Fabulous by guest reviews.


Hotels in Barcelona sorted by stars and price
1 star hotels Barcelona
2 star hotels Barcelona
3 star hotels Barcelona
4 star hotels in Barcelona
5 star hotels in Barcelona


Hotels near landmarks in Barcelona
Hotels near La Rambla
Hotels near Plaza Catalunya
Hotels near La Sagrada Familia
Hotels near Nou Camp stadium
Hotels near Barcelona Nord Bus station (buses to Girona Airport)


Hotels near Metro stations in Barcelona
Hotels near Catalunya metro station
Hotels near Espanya Metro (Fira Montjuic exhibition area)
Hotels near Maresme Forum metro station (Parc del Forum festival area)


Hotels near cruise ships in Barcelona

There are several cruise ship locations in Barcelona harbor. Click below for map of cruise ship berths in Barcelona and map of hotels within 20 minutes from cruise ships in Barcelona by taxi.
Map Hotels near cruise ship terminals Barcelona
Cruise Ships terminals in Barcelona


Hotels near Barcelona Trade Fair areas
Hotels near Fira de Barcelona exhibition center
Hotels near Palau de Congressos Barcelona
Hotels near CCIB Convention Centre



Hotels near Parc del Forum / CCIB
Hotels near CCIB at Parc de Forum
Parc del Forum is the location and venue of many festivals in Barcelona like Primavera, Feria de Abril and more. It is located in the neighbourhood called Diagonal Mar in the district of Barcelona called Sant Marti This is also the location of CCIB convention centre .


Hotels by Barcelona district
Hotels in Barcelona old city center
Hotels in Eixample area of Barcelona
Hotels in Born area of Barcelona
Hotels in Vila Olimpica, Poblenou and Diagonal Mar
Hotels in Gracia district of Barcelona
Hotels in Sarria/Sant Gervasi district of Barcelona called Zona Alta
Hotels in Sants / Montjuic /Poble Sec areas of Barcelona



Hotels with extra facilities
Hotels with Spa and Wellness centres in Barcelona
Hotels with indoor swimming pools
Hotels with outdoor swimming pools
Hotels with airport shuttle
Hotels with facilities /access for disabled


© Copyright Barcelonayellow.com
Do not copy from this page without permission
All rights reserved.