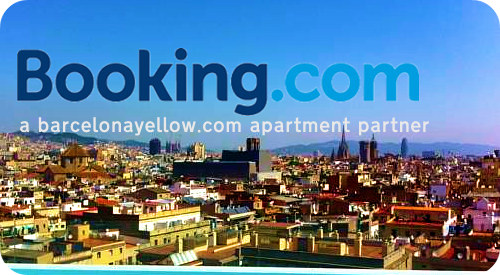 Booking.com Barcelona apartments
Booking.com is a recommended partner of Barcelonayellow.com for booking self-catering apartments in Barcelona and other Spanish cities. Booking.com is the world's leading online hotel and accommodation reservations company, and guarantees the best prices for any type of property from small independents to five-star luxury. Have a look at at a few of our recommended self-catering apartments in Barcelona on the pages below

Best family apartments Barcelona

Best self-catering apartments Barcelona
Where to stay in Barcelona
Deco Apartments Barcelona
Stylish loft apartments are housed in a striking art deco building with impressive city view on Diagonal Avenue. Stylish loft apartments are housed in a striking Art Deco building offering impressive city view
Aspasios Rambla Catalunya Suites
Rated Exceptional by guest reviews. These chic apartments are on Barcelona's stylish Rambla de Catalunya street in a central location with balconies, city views and free Wi-Fi. Just 150 metres on foot from Passeig de Gracia Boulevard.
Lugaris The Home Concept
300 metres from Bogatell Beach in Barcelona's quiet Sant Marti district. Modern apartment offers an LCD TV, free Wi-Fi and a Nespresso coffee machine.
Open the map below in Fullscreen version

All Booking.com Barcelona apartments
When you choose Booking.com in partnership with Barcelonayellow.com, you are making a safe choice for apartment or hotel bookings in Barcelona and around the world. On average more than one million guests every night stay in hotels and other vacation apartments booked using Booking.com's global platform. What attracts clients to Booking.com's Barcelona apartment and hotel booking website are the lowest prices, which are guaranteed, Another big factor is the ease of use and the huge array of apartments. You can access the Booking.com website anytime and anywhere from your PC, mobile phone or tablet. In Barcelona you can choose from 1000 apartments and hotels at prices that guaranteed lowest and you never pay booking fees – ever. Another feature that is popular with tourists hunting for the best self-catering apartments and hotel deals in Barcelona, are the thousands of real and unedited guest reviews

Booking.com gives visitors to Barcelona a user-friendly, fast, safe, pleasurable and fun apartment and hotel booking experience that has already been tried, tested and trusted by millions of apartment and hotel bookers around the world which is why Booking.com has consistently been ranked top travel website for customer satisfaction.

The aim of Booking.com is to give apartment clients to ability to experience that moment of pure delight, when you open the door of the apartment or hotel that you have booked, and see for yourself, that you have got everything you booked on the Booking.com website, and you know you will have a fantastic stay in your Barcelona apartment.

The Booking.com website is available in 41 languages, offers over 265,000 hotels and accommodations in 178 countries, features over 17.5 million real reviews from real guests, and attracts over 30 million unique online visitors per month from both leisure and business markets around the globe. Established in 1996, Booking.com has over 16 years of experience and a team of over 5,000 dedicated employees in more than 90 offices worldwide including a local office in Barcelona. Booking.com operates its own in-house customer service team available 24/7 to assist guests in their native language and ensure an exceptional customer experience.

In Barcelona Booking.com partners with Barcelonayellow.com among others. Barcelonayellow.com is a leading Barcelona tourist website and portal. Booking.com is the most significant subsidiary of parent company Priceline which is listed stock exchange company. Here are some key figures from 2013. Booking.com offers the best prices at all of its 265,000+ listed properties, covering over 46,000 destinations in 178 countries, plus:

Over 17.5 million genuine reviews submitted by guests who booked their stay with Booking.com

• Pay after you stay for almost all accommodations

• Maximum flexibility for customers, meaning most accommodations can be cancelled free of charge up to 24 hours before arrival

• Easy access from your desktop, tablet or mobile

• A Booking.com customer service team available 24/7, 365 days per year in your language

• Over 5,000 people in over 50 countries around the world dedicated to having guests experience the delight of getting it right.

• 25 different property types—from hotels, apartments and villas to hostels, farm stays, bungalows and boats.




© Copyright Barcelonayellow.com


Do not copy from this page without permission
All rights reserved
.