Best Beaches outside Barcelona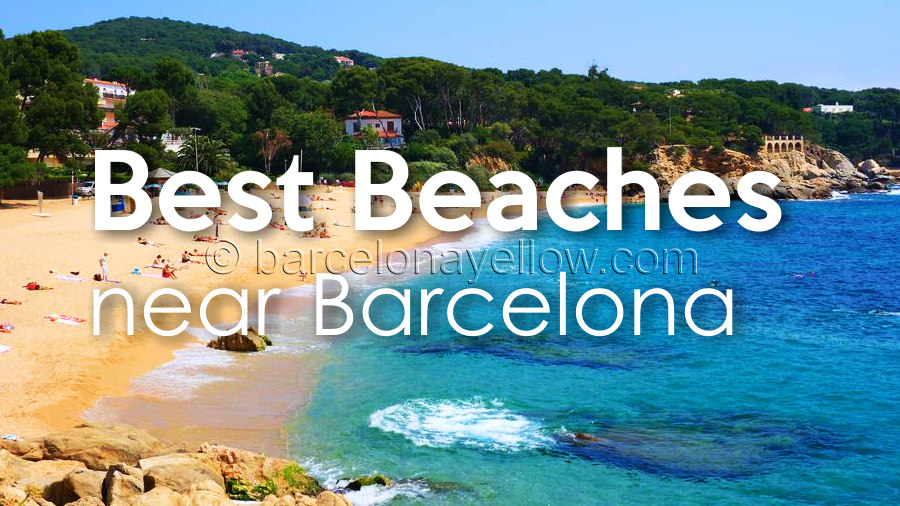 Best Beaches outside Barcelona

Updated December 2022
Barcelona has great city beaches, which you can read about here, but there are also many amazing beaches near Barcelona to the north and south of the city.

Beaches near Barcelona are quite easy and cheap to reach by train or bus. Find the best beaches near Barcelona to the north and south of Barcelona - and how to get to them. If you prefer not to bother with trains, buses or car rentals, then book a beach day tour for small groups to lovely beaches outside Barcelona and on the Costa Brava coast.


Beaches north of Barcelona
The beaches of Barcelona can be crowded in the summer. If you want more space, wider beaches, nicer sand and clearer water for swimming, then head for the beaches outside Barcelona. The coastline of Catalunya has 114 beaches with the blue flag distinction of quality.

Barcelona has around 24 blue flag beaches. To the south Tarragona has 38 blue flag beaches and to the north Girona has 28 blue flag beaches.

From Barcelona it is easy and quite cheap to go by train to some very nice beaches on the Maresme coast. For just €7 to €12 for a single ticket, you can take a very comfortable air-conditioned train north up the Catalunya coast to lovely beaches.

The railway tracks are right on the beach front, so you will have great sea views on your journey. The coastal trains from Barcelona to the beaches outside Barcelona are modern, safe and air-conditioned. The coast north of Barcelona is called 'El Maresme' and is between Barcelona and the Costa Brava.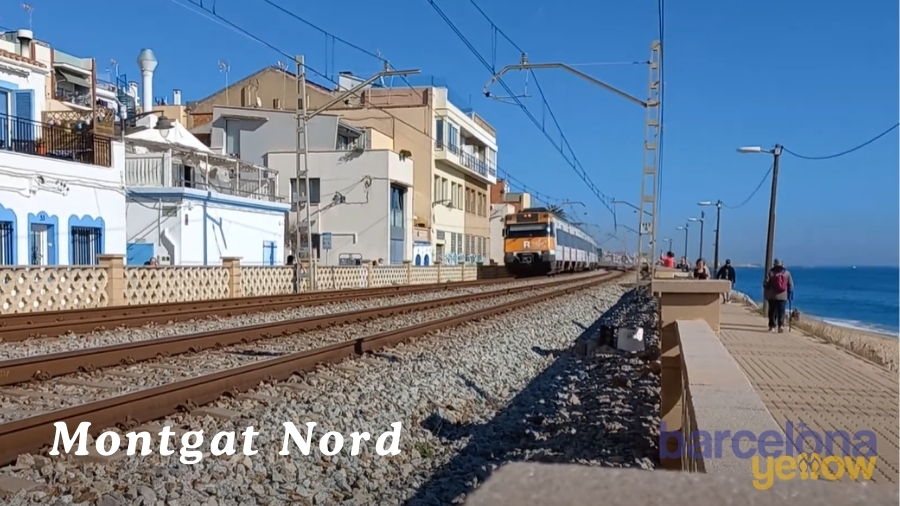 To get to the Maresme beaches by train take the Renfe Rodalies R1 train line from the station Catalunya under Plaza Catalunya. The steps down to the station are just in front of the big department store called El Corte Ingles. You can also catch the R1 train line from the stations Sants, Arc de Triomf or Clot. To get to beaches north of Barcelona take the R1 train in the direction of end station Maçenet-Massanes.

Renfe is the name of the national Spanish railway company. 'Rodalies' is the Catalan language name for regional trains. You will also sometimes see the name 'Cercanias' which is the Spanish name for regional trains. Look for signs at the station with a red circle and C symbol to find Rodalies trains. Ticket prices depend on how far you are going - there are six zones. It is not very expensive - a 1 hour train journey to Sant Pol de Mar is around €10 for a return ticket. A return ticket is called ida y vuelta.

You can buy Rodalies train tickets at the station touch screen ticket machines or at the ticket booths There is a different price for each station, so you must decide where you want to get off, before you buy your ticket. For a single ticket choose ida and for a return ticket choose ida y vuelta.

The train line for beaches north of Barcelona is R1 blue line trains in the direction Maçenet-Massanes. There are many trains that only go from Barcelona to Mataró and which leave every 10 -12 minutes, so if you pick a beach before Matero, you won't have to wait long for a train. If you want to go further north than Mataró, then make sure to take the trains to BLANES, or to the end station Maçenet-Massanes.

Website Renfe cercanias website
PDF map Barcelona Rodalies train network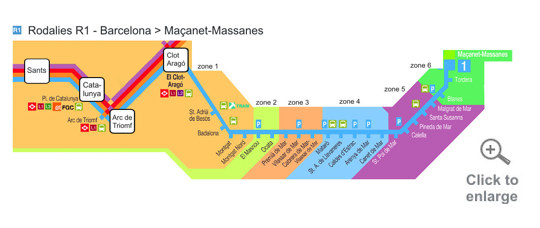 Best beaches north of Barcelona

If you don't have much time and just want to get out of the city, then go to one of the closest beaches outside Barcelona. The beach at Badalona is long and nice with good facilities and a pier, but this is also an urban beach. Badalona is Spain's 4th largest city so the beach can be as crowded as Barcelona. For a short beach trip outside Barcelona that won't take too long or cost too much we recommend Montgat Nord. You can get off at Montgat station too - the stop before Montgat Nord - but it is a longer walk to the beach. If you get off at Montgat Nord you will be step off the train and right on the beach. After Montgat there are many great beaches all next to the railway tracks. We can recommend them all. They all have great little beach cafes called "chiringuitos" which are often nicer than the chiringuitos on Barcelona's beaches.


Montgat beach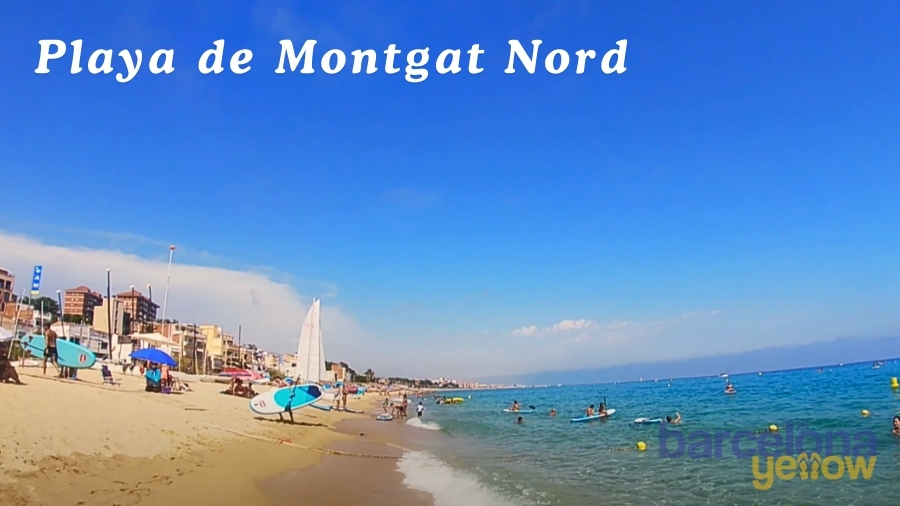 Montgat beach is 25 minutes from Plaza Catalunya by train. This is the first beach outside both Barcelona and Badalona. In the picture above you can see Barcelona in the distance and you really get the feeling that you have left the city and the beach and sand is clean and big. Under 6 euros for return train ticket.



Caldes D'Estrach beach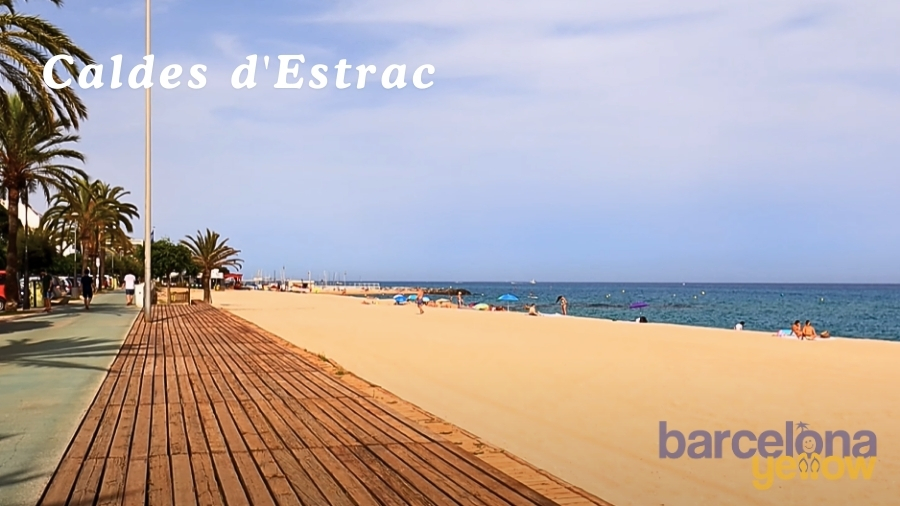 Caldes D'Estrach has a nice beach area with twenty charming modernist villas lining the beach road called Passeig dels Anglesos. These impressive villas definately add a touch of class to the beach scenery. They were built during Barcelona's modernist heyday in the late 19th century, when the upper classes started spending holidays in Caldes D'Estrac. Some of the villas were subsequently used as embassies during the civil war and today they are private residences or businesses. The village of Caldes D'Estrach is quaint village (once you have passed the highway and railway) and there are a couple of nice things to do to fill an afternoon. One is the thermal baths where you can enjoy all kinds of massages - and the other is to visit the Palau Foundation art museum in Caldes D'Estrac, which has a small but interesting collection of Picasso notes and sketches and some works by Catalan painters. Next to the museum you can find the entrance to the 'Parc de can Muntanyà' which is a lovely hill park with nice views of the surroundings and the sea. If you go south the Caldes D'Estrach beaches merge into the beaches at Sant Vicenç de Montalt. At Sant Vicenç de Montalt you can park on the beach front road and there are some nice beach bars.


Sant Pol de Mar beach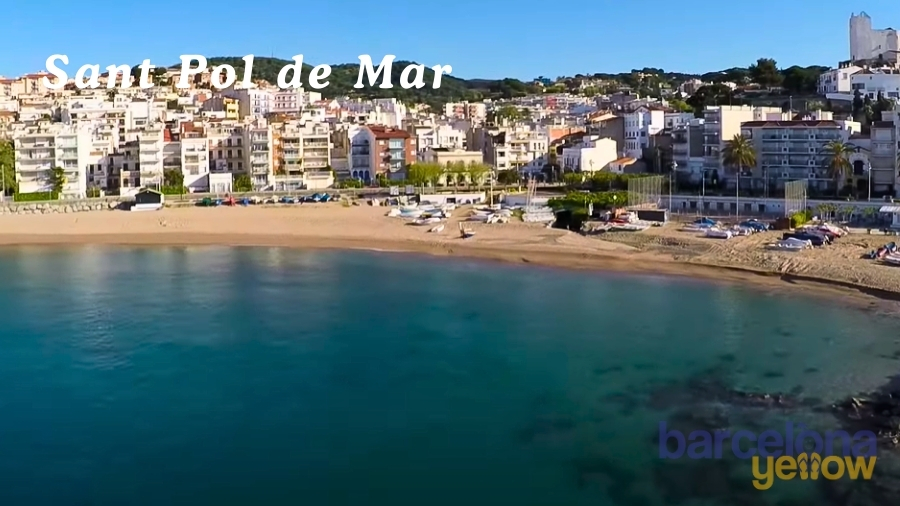 Lovely beaches with rocky outcrops gives Sant Pol a Costa Brava sort of feel. San Pol de Mar is a nice little village on the beach with fishermans' cottages surrounding the 11th-century church of Sant Pau which also has sections that date back to 6th and 10th centuries. If you like excellent food, then book a table at the 2 star Michelin restaurant Restaurant Sant Pau owned by Catalan star chef Carme Ruscalleda i Serra and her husband Toni Balam.



Stations / beaches north of Barcelona
The travel times below are for trains that stop at all the stations.

Badalona - nice beach with wooden pier
Montgat Nord - 25 min from Pl Catalunya
Ocata - big wide beach
Caldes d'Estrac - 50 minutes from Pl Catalunya - nice beach & village
Arenys de Mar - nice beach
Canet de Mar - nice beach
Sant Pol de Mar 1 hour 5 mins from Pl Catalunya) very nice beach
Calella - resort town - lively beach



Costa Brava beaches north of Barcelona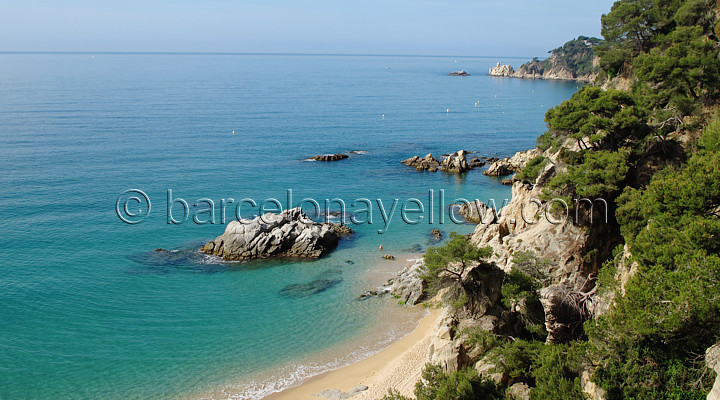 Costa Brava beaches. Some of the best beaches near Barcelona are the famous beaches of the Costa Brava coast. But there are no trains to the Costa Brava beaches. You can take buses from Barcelona to most Costa Brava beach resorts and towns from Barcelona, but the journey time is quite long as the Costa Brava coastline starts 1 hour from Barcelona and is 250km long in total stretching all the way to France. Once you get to a Costa Brava town by bus, then you might have to take extra taxis or buses to get to the nicest beaches and coves. If you want to spend a lovely day at Costa Brava beaches the we recommend that you rent a car or perhaps consider a Costa Brava beach tour from Barcelona by DayTripsBarcelona.com, who organise small group day tours from Barcelona. They will pick you up at your hotel and take you to the Costa Brava and look after you all day.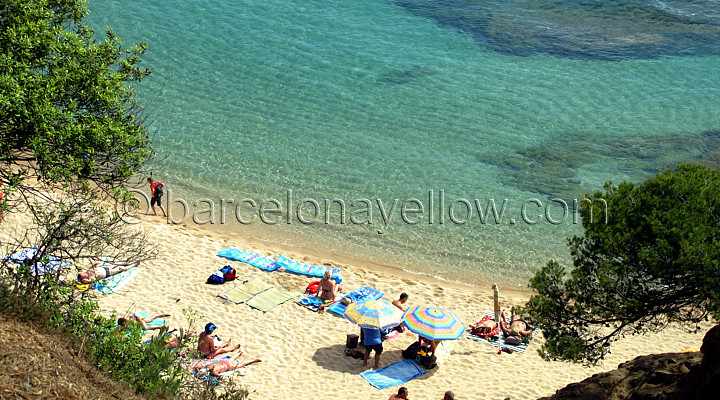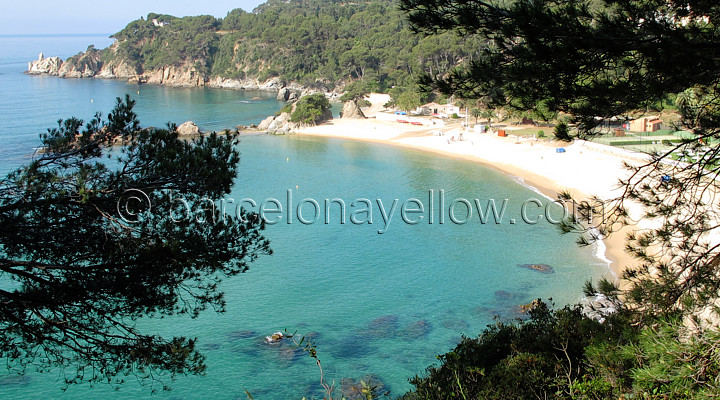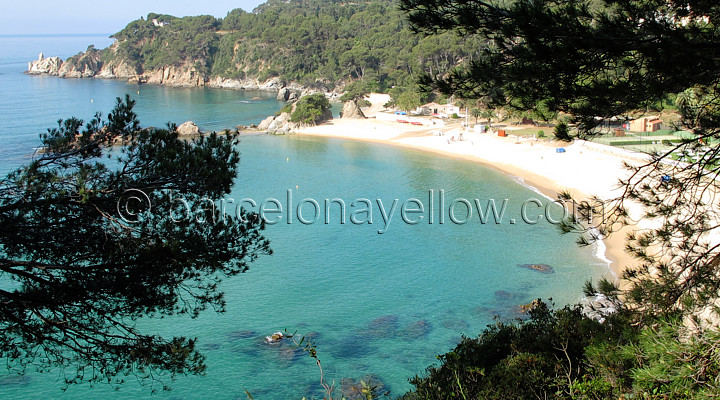 Best beaches to south of Barcelona
The most popular beaches and closest beaches south of Barcelona by train are Gavamar, Castelldefels, Garraf and Sitges.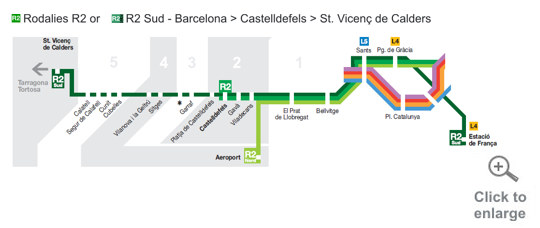 The train line for beaches south of Barcelona is R2 or R2 Sud (R2 South) Take these lines from stations Barcelona Sants, Barcelona Passeig de Gracia or Barcelona Estacio de Francia.



Gavamar beach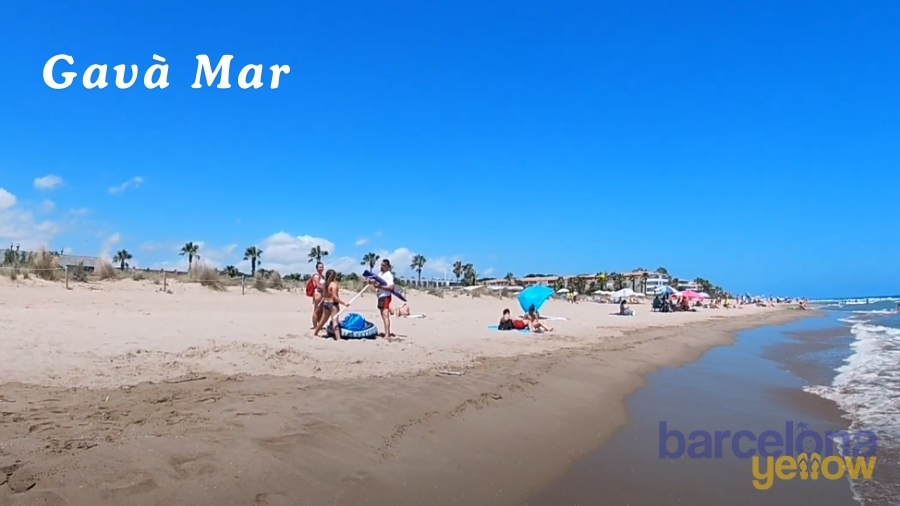 Gavamar. Bus only. Gavà Mar is about 15 km south of Barcelona just past the airport and is about 20 minutes from Barcelona by car or 40 minutes by public bus. The beach at Gavá Mar starts from near the Barcelona airport and extends to join the beach at Castelldefels. See below. If you come by car be early because there is limited parking near the beach at Gavá Mar. There is no railway station at Gavá Mar, but take bus number L95 from bus stop on street Ronda de la Universitat next by Plaza Catalunya, which gets you there in about 40 minutes. Or take a taxi which will cost about €30 each way. Get off anywhere on Av Europa before or after street Avinguda del Mar and then it is few minutes walk down to the beach. Get off at bus stop by Carrer de Parafrugell on Av. Europa then walk down Carrer de Parafrugell to the beach then turn right on the beach lane called Passeig Maritim.to visit Magicwave on Gava Mar beach who rent and teach stand up paddle boards, Hobie kayaks, windsurfers and Hobie cat catamarans.



Castelldefels beach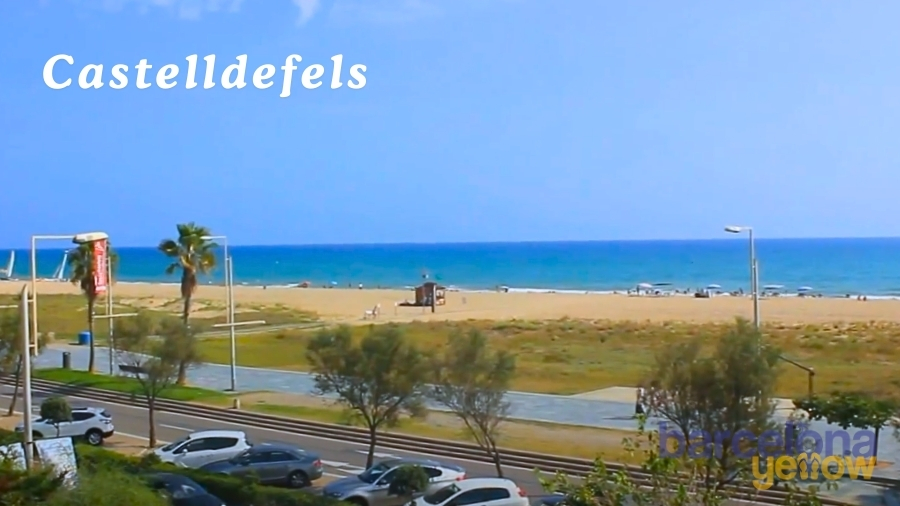 Castelldefels is 18km south of Barcelona. It has two railways stations, which are Castelldefels (town) and Castelldefels-Platja (beach) Both are on the Renfe railway R-2 line. Get off at station Platja de Castelldefels and you will find almost 5km of natural beach with nice sand. There are many beach bars (chiringuitos) and the beach is fully equipped with lifeguards and facilities all summer. If you are coming by car to Castelldefels then take the autopista C-32 and exit on sign Castelldefels Sud - or take the autopista C-31 and exit on sign Castelldefels Platja. It is not recommended to go on small scooters of 50cc or 120cc on the autopistas to these beaches and there are no other roads along the coast because of the airport, so the bus or train is recommended.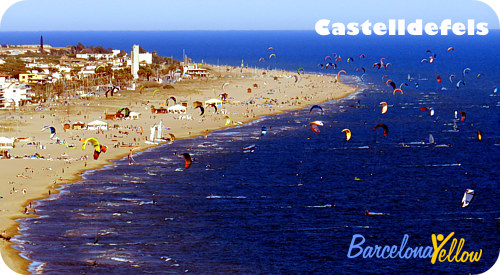 Castelldefels beach is a popular place for sailing, windsurfing and kitesurfing. April and May are the best months for kitesurfing on Castelldefels beach. Kitesurfing is generally not permitted in the summer from June to end September on Gava or Castelldefell beaches. There is a small kitesurf zone open for experts only in Castelldefels.


El Garraf beach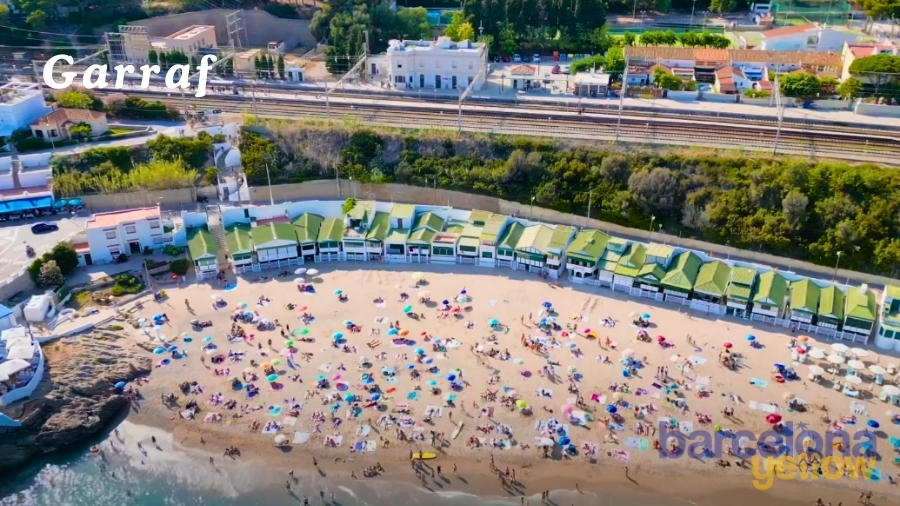 Garraf beach On the Renfe railway R-2 line. Garraf is an fishing village about 25km south of Barcelona on the old coast road between Castelldefels and Sitges. Garraf beach is at the foot of La Falconera cliffs. The beach itself is lined with lovely old fisherman's huts, which are now used as beach huts. There is also an hotel right on the beach and a great restaurant with sea views. By car take the C31 coast road from Castelldefels towards Sitges and Garraf is just at the beginning. Get there early because parking can be very difficult. Garraf is also home to Bodegas Güell (Wine Cellars Güell) by famous architect Antoni Gaudí and is now a restaurant.



Sitges beaches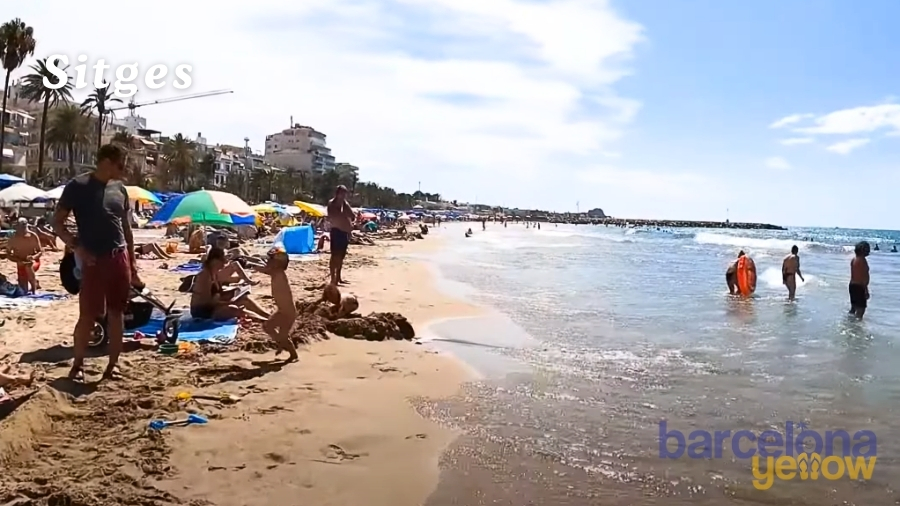 Sitges is a lovely seaside resort about 39 km south of Barcelona. It has 17 small beaches and coves including some gay beaches and nudist beaches. The Sitges beaches are shallower than the beaches on the Costa Brava and Barcelona, so perhaps a little more fun and safer for small children. The water quality is excellent and there are many nice cafes and restaurants and facilities on the Sitges beaches


Please help keep the sea clean - do not leave plastic waste or litter on the beach


Best books to read in Barcelona



Best hotels on beaches outside Barcelona
There are some wonderful beachfront hotels on beaches north and south of Barcelona.


AC Hotel Gava Mar Marriott - Gavamar beachfront - close to Barcelona airport
Hotel Boutique dONNA 4* Superior - boutique hotel in Castelldefels beachfront- 25 mins from Barcelona
Platjador Sitges - cute hotel on Sitges beachfront
Hotel Subur Maritim - lovely hotel on Sitges beachfront
Le Meridien Ra Beach Hotel and Spa - amazing beachfront hotel in El Vendrell
Hotel Eden Roc - romantic sea front hotel on Costa Brava



© Copyright Barcelonayellow.com
All rights reserved
Do not copy anything on this page without permission

Last Updated on Tuesday, 20 December 2022 14:41