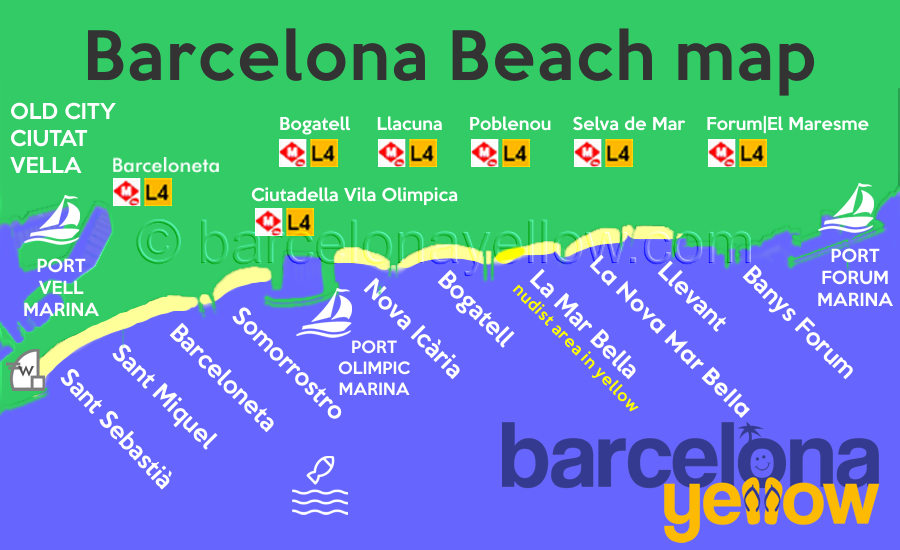 Barcelona Beach Map
Names and map of beaches

How to get to Barcelona's best beaches. The beaches of Barcelona are a top city attraction in the summer with a long beach swimming season running from mid-April to mid-October. The water temperature is most comfortable for swimming from early June until the end of September. There are nine Barcelona beaches along the Mediterranean sea coastline of the city. All Barcelona beaches have the EU blue flag of excellence given for water quality and services.

Each Barcelona beach has a different name, which you can see on the Barcelona beaches map above. In 2011 Barcelona was named the best beach city in the world by the famous National Geographic magazine. From then old centre of Barcelona it takes about 10-20 minutes on foot or 15 minutes on the metro train to get to a Barcelona beach. All the beach metro stations are on the L4 yellow line. Find best Barcelona beach hotels.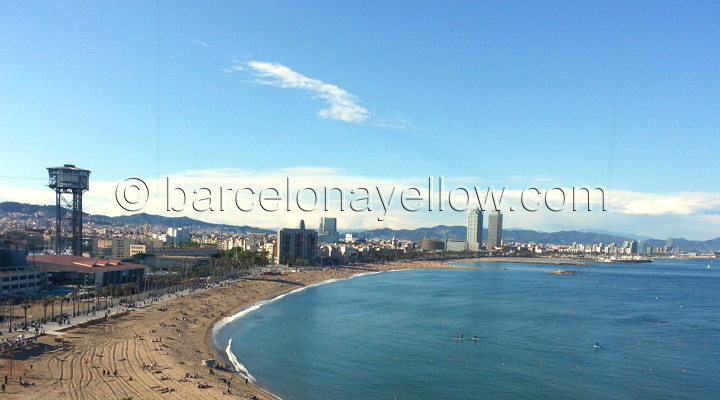 How to get to Barcelona beaches
All Barcelona beaches are all on the Metro yellow line L4. Some of the metro stations are a 10 minute walk to the beaches. Many choose to get get off at Barceloneta metro station then walk to the beaches.

Once you are on the beach promenade you can walk to all the beaches. It is quite a long way - 9 km of beaches in one continuous stretch, so if you have a favourite beach, then it might be easier take the metro directly. Find the metro stations to get to the beaches on the beach map at the top of this page.

Which are the best beaches in the city of Barcelona? That depends on what kind of beach experience you like. In general terms the southern beaches are more festive because they are closer to Barcelona's old city areas. The northern beaches are a little less crowded and have better sand.

Whichever beach you visit in Barcelona it is important to understand that the Barcelona beaches are urban beaches.

The beaches are in the city area. They are visited by 3.5 million of people every year. This means they can be quite crowded in high season. The water and sand are very clear and clean in the morning, but both do get a bit littered at the end of a busy beach day.

Barcelona city council makes a big effort to keep the sand clean and the seawater clear with 90 people working daily in the summer on beach services.

Beaches are cleaned daily early in the morning and the water quality is tested and is generally very high.

So if you get there in the morning the beaches will be very clean and the water will be clear and fresh. You can help by not leaving cigarette butts and litter on the beach.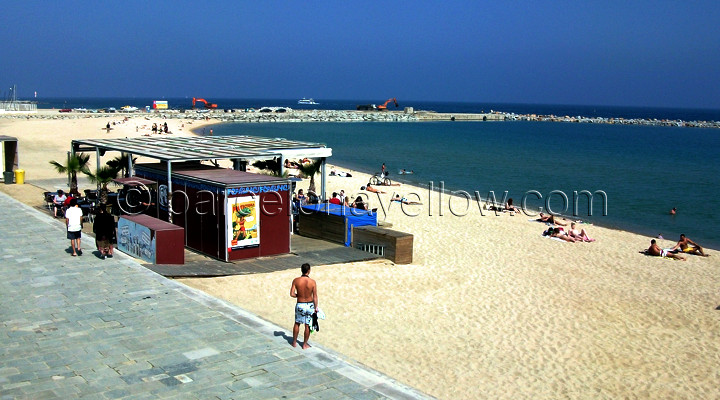 The entire Barcelona metropolitan area, which includes towns near Barcelona, has 32 km of beaches in total stretching from Montgat north of Barcelona to Castelldefels south of the airport. This is called the Costa Barcelona and the entire greater Barcelona beaches welcome 9 million bathers a year. So if you want nice, bigger and a bit tidier beaches, then check out the many beaches outside Barcelona

From the north to south coast of Barcelona city itself there are 9 beaches, which get over 3.5 million visits a year making them one of Barcelona's top attractions. The beaches are crowded in the summer and particularly at the weekend, so get their early to find the best spots.

In recent years the Barcelona city council has improved services on the beaches with extra waste bins, more than 200 people cleaning the beaches daily, and special beach police patrols to keep the beaches safe.

There are around 60-65 Red Cross lifeguards with 2 boats always on duty during the main beach season in Barcelona.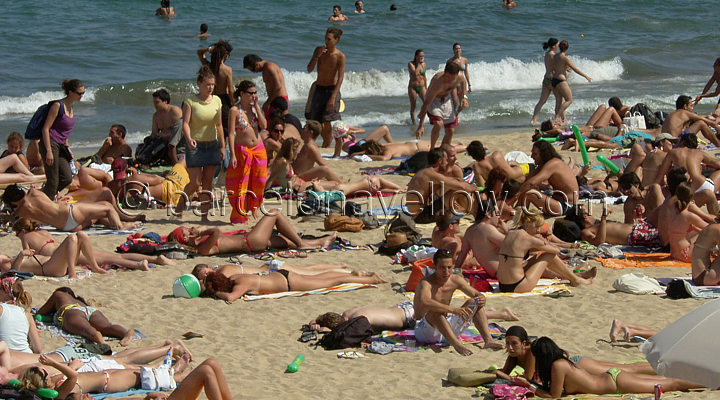 The summer beach season in Barcelona is from mid-April until end September. Daily services, like lifeguards, first aid and rescue centres, public toilets, an environmental information centre, a beach centre on Barceloneta beach (opposite the Hospital del Mar) and police safety points, are usually open from the middle of April and stay in operation until September. After September there are usually weekend beach services, which are open until the middle of October depending on the weather.

At the end of the beach season in Barcelona divers from scuba diving club of the Guardia Urbana police force put on their diving gear to help clean up the city seabed - both to improve the ecosystem of the beaches and for safety of next season's bathers - by removing old cans, bottles, fishing lines and other waste items dropped in the sea during the summer.

The sea temperature in the winter months usually drops to around 12 to 14 degrees.

Pictures Barcelona's beaches
Barcelona average temperatures and sea water temperatures
Beaches outside Barcelona
Hotels near beaches in Barcelona


Names of Barcelona beaches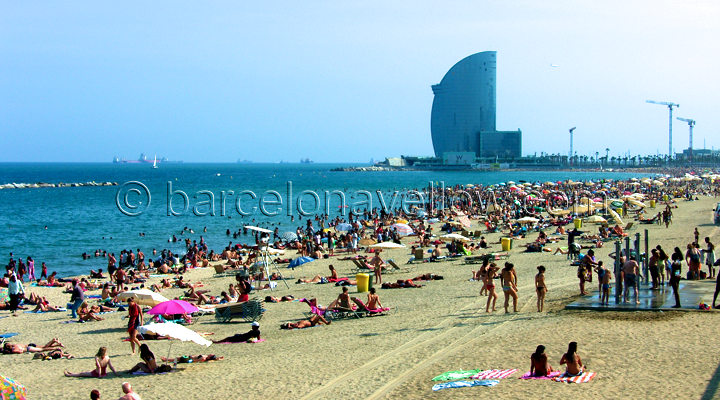 Beach is called " Playa " in Spanish and " Platja " in Catalan. From south to north there are nine beaches in the city of Barcelona, which get over 3.5 million visits a year making them one of Barcelona's top attractions.

In recent years the Barcelona city council has improved services on the beaches with extra waste bins, more than 200 people cleaning the beaches and special beach police patrols to keep the beaches safe. There are around 60-65 Red Cross lifeguards with 2 boats on duty during the main beach season in Barcelona. The goal of Barcelona is to offer visitors the best city beaches in the world.

Overview of all Barcelona beaches with weather and water temperature
Sant Sebastià beach (most southerly)
Sant Miquel beach
Somorrostro beach
La Barceloneta beach
La Nova Icària beach
Bogatell beach
La Mar Bella beach
La Nova Mar Bella beach
Llevant beach (most northerly)
Banys Forum - bathing area Parc del Forum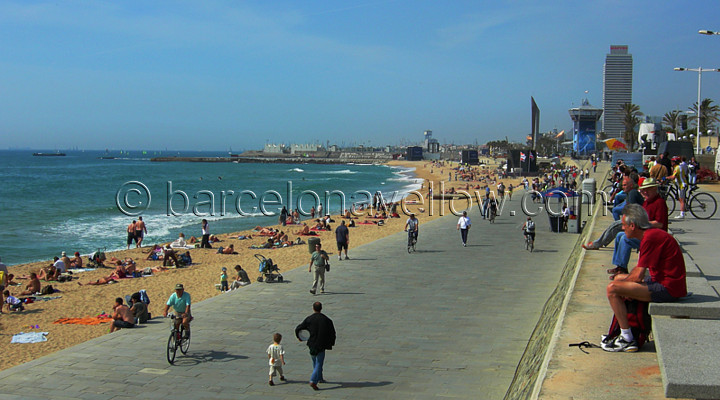 Chiringuitos - beach bars Barcelona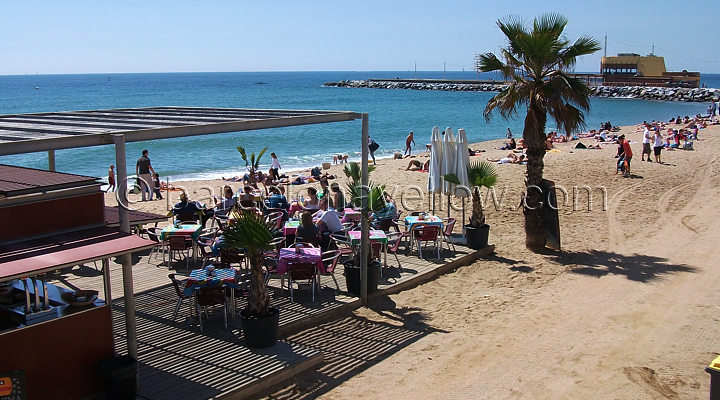 All the Barcelona beach sections have one or two small beach bars on the sand. The beach bars are called "chiringuitos" (pronounced chee-ring-geet-toes.) These little beach bars often organise beach parties. Chiringuitos are hugely popular and serve drinks, snacks and a menu of snacks and salads.

The food and drink is a little more than in the city, but considering the beach location the prices are reasonable. Chiringuitos also rent out sun-beds and often have DJ's playing chill-out music. There are also a number of beach night clubs on the Barcelona beachfront. Find Barcelona beachfront clubs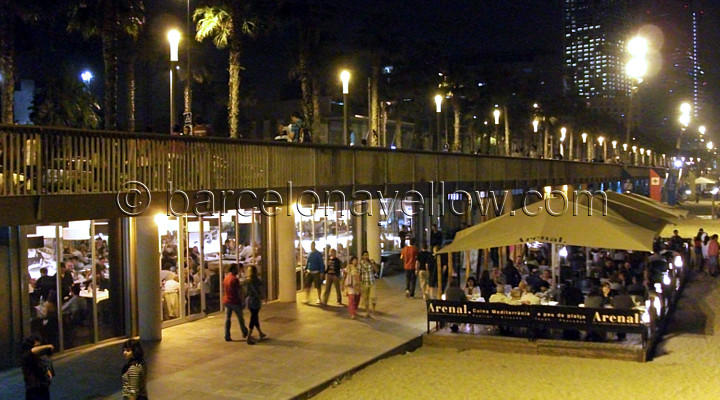 Opening times for Barcelona chiringuito beach bars are open daily from around 10.00 in the morning until 02:00 on all beaches, except the chiringuitos in Barceloneta beach in front of residential areas, which close at midnight.


Beach parties in Barcelona
There are often beach parties in Barcelona but they are usually small beach parties at the chiringuito beach bars. Barcelona beaches are also a great for fitness activities and the beaches are a year-round favourite for free jogging, skating, walks,biking and beach volleyball.


Nudist beaches Barcelona
There is one nudist - naturist beach in Barcelona. It is on a section of La Mar Bella beach in Barcelona. The nearest metro station is Poblenou. The nudist beach section is marked in yellow on the Barcelona beach map.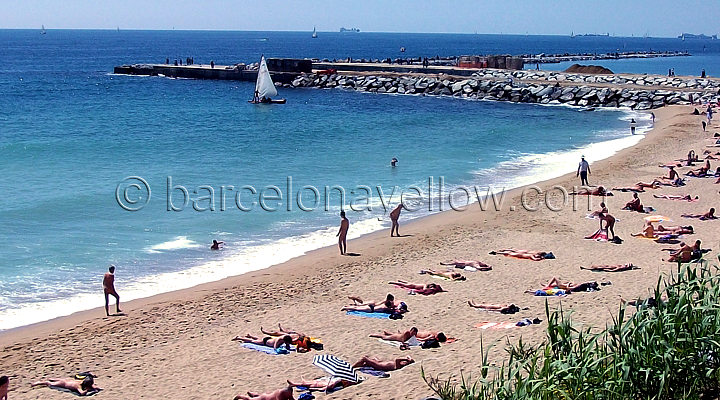 Barcelona Swimming and safety
Swimming and bathing on Barcelona beaches is generally very safe. There are no dangerous currents or riptides close to the shore. But check the lifeguards flags at all times before going into the water.

All the Barcelona beaches have the EU Blue Flag ratings for eco-quality, disabled access, lifeguards on duty (only in season), showers etc.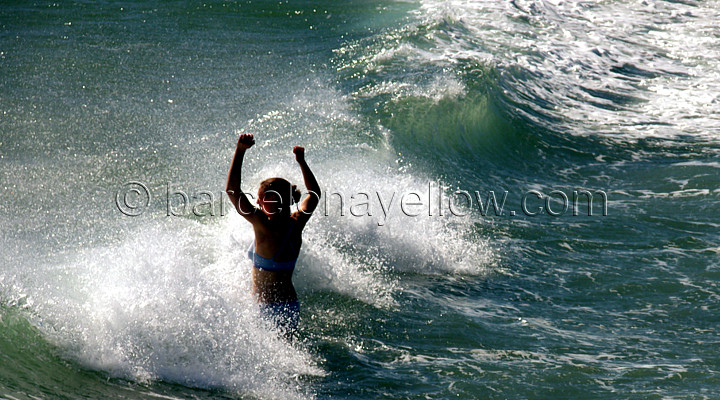 Generally there are no tides or rip currents at Barcelona beaches, but there can be big waves and it can also be windy. If the waves are big or there is a strong off-shore wind and you are not strong swimmer, stay close to the shore and away from the rocks. See our Barcelona weather page and read more about Barcelona sea water temperatures. Check the Green, Yellow and REd warning flags at the Red Cross Lifeguard centres before going for a swim.

Green flag - safe for bathing
Yellow flag - bathe with caution
Red flag - bathing prohibited.
White jellyfish flag - many jellyfish in water


Jellyfish - Medusas
Sometimes in the warmer months the Barcelona beach waters are invaded by jellyfish (called medusas.) This is usually in late July and August when the water can be up to 26 degrees warm. Swarms of jellyfish appear because of generally warmer sea temperatures combined with recent years decline in marine life like turtles, that eat jellyfish and help keep jellyfish numbers down.

The good news is that the jellyfish are usually around 50m from the shoreline, so you will not notice them very much.

If you are on the beach in Barcelona and there are many jellyfish in the water, you can see a yellow flag - which means bathe with caution - or the special "jellyfish" warning flag at the Red Cross life guard centres (called the Creu Roja Catalunya.)

If you are unlucky and get stung by a jellyfish, then ask the Red Cross life guards - called socorristas - for free assistance. A jellyfish sting is painful, but not dangerous and causes a rash similar to being stung by nettles, but it can be unpleasant. One of the best treatments for a jellyfish sting is warm salty water. Read more about jellyfish and treatment.

Keeping valuables safe on beach

There are not public lockers on the beaches in Barcelona, so don't leave your valuables unattended - and don't fall asleep on the beach, even if you are using your bag for a pillow. The beaches in Barcelona do have problems with beach thieves stealing bags, so our advice is to leave valuables in your hotel safe and just take a little cash with you to the beach.

Barceloneta beach probably has the worst problem with bag thefts on the beach because it is closest to the old city centre. The more northerly beaches are not so bad, but be aware. Barcelona is a safe city but there are problems with pickpockets and bag-thieves. Read how to avoid Barcelona pickpockets


Surfing & paddle board

Surfing and Paddle board surfing in Barcelona. Surfing has become popular in Barcelona in recent years and you will generally surfers in spring, autumn and winter in Barcelona. The waves are small and choppy and Barcelona is not a top surfing destination, but on some days it can be done. The best surf beaches on the city beaches are Sant Sebastian and Sant Miquel by the Hotel W. Another sport growing in popularity on the surf beaches of Barcelona and especially on beaches outside Barcelona is SUP Stand Up Paddle board surfing which is a fun watersport that anyone can learn. You can rent paddle boards in Barcelona on San Sebastian beach and Barceloneta beach.


Sailing boat rentals
There are two sailing clubs
on Barcelona beach but they are for members only and do not have tourist sailing boat rentals. Barcelona is not a beach resort, but a city with a beach, so there are few watersport rentals on Barcelona beaches. Pedal boat are not available on Barcelona beaches, generally because sometimes the waves are too big. There are parachute or banana rides at some of the Barcelona marinas, where watersports companies offer a variety of fun actitivities including jetski


Water quality Barcelona beaches
The beach water in Barcelona is very clean. On busy days and especially at the end of the day you can find litter and rubbish in the water like plastic bags and bottles. Most of this litter blows into the water from the beach, so please take your litter with you or put in the litter bins, when you leave the beach. You can check Barcelona beach water quality and temperature on the official Barcelona beach website. On most days the water is clear and clean and perfect for a quick dip. Bathers often stay on the beach until 21.00 in the evening in the hot summer months.



Which Barcelona beach is best?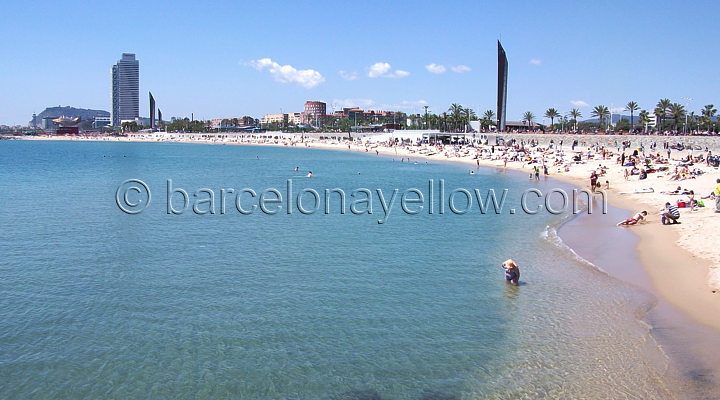 The beaches run from south to north and so does the party scene. The party beaches that are most popular with students, travellers, backpackers and tourists are the south beaches called Somorrostro, Barceloneta, Sant Miquel and Sant Sebastia which are closest to the old city of Barcelona.

These beaches are fun, crowded, noisy and the sand is more dirty than the other beaches. This is almost where you are most likely to have your bag stolen or snatched on the the beach. It´s a good idea to be aware on the beach. Do not leave valuables like phones and wallets in plain view and if possible do not take valuables to the beach at all. How to avoid pickpockets. If you are looking for more tranquil beaches with cleaner sand, then go to the beaches to the north of Barcelona´s beach front.

As you walk north along the beaches in Barcelona, you will notice the difference. The north beaches in Barcelona are better liked by local residents and families and definately less touristy. The sand is cleaner too. If you enjoy nudism or naturism, then head for Mar Bella beach, which is the official city nudist/naturist beach, although nudism is not compulsory. The nudist area is in front of an artificial dune created to spare innocent eyes from naked flesh, but generally you will also see nudity a little way outside the designated nudism area.


Zona Banys Forum - bathing area
At the north end of the beaches there is an alternative to sand beaches called the Zona Banys Forum. This is an open water bathing area where you can swim in sea water in an enclosed area. It is not very charming, but perfect if you don't like sand and crowds.


Nudity and semi-nudity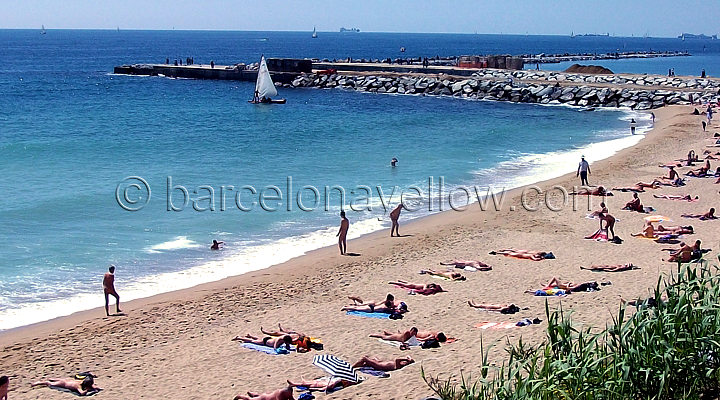 You might be fined if you walking around the city in a swim-suit or a bare top. A new law was passed in 2011 banning nudity and semi-nudity on the streets of Barcelona. You can be fined 300 to 500 euros for being naked or semi-naked in public places in Barcelona and an also for wearing a bathing suits or similar items of clothing, unless you are very close to swimming pools or beaches. Full nudism on beaches in Barcelona is only allowed on the Mar Bella nudist beach which however is not very private. The reason for this new law is that Barcelona is a city and wants to avoid having an image as a seaside resort. Another reason is to address issues of hygiene and respect for those members of the general public who prefer not to see semi-nude people on the beach or streets.


Maps, locations and information Barcelona city beaches
Photos Barcelona best beaches
Beaches outside Barcelona
Hotels near beaches in Barcelona
Best books to read in Barcelona


Please help give the sea clean and do not leave plastic waste on the beach



© Copyright Barcelonayellow.com
Do not copy from this page without permission
All rights reserved.