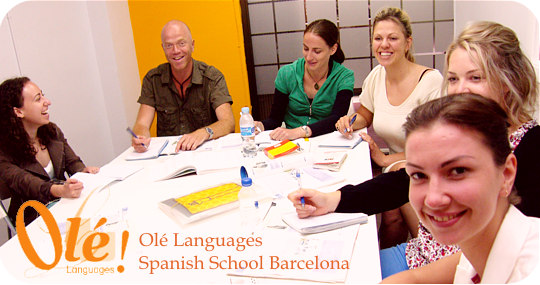 Ole Languages Spanish school Barcelona

Olé Languages has been a popular Spanish School in Barcelona since 2005. In 2009 Olé Languages became the first low-cost Spanish school in Barcelona to get the prestigious Cervantes Institute accreditation, which is only awarded to high quality Spanish language schools.

Olé Languages welcomes over 1600 students a year thanks to their combination of low prices and high quality classes. Both the high student numbers and the Cervantes accreditation are an impressive achievement for an independent Spanish school that opened just a few years ago in a city with many Spanish schools already. School director Javier Sanchez talks about the success of Olé Languages.

Why is Olé Languages popular?
Javier: Many students choose Olé Languages in Barcelona because of the quality of the classes, which is an fundamental priority of the school. Olé Languages has always worked to build a solid reputation for quality based the concept of combining organised and efficient Spanish classes with low prices. The cost/quality formula attracts many students who are looking for intensive Spanish courses so that they can learn as much Spanish as possible in a short period of time. As a testimonial to the school around 70% of Olé Languages students extend their Spanish course after the first period, which is usually 4 weeks, and many come back to the school at a later date to continue their studies. And many new Spanish students come to Olé through recommendations from old students.


What is a Cervantes accreditation?
The Cervantes accredition is an official stamp of quality for Spanish Schools. What that means is that the prestigious Spanish "Instituto Cervantes" has approved the quality level of the teaching and services offered at Olé Languages. The Instituto Cervantes is a non-profit organization created by the Spanish government in 1991. Its mission is to promote the teaching of Spanish and to contribute to the advancement of the culture of the Spanish speaking countries. Being accredited by Cervantes is probably the highest stamp of quality for a Spanish language school. Read more about Cervantes accredited schools. Usually a Cervantes approved school has quite high prices, but Olé Languages is committed to keeping prices fair and low, so Olé Languages is one of the economically priced Spanish schools in Barcelona which has been accredited by the Instituto Cervantes.


What Spanish courses does Olé offer?
Olé Languages offers intensive Spanish courses in Barcelona for beginners, intermediate and advanced learners from 4 hours a week to our most intensive courses of 25 hours a week. The courses are from Monday to Friday in the mornings, afternoons or evenings throughout the whole year. You can see more about levels, times and prices on the Olé Languages website.



Spanish teachers at Ole Languages school are qualified and friendly!



Are your teachers qualified?
All Olé Languages teachers all native Spanish speakers with a university degree, an BA or MA in Hispanic Studies (Filología Hispánica) and specialized in teaching Spanish as a foreign language. Olé Languages makes sure that our teachers have two or more years teaching experience, and most importantly that they are enthusiastic and passionate about their job. Javier feels that the management is the head of the school, but the Spanish teachers are "el corazón" - the heart.


What is included in Olé courses?
Olé Languages prices include qualified teachers, air-conditioned classrooms, cafeteria, self-study software, reading material for each level, internet café with computers & free wifi, free fax & photocopying, the first Spanish course book free, an free entry level test & certificate and a language exchange programme.


What are the teaching methods?
The teaching methods at Olé Languages Spanish school is guided by the CEFR, the European Framwork of Reference for foreign language acquisition, and as mentioned above, approved by the Cervantes institute. Spanish classes are immersion based, which means that everything during a class is in Spanish. The books are completely in Spanish and the teachers only speak Spanish as a rule. This can be a challenge at first for beginners, but it has proved to be the best way in the long term and almost all schools in Spain teach immersion classes. For beginners it can take a few days to get used to, but it really only means a little extra effort in the beginning - and a good dictionary.


How much Spanish can you learn in 4 weeks?
You can learn a lot, but it is important to understand that learning a language is a lifelong process. In just a few weeks it is unrealistic to think that you will be speaking fluent Spanish. But nevertheless, with good teachers like ours, with good materials and a commitment from the student, then it is definitely possible to speak and understand an impressive amount of Spanish after just 4 to 8 weeks of intensive courses. Many students start with 4 weeks of intensive Spanish of 4 hours a day, and then extend to 8 weeks. If you come to class every day and study at home as well, then in 8 weeks you can really learn all the basic Spanish grammar and a large vocabulary of Spanish words, enabling you to have conversations.


Can anyone learn Spanish?
Definately. Learning Spanish is not hard, but it is hard work. You have to be prepared to put in a personal effort and take it seriously. There are no short cuts. If you just want a few phrases, then a Spanish phrase book is all you need. If you want to learn a language for life, then come to Olé Languages. Learning a language can be a gateway to a new life, and a new culture and a new future sometimes so it is worth an effort.

Where is Olé Spanish School?
Olé Languages is in central Barcelona on Carrer de Mallorca, 201 in the cosmopolitan Eixample area of Barcelona. Eixample is the most central district of Barcelona's 10 districts, so the school is very well connected to public transport.

Olé Languages school facilities.
The Olé Languages school is functional, clean and tidy with modern classrooms and functional classrooms with room for a maximum of 8 to 10 students in each.

Do the school have cultural activities?
Yes. Looking forward to coming to classes is very important to the learning process. And that is partly achieved by making many friends at the Spanish school. So we try hard to make sure that students get to know their classmates both in their own class and in other classes by organising weekly get-togethers. We also encourage students to discover Barcelona together in collaboration with a Barcelona event agency that offers daily cultural activities from guided tours through the historic city centre, to pub crawls, bike tours, flamenco and tapas nights, salsa courses as well as day and weekend excursions to nearby towns and places of interest.

Do you arrange accommodation?
Good accommodation plays an important part when going abroad to study foreign language., so we always make an effort to help make our students comfortable, safe and at home in Barcelona by offering different types accommodation, which are either flat shares with other students or homestays with Spanish host families. Our host families and the student flats are mostly located in central areas close to the school. To ensure availability, we recommend that students book rooms in shared apartments in advance.


Which students choose Olé Languages?
Olé Languages has a great international mix of students. Many study with us are university students and young professionals from Europe, Russia, Brazil, the US, South Africa and Australia. In the summer we get a slightly younger mix with students in Barcelona for the summer to just to learn Spanish.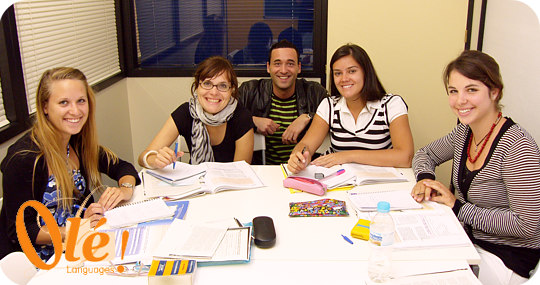 Over 1500 students a year come from all over the world to learn Spanish at Ole Languages!



What the students say?
We asked some students to review Olé Languages school and tell us about their experience. Students speak highly of the teachers and praise them for being professional and passionate about their job. Many students mentioned the friendly atmosphere at the Olé Languages and how many new friends that they have made. And there was praise for the admin staff and teachers again for generally makes a big effort to help students in every way.





Visit Ole Languages website

© Copyright Barcelonayellow.com
Do not copy from this page without permission.
All rights reserved.