EHIC - European Health Insurance Card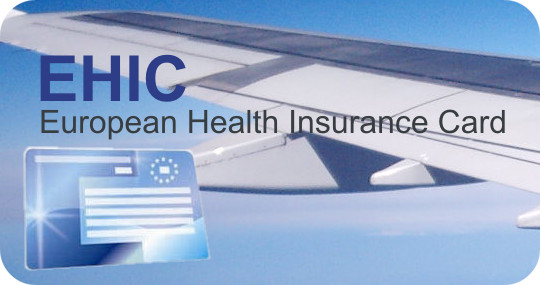 EHIC Card. Health care for EU citizens in Spain
EHIC - European Health Insurance Card is called "Tarjeta Sanitaria Europea" in Spanish
. Medical treatment for visitors to Spain from EEA countries, which are countries in the European Union (EU) countries and Iceland, Liechtenstein Norway and Switzerland, is covered by the European Health Insurance card (EHIC) which was introduced in January 2006. The European Health Insurance card (EHIC), also called European Health Card (ECH), is the replacement for the old E111 medical form, which is no longer valid. A European Health Insurance Card (EHIC) entitles holders to reduced-cost, sometimes free, medical treatment that becomes necessary while you're in a European Economic Area (EEA) country or Switzerland. So if you are a visitor to Spain from the EEA list of countries (see full list below) you should bring the EHIC card which you were issued in your home country or country of residence.
European Union website for EHIC card
Medical treatment in Spain for EHIC (TSE) cardholders.
Remember that the European Health Card is not valid if the reason for travelling to another country is to receive specific medical treatment. This is the full list of countries covered by the EHIC card:


Austria
Belgium
Cyprus (but not Northern Cyprus)
Czech Republic
Denmark
Estonia
Finland
France
Germany
Greece Hungary
Iceland
Ireland
Italy
Latvia
Liechtenstein
Lithuania
Luxembourg
Malta
Netherlands
Norway
Poland
Portugal
Slovakia
Slovenia
Spain
Sweden
Switzerland
How to get EHIC card if you live in Spain.
In Spain the EHIC card is called the
"TSE," which means "Tarjeta Sanitaria Europea." The TSE card
is issued by the Seguridad Social, the Spanish Social security office.
Spanish Social security website

If you live in Spain permanently and you want to get an EHIC/TSE card, so that you can get medical treatment, when you travel in the countries mentioned above, then you must go to one of the Service and information centres of the National Social Security Institute in Barcelona. They are called "Centros de Atención e Información de la Seguridad Social" (CAISS) At the CAISS centres you can apply for the TSE (EHIC) card if you are a resident in Barcelona or Spain. It will be issued immediately.
CAISS centres in Barcelona.
Documentation TSE application:
You need to bring originals and copies of all the following documents to get your TSE card:

- your passport
- your Spanish NIE number, or alternatively your Spanish residency card (tarjeta de residencia),
- your Spanish social security number
- a permanent work contract in Spain. If you do not have a permanent work contract, they will give you a provisional replacement certificate, which usually is valid for 3 months.
© Copyright Barcelonayellow.com
Do not copy from this page without permission
All rights reserved.
Last Updated on Friday, 30 October 2015 11:15