Hop on Hop off bus tours Barcelona
Hop on Hop off buses Barcelona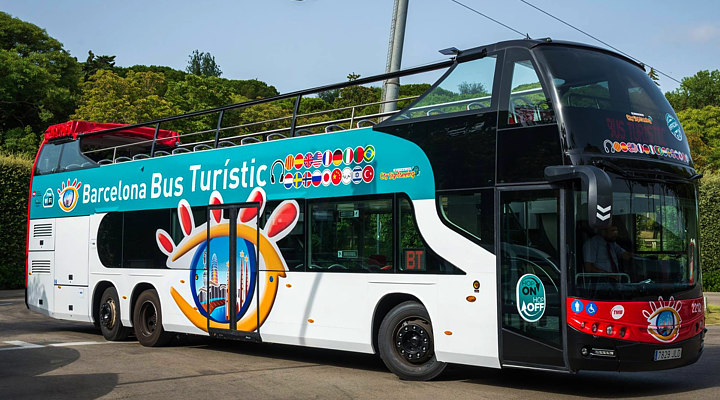 The Hop on / Hop off bus tour of Barcelona is an affordable, convenient, easy way to see many top attractions in Barcelona in one day and to get a feel for the city. The Hop-on/hop-off concept means that you can get on or off the bus at all stops along the route.

If you want to spend time at a Barcelona attraction, then just "hop off" the tour bus and "hop on" again later, when you are ready to continue the route. The buses are in constant circulation and you usually don't have to wait for more that 15 minutes for the next hop-on-hop-off bus to come by. These tours buses are also sometimes called "ho-ho buses."

The hop-on-hop-off buses in Barcelona are modern with open top decks and audio guides in many languages. Another advantage of hop-on-hop-off buses is that they are double-deckers with an open top, which gives nicer views of the city buildings and taking traffic free snaps of Barcelona's landmarks. If you are on the top deck, remember your sun lotion in the summer - and a jacket in the winter.

There are 2 companies that offer Barcelona hop on hop off bus tours. You can see the bus colours below. Both companies use open top double-decker tour buses. Both companies have very similar routes , so you can pick any of the two companies. The advantage of the Bus Turistic company is perhapts that you get a discount coupon book included which gives small discounts at many of the stops on the route.

The disadvantage is that there can be long lines at popular attractions. The all red Barcelona City hop-on-hop.off bus does not offer a discount coupon book, but in busy periods it might have shorter queues. You can buy tickets on the bus on both bus tours or in advance and both hop-on-hop-off tours offer audio guides in several languages.


Bus Turistic - hop-on-hop-off service
Bus Turistic has Red, Green and Blue tour buses
3 tour routes which you can all ride with 1 ticket.
Total of 44 stops
Audio guides available in 10 languages.
Discount coupon book included in price
Tickets can bought on the bus or in advance
From June to end September and night route on Friday and Sunday.
TICKETS Bus Turistic
Tickets Hop-on bus and Aquarium



Barcelona City tour - hop-on-hop-off service
Barcelona City Tour has all Red tour buses.
2 routes of Barcelona - East and West
Tickets can be bought on the bus
No discount coupons
Tickets Barcelona City Tours

© Copyright Barcelonayellow.com
Do not copy from this page without permission.
All rights reserved


Last Updated on Tuesday, 12 March 2019 11:02