Eiffel tower and Barcelona
Eiffel tower and Barcelona

Was the Eiffel tower supposed to be in Barcelona?

There is an urban legend that the famous Eiffel Tower in Paris was originally offered to Barcelona and Barcelona said no thanks.

Imagine the number of tourists in Barcelona if the city had both the Eiffel tower and the Sagrada Familia church.

Rumour has it that Gustave Eiffel had Barcelona in mind for a tower to be the entrance of the 1888 Barcelona Universal Exposition which was Spain's first International World's Fair and took place from May 20 to December 9, 1888.

The story goes that Barcelona rejected the offer due to its size and cost, however studies of all the official planning documents of the Exposition in Barcelona have revealed that no offer was ever received from Eiffel

Furthermore he had presented his plans for the tower to the 1989 Paris world fair before Barcelona had even picked the site for their fair.

Barcelona did orginally intend to have a 210m tower as the entrance and did consider two other tower projects but neither were built.

Instead the Barcelona Arc de Triomf vistory arch was built as the entrance and stands to this day.
If you want to see a victory arch from Roman times, then head to Roda de Bera near Tarragona to see the Arc de Berà arch built by Lucius Licinius Sura in the reign of Augustus, around 13 BCE. It is thought it was dedicated to Emperor Augustus and that it marked the limit of the district of Tarraco.

Gustave Eiffel's tower was built in Paris as the entrance to the 1889 Paris World's Fair to celebrate the centennial of the French Revolution.

The design of the Eiffel Tower was by engineers Maurice Koechlin and Émile Nouguier who worked for the Eiffel construction company. According to Eiffel the inspiration for a tower came from the Latting Observatory built in New York City in 1853.

The Latting Observatory was a wooden tower built as part of the 1853 Exhibition of the Industry of All Nations and was located on the North side of 42nd Street between Fifth Avenue and Sixth Avenue across the street from the site of present-day Bryant Park

If you want to see an original Eiffel construction near Barcelona, head for Girona, where you can stand on the "Eiffel" bridge over the river Onyar.

It was built by Gustave Eiffel's company in 1876 but not designed by his company. It has several names - the Pont de Ferro - iron bridge - or Pont Eiffel and the "Pont de les Peixateries Velles" - the old fish mongers bridge name after a fish market on a previous bridge at this location.

The Eiffel bridge in Girona is an iron structure held together with rivets. It is 41.5 meters long and 2.62 meters wide. It is 7 meters above the river onyar.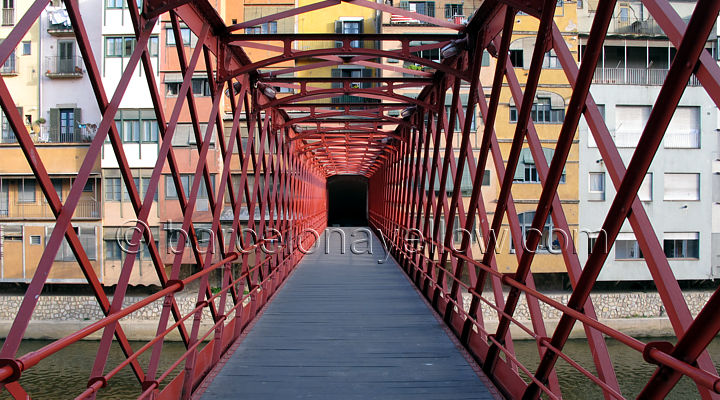 © Copyright Barcelonayellow.com.
Do not copy from this page without permission.
All rights reserved


Last Updated on Wednesday, 31 August 2022 10:46