Night bus N17 to Barcelona airport
Night bus N17 to Barcelona airport
N17 Nitbus is a night bus that operates between Plaza Catalunya and Barcelona airport terminal T1 from 23:00 to 05:00 hours in the morning and from Barcelona airport to Plaza Catalunya from 22:05 to 05:05 hours in the morning. From T1 airport terminal you can take a free shuttle bus to T2 airport terminal.

The night bus journey time from Barcelona city centre is about 30-40 minutes

2018 night bus N17 ticket price is €2.20 for a single ticket to airport (2 zones).

The N17 night bus stops at every bus stop on the route.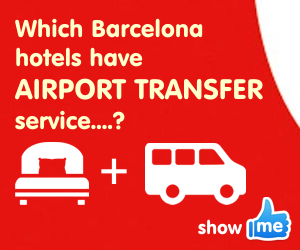 N17 night bus route stops & timetable
Website N17 night bus
Download PDF route N17 night bus
Prices buses and night buses
How to get to Barcelona airport
Airports near Barcelona

© Copyright Barcelonayellow.com
Do not copy from this page without permission.
All rights reserved


Last Updated on Sunday, 29 July 2018 13:20