Barcelona Best Deals, Special Offers & Promotions
How to find best deals in Barcelona
Great value tips for tourists

Seventy Hotel - special offers
Book at the Seventy Barcelona, and find offers that include Romantic Dinners & Massages.

Special offers at Poble Espanyol Spanish village
Reduced ticket prices to visit Poble Espanyol. From march 27th to May 30th 2021 many open-air events incl. craft workshops, contemporary art, architecture, terraces ... and a spectacular dinosaur exhibition!!



Special offers hotels

Here are our tips for the Barcelona bestseller hotels with great value deals which are among the best value for money when looking for hotel deals in Barcelona.

Click on our value deal hotel suggestions below and then tick the the "Deals and Discounts" box in the left menu of options under filter options to find the best 'Great Value Today' hotels deals for the dates that you want to book.

Further down the page you will find a map with our collection of mid-range value Barcelona hotels. To get an idea of the areas to stay in Barcelona you might like to visit our Barcelona guide to where to stay

Sallés Hotel Pere IV - 4 star hotel in Sant Marti area
A good choice This hotel is rated Very Good by guest reviews. It's a few blocks from 2 different metro lines, so well connected. Also it's quite close to Cuitadella park and the Barcelona beach area and in a residential area which is quiet and local. Spacious modern rooms and free access to spa, with sauna, a hammam, indoor pool, sensation showers and a hot tub. Facilities include Free WiFi, Family rooms and parking.

Hotel Praktik Rambla - 3 star boutique hotel on Rambla Catalunya
Rated Fabulous by guests. Bestseller in Barcelona. Rambla Catalunya is not the same as La Rambla. Rambla Catalunya is still central but quieter and more charming. Location is wonderful just 2 blocks from central Plaza Catalunya on parallel street to famous Passeig de Gracia with Gaudi buildings and close to many metro lines and stations. The nearest museum is Modernist museum just 1 block away. The Praktik is a lovely boutique hotel in beautiful 19th-century palace with authentic Baroque-style columns and colourful ceramic floors. Air-conditioned rooms have chic minimalist design. Facilities include Free WiFi, Terrace with sofas, and in the summer free fruit juice on the terrace in the afternoon from 4pm to 8pm.

Hotel Golden Tulip - 4 star Sant Marti area. New hotel opened in 2017.
Rated Fabulous by guests. Location is great if you like being a little off center in quiet area. A few blocks walk from 2 metro lines and 20 minutes stroll down to beach area. Nearest attraction is design museum, Encants flea market on Glories where you can also find a shopping mall.

Hotel SP Glow - 4 star hotel in Sant Marti area. New hotel opened in 2017.
Rated Fabulous by guest reviews. Good location in modern Sant Marti area. Close to metro lines and near design museum and Glories shopping center. Walking distance to Sagrada Familia. Modern rooms with desk, TV, air-conditioning, bathroom, coffee machine, Facilities include swimming pool, fitness center and sauna. Free WiFi,

Bcn Urban Hotels Gran Rosellon - 4 star hotel from 2015.
Rated Very Good by reviews. Great location just a few blocks from Passeig de Gracia and in modernist Eixample area of Barcelona. A bestseller in Barcelona which offers excellent service, a great value for money according to guest reviews.

Eurostars Monumental - 4 star hotel in Eixample area. Rated Very Good by reviews. Great location alightly off-center 5 minutes on foot from Sagrada Familia church and next to metro station Monumental. Modern air-conditioned rooms, wood floors, marble bathrooms, free WiFi adn and airport shuttle. Good value prices and gets high reviews for clean rooms and wonderful staff.

Sunotel Club Central - 4 star hotel in Eixample area
Ililion Auditori - 4 star hotel in Sant Marti area
Barcelona Hotel Catedral - 4 star hotel in gothic area
Novotel Barcelona City - 4 star near beach
Hotel Ilunion Bel-Art - 4 star - Horta-Guinardó area
Hotel SB Glow 4 star - Sant Marti area

To find the Barcelona's new hotels check out our Barcelona hotel guide where you can find a range of article about popular hotels in Barcelona including our very popular guide to where to stay in Barcelona.

Barcelonayellow Best value collection

This is our collection of what we think are the best value hotels and apartments for visitors to Barcelona, Spain in 2018. We have based our picks on location, general price level and popularity with guests. These hotels are not the most luxurious hotels but offer great value for money for visitors who first and foremost value a nice comfortable room in a nice location more that a lot of expensive extra perks.

FULLSCREEN map Barcelona best value hotels



Open FULLSCREEN map of 3 star hotels Barcelona



Hotel Room Mate Emma ★★★ 3 star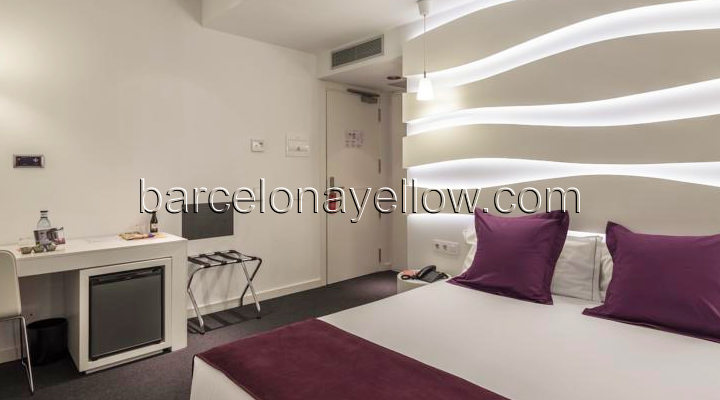 Hotel Room Mate Emma 3 star hotel. Rated Fabulous by guest reviews. New futuristic design hotel just 100 m from Diagonal metro station and 15 minute walk from downtown sqaure Plaza Catalunya. Rooms in modern design with hairdryer, room safe, free Wi-Fi, digital radio and LCD TV with satellite channels. Facilities include continental breakfast buffet served until 12:00 noon.
BOOK hotel Room Mate Emma



Andante Hotel ★★★ 3 star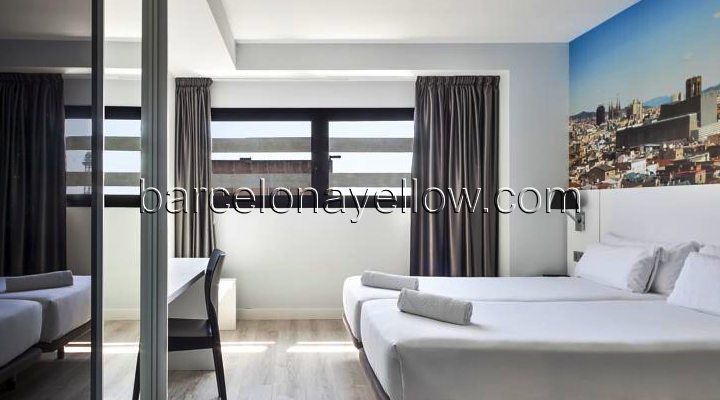 Andante Hotel. 3 star hotel. Rated Fabulous by guest reviews. Andante is of Barcelona's most popular and most booked 3 star hotels. Perfect in many ways. Perfect for short stays and for cruise passengers. Modern air-conditioned rooms with wood floors, a laptop safe and flat-screen satellite TV. Bathroom with a full-length mirror and a high-powered hairdryer. Andante Hotel is centrally located just 350 m from Drassanes Metro Station and La Rambla walking street. Facilities include rooftop pool with views, free Wi-Fi, a gym, 24-hour reception, buffet breakfast and a self-service area with a microwave and vending machines for drinks, sandwiches and snacks and a large terrace.
BOOK Andante Hotel


Hotel Brummel ★★★ 3 star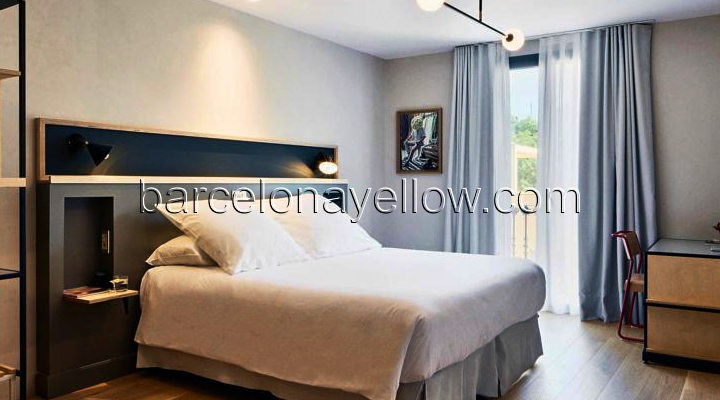 Hotel Brummel 3 star hotel. New boutique hotel in Barcelona. 20 designer rooms with artwork by young European designers. Rooms are air-conditioned have flat-screen TV, a safe, and desk. Hotel Brummel has central location just a 15-minute walk from famous La Rambla walking street in Barcelona's gothic area . Facilities include outdoor pool, restaurant, garden and sauna. Free WiFi access is available in all rooms.
BOOK Hotel Brummel


Hotel B ★★★ 3 star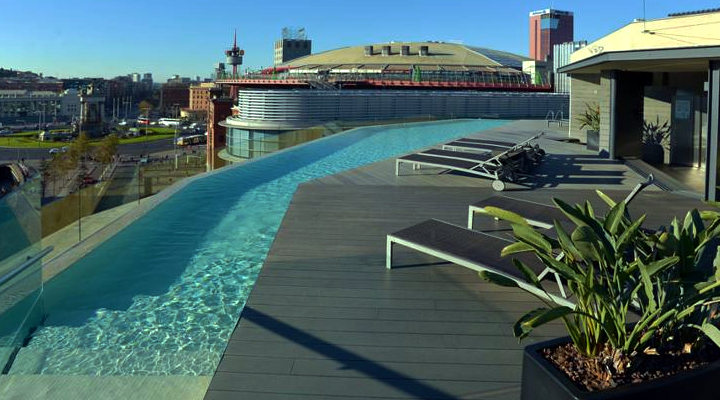 Hotel B. 3 star hotel. Rated Fabulous by guest reviews. Design hotel in well connection location just 150 m from Plaça Espanya, Fira Montjuic, Magic Fountain and next to Las Arenas shopping centre in former Arenas bull ring. Spacious rooms are modern and air-conditioned with small balcony and free Wi-Fi. Facilities include roof sun terrace and pool with spectacular views of Montjuic hill. Room service menu at the bar and pool.
BOOK Hotel B


Hotel Praktik Rambla ★★★ 3 star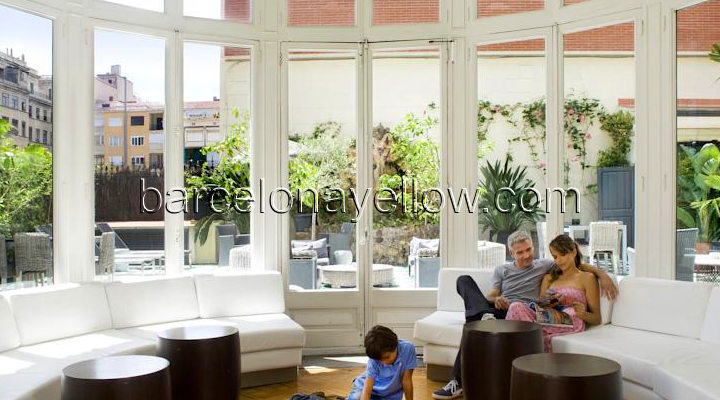 Hotel Praktik Rambla. 3 star hotel. Rated Fabulous by guest reviews. Popular new Barcelona boutique hotel in 19th-century building with lovely Baroque-style columns and colourful ceramic floors. Lovely rooms in minimalist design with air conditioning, free Wi-Fi. Facilities include spacious terrace with comfortable sofas and free juice in afternoon from June to September.
BOOK Hotel Praktik

Hotel Praktik Vinoteca ★★★ 3 star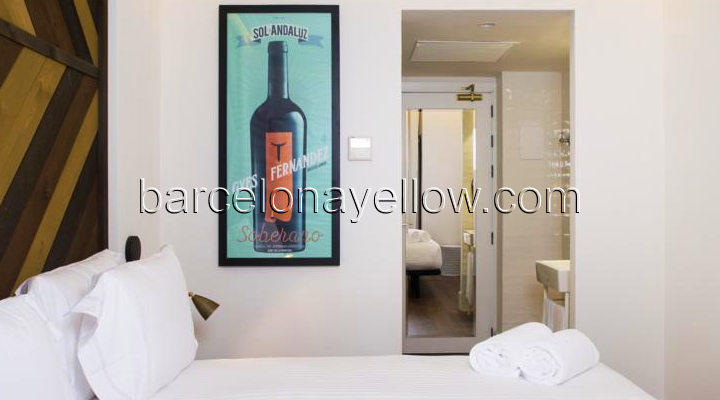 Hotel Praktik Vinoteca. 3 star hotel. Rated Superb by guest reviews. Wine themed hotel. Bright and soundproofed rooms with wooden floors, a flat-screen satellite TV, free toiletries and a hairdryer. Facilities include free WiFi in public areas and terrace where you can enjoy a glass of wine served by the hotel's on-site wine expert, who can tell you about local wines and their history.
BOOK hotel Praktik Vinoteca


Leonardo Boutique Hotel ★★★ 3 star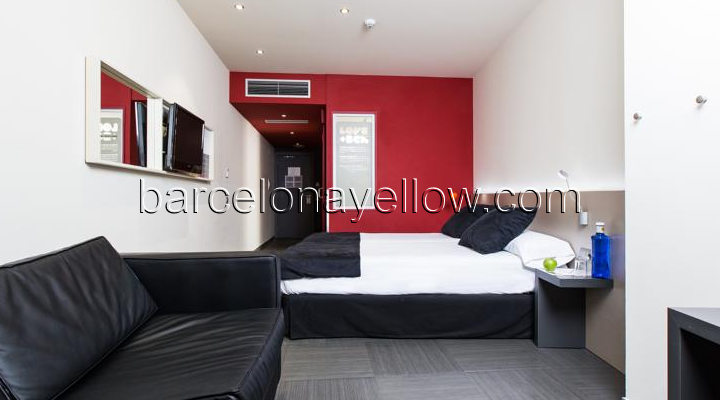 Leonardo Boutique Hotel Sagrada Familia. 3 star hotel. Rated Fabulous by guest reviews. Located quite close to Sagrada Familia temple. Modern rooms with air conditioning, heating, flat-screen TV and free WiFi. Facilities include rooftop sun terrace with panoramic city views. Daily buffet breakfast with gluten-free meals available on prior request. BOOK Leonardo Boutique Hotel



Hotel Yurbban Trafalgar ★★★ 3 star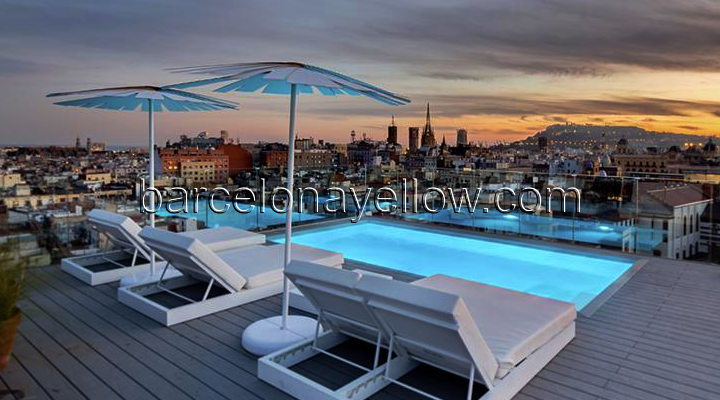 Yurbban Trafalgar Hotel. 3 star hotel. Rated Superb by guest reviews. New hotel with modern soundproofed rooms with air-conditioning and free WiFi, flat-screen TV with cable channels. Facilities include rooftop terrace with pool with 360 degree views of Barcelona, a gym, a bar and a restaurantVery central location just inside old Gothic city but walking distance from central Plaza Catalunya and surrounding by shops, cafes and restaurants and sights.
BOOK Yurbban Trafalgar Hotel


Wilson Boutique Hotel ★★★ 3 star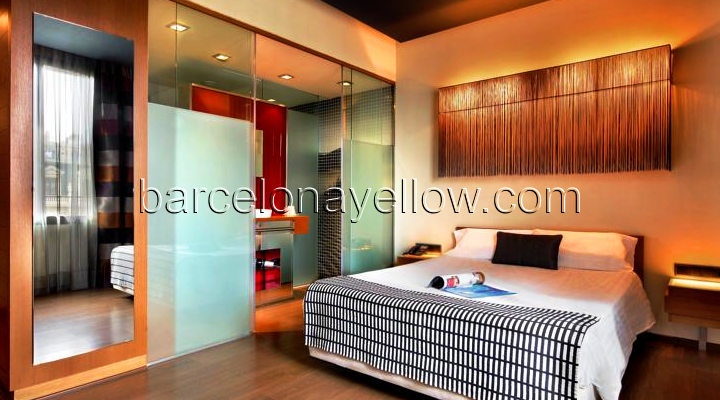 Wilson Boutique Hotel 3 star. Rated Fabulous by guests. Popular boutique hotel on fashionable Av Diagonal boulevard. Bright, modern soundproofed rooms with chic design with large windows, flat-screen TV, air conditioning and free Wi-Fi. Facilities include rooftop terrace with city views. BOOK Wilson Boutique Hotel.



Hotel Room Mate Pau ★★★ 3 star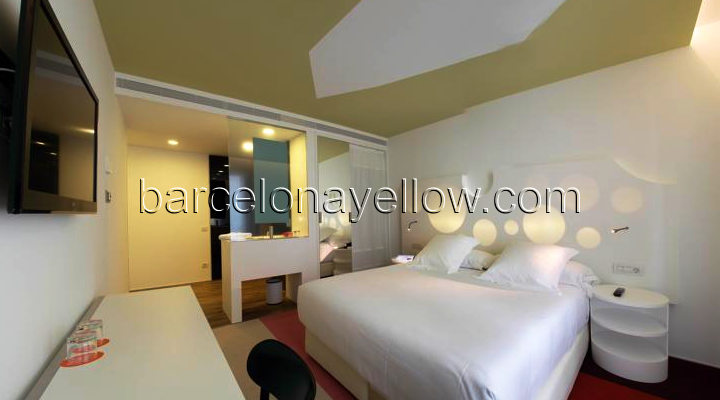 Hotel Room Mate Pau. 3 star hotel. Rated SUPERB by guests. Hi-tech new design hotel located just a few steps from central Plaza Catalunya. Elegant rooms with air conditioning, flatscreen TV, free Wi-Fi, minibar, safe and modern bathroom. BOOK Hotel Room Mate Pau



Related pages


Which area to stay in Barcelona
Popular hotels Barcelona by guest reviews
Best hotels near Camp Nou stadium Barcelona


BarcelonaYellow partners with Booking.com - a top booking website. All top hotels are included. There are many search options. You can pay buy credit card, but you won't be billed until your stay. Each hotel has up-to-date photos with many guest reviews, so you are assured of an unbiased review of the hotel that suits you best in Barcelona with hotel and room descriptions that live up to expectations. Barcelona has become one of the world's top holiday and top business destinations and top cultural cities. This is also a testament to the quality, convenience and safety of online Barcelona hotel booking. If you book your hotel in Barcelona through BarcelonaYellow.com, we have made sure that you will get value for money. BarcelonaYellow.com is a local Barcelona expert with years of experience. We have reviewed many online hotel booking companies. After reviewing and testing many potential partners, we chose to make an agreement with the online hotel booking system of Booking.com. We selected Booking.com as our hotel booking partner, because we judge them to be a very safe, user-friendly and dependable hotel booking partner with experience, a good reputation, a safe and user-friendly booking system. They are one of the biggest hotel websites in Europe, so there are always many fine hotels in Barcelona to chooose from.

Booking.com was established in 1996 and is part of Priceline.com which is a NASDAQ listed company. They are Europe's leading online hotel reservations agency measured by room nights sold and have had since 1996 to finetune the security and booking systems. That is almost since the beginning of the Internet, so they are old hands at this. Through their website and the many trusted hotel booking partners like BarcelonaYellow, we work together to attract over 20 million unique visitors each month via the Internet from both leisure and business markets worldwide. BarcelonaYellow hotels can now offer our users competitive rates for any type of property, ranging from small independent hotels through to a five star luxury. The booking pages are available in 16 languages, including Catalan, and there are over 35000 hotels in 53 countries to choose from. The benefits of booking Barcelona hotels for BarcelonaYellow users are:


Low Prices
As the market leader in Europe Booking.com offers you highly competitive hotel rates in both cities and regional destinations – ranging from small family hotels through to luxury hotels.


No added fees
BarcelonaYellow and Booking.com's reservation service is free of charge. We do not charge you any booking fees, administration fees, or cancellation fees.


Secure booking
Our reservation system is secure and your credit card and personal information is encrypted. We work to high standards and Booking.com guarantees your privacy.

As a Barcelona Yellow visitor not only do you get the best rates on hotels in Barcelona, but you can book hotels anywhere else in Spain or the world using the versatile and user friendly online booking system. It's easy to check the locations of hotels in Barcelona using built-in Google maps of Barcelona. All the Barcelona hotels have maps showing their exact location in Barcelona. You can also search forBarcelona hotels near specific stations, or sights, or near the Barcelona exhibition centres. There are many hotel search options. All of the hotels that you can book via BarcelonaYellow.com have photos and descriptions and of course you can find plenty of real reviews by previous and recent guests. Hotels range from inexpensive hostels and guest houses to the most luxurious 5 star hotels that the city of Barcelona has to offer! If you live in Barcelona and are looking for hotels in other Spanish or European cities then click here to find International hotel booking deals.

© Copyright Barcelonayellow.com
Do not copy from this page without permission
All rights reserved.