What to wear in Barcelona in May
What to wear in Barcelona in May?

Average Night temperatures in May are 16C /60C and and average Day temperatures are to 21C /70F. May is very much a spring month in Barcelona but if you come from colder climates it might feel more like summer.

The sea water for bathing will be be chilly but it's possible to sunbathe on the beaches.

In May we recommend you pack summer gear like shorts and t-shirts and maybe sandals but also bring a light fleece or anorak and light summer trousers as one can experience cooler winds in the evening and some rainy days.

Warm hat and gloves etc are not need in May in Barcelona unless perhaps you are going to the Pyrenees mountains or inland locations which can still be chilly in early morning and evening in May.

This applies to half-day tours to Montserrat mountain or other day tours outside Barcelona including Tarragona, Girona, Pyrenees mountains etc.

------------------------------------

Article continues under ad: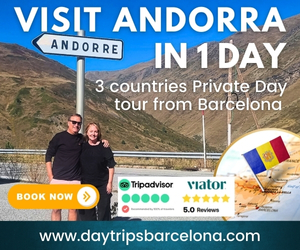 ------------------------------------


What to wear for May nightlife

Barcelona is a casual wear city so wearing jeans and T-shirts is fine for most occasions.

However for top Barcelona night clubs and dinner restaurants we recommend guests wear smart casual.

The top Barcelona night clubs have a very strict dress code and expect nice shoes, long trousers and a smart shirt or polo-shirt.

If you need to pick up new clothes in Barcelona then visit Barcelona shopping malls or consult our Barcelona shopping guide

Another dress tip for Barcelona is to wear the clothes you wear at home.

For some reasons when we travel we like to give our regular clothes a vacation and we dress up a bit in tourist gear but in Barcelona it's better not to look too touristy when sightseeing because it can make you a easy mark for pickpockets who lurk around the popular tourist areas.

Read our safety article about avoiding Barcelona pickpockets.
Read our Barcelona weather page for more weather information.

We hope you enjoy your stay in Barcelona in May. :-) And thank you for visiting Barcelona.



Related pages

Where to stay in Barcelona?
What's on Barcelona in May?
Events calendar May Barcelona
Top 10 Barcelona tourist attractions
Tickets and Day Tours Barcelona
Planning 3 day visit to Barcelona

© Copyright Barcelonayellow.com
All rights reserved.
Do not copy text or images on this page without permission

Last Updated on Monday, 04 December 2023 12:27