Laribal gardens - romantic park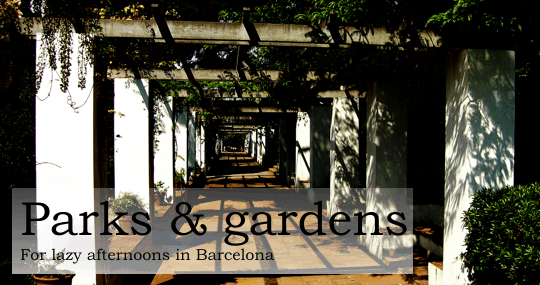 Jardins de Laribal gardens Montjuic

Montjuic hill is a great place to spend a few lazy hours in one of the many parks around the area of the Olympic facilities.

Many of the parks were built for the International Exposition of Barcelona in 1929 and each has a distinctive style.

The Laribal gardens (Jardins de Laribal) is one of the nicest park gardens in Barcelona. It is not very well known due to a slightly hidden location draped down the side of a steep slope near the Olympic Stadium and the Miro Foundation. See the park map below for access points.

The Laribal gardens is a very nice spot for a quiet break after seeing sights of Montjuic like the Joan Miro Foundation. If you are a resident of Barcelona, there is no better place to spend a tranquil afternoon sprawled on one of the benches in the wisteria covered pergoda or near the fountain "Font del Gat."

At the begining of the 20th century a visit to the fountain Font del Gat was a popular day outing for residents of Barcelona.

Part of the gardens belonged to the estate of the well known lawyer, Josep Laribal, who gave the gardens their name. In 1908 after Laribal's death, the Barcelona city council acquired the gardens and founded the Escola de Bosc of Montjuïc, a childrens school, which is still in operation.

The Laribal gardens were redesigned by a French designer, J.C.N. Forestier, who modernised the layout and added characteristic elements of Arabian gardens like ceramic tiles, ornamental water fountains and pools, plants and trees, and flowers in pots by the railings and on the walls.

And olive trees which can be seen by the steps. To link the Laribel Gardens with the gardens around the Teatre Grec,

Forestier designed a stairway with water by the handrails, small pools with fountains in the breaks of the stairway, and benches where you can rest and enjoy the open air and the soothing sound of the water flowing.

In the summer months guests can visit the cafe El Font del Gat in the gardens themselves in the old house of Josep Laribal.
To get to the Laribal gardens on Montjuic, take the funicular train from metro station Parallel up to Montjuic and then it is a short walk to the Jardins de Laribal.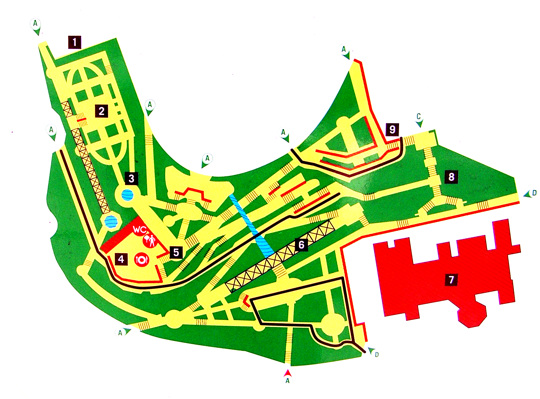 Laribal Gardens opening times:
Daily from 10.00 until dusk


Entrance to Laribal gardens
A) Passeig de Santa Madrona
B) Avinguda Miramar
C) Jardins ddel Teatre Grec
D) Funcació Joan Miró
1. Ethnology musuem
2. The rose gardens of the Colla de l'Arròs - Roserar Colla de l'Arrós
3. Ceramic fountain - Font de cerámica
4. Lift to cafe Font del Gat - Ascensor restaurant
5. Pérgola-Mirador
6. Joan Miro Foundation - Funcació Joan Miró
8. Generalife steps - Escales Generalife
9. Lift (open for Grec Festival) - Ascensor

Barcelona parks

© Copyright Barcelonayellow.com.
Do not copy from this page without permission
All rights reserved

Last Updated on Wednesday, 06 February 2019 13:10