Where does Voyager of the Seas dock in Barcelona? Map and location
Where does Voyager of the Seas dock in Barcelona

The Royal Caribbean cruise ship Voyager of the Seas docks at the biggest dock called Moll Adossat

From Moll Adossat it's a 25 minute walk to the edge of the old part of Barcelona (called Cuitat Vella) where there are stops for the Barcelona hop-on-hop-off tour buses.

Most cruise passengers choose to take a cab or take the port shuttle bus from Moll Adossat, called the Cruisebus

The big cruise ships, like the Oasis class ships of Royal Caribbean Cruises - and Norwegian Cruise Lines all dock on the Barcelona's biggest cruise ship pier called Moll D'Adossat pier

Moll D'Adossat has four terminals A, B, C and D.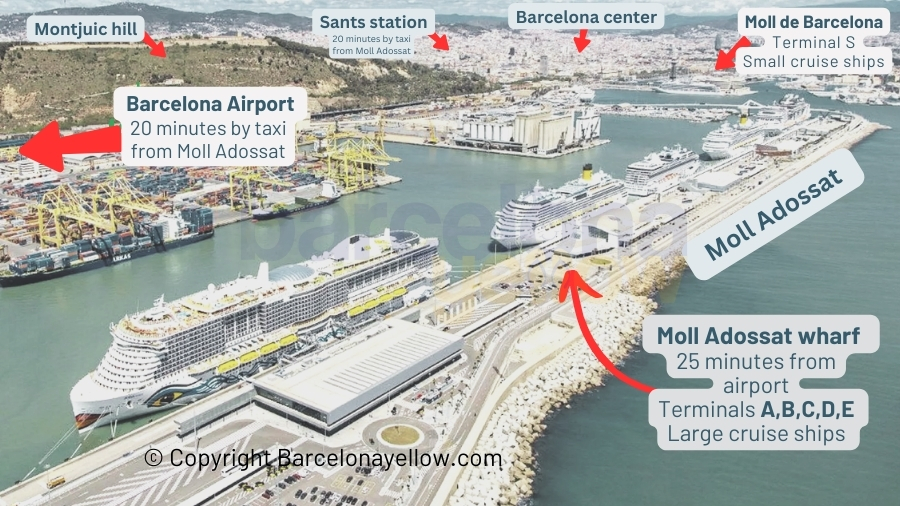 To walk from Terminals A, B, C and D terminals is about 30 minutes to 45 minutes to the edge of Barcelona's old city.

The Moll D'Adossat Barcelona cruise port terminals is 5 km / 3 miles from the city center of Barcelona and 2km / 1 mile from the old gothic area of Barcelona.

You can see the city from the cruise ships when you dock, but it is a little further to walk than it appears. It's about 30 minutes walk to the edge of the old city called 'Ciutat Vella'.



View from Moll Adossat Cruise dock Barcelona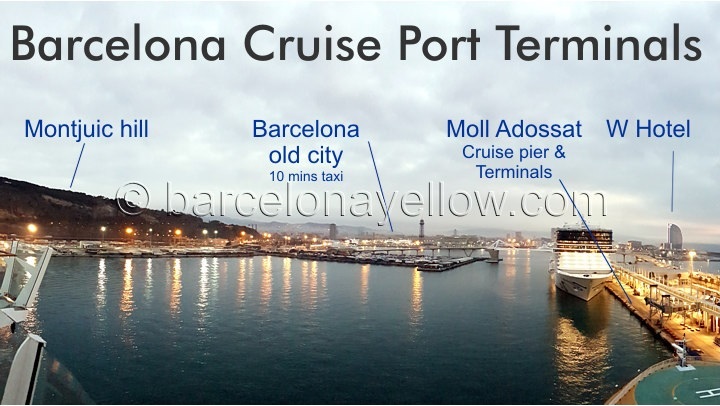 How to get to Moll Adodssat
Hotels near Moll Adossat
How to get to Barcelona airport
Moll Adossat on Google Maps
Moll Adossat to Barcelona airport
Current position Voyager of the Seas

See maps below and visit our Barcelona Cruise guide and find hotels near cruise terminals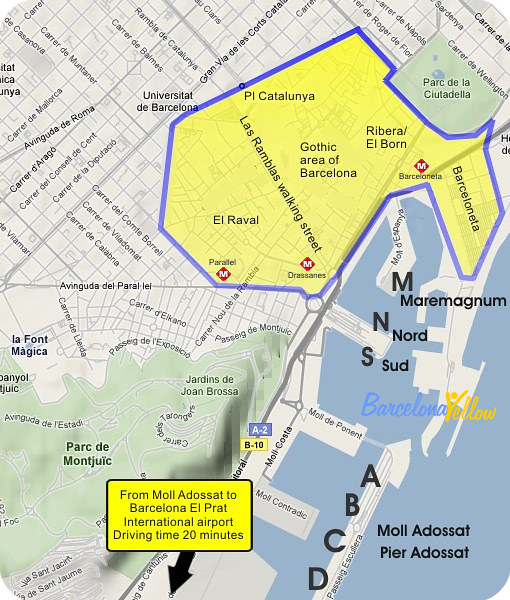 Hotels near Barcelona cruise ship
Barcelona airport to city center
Plan 3 days in Barcelona
10 Barcelona planning tips

© Copyright Barcelonayellow.com
Do not copy any text on this page without permission
All rights reserved.


Last Updated on Friday, 04 August 2023 09:59