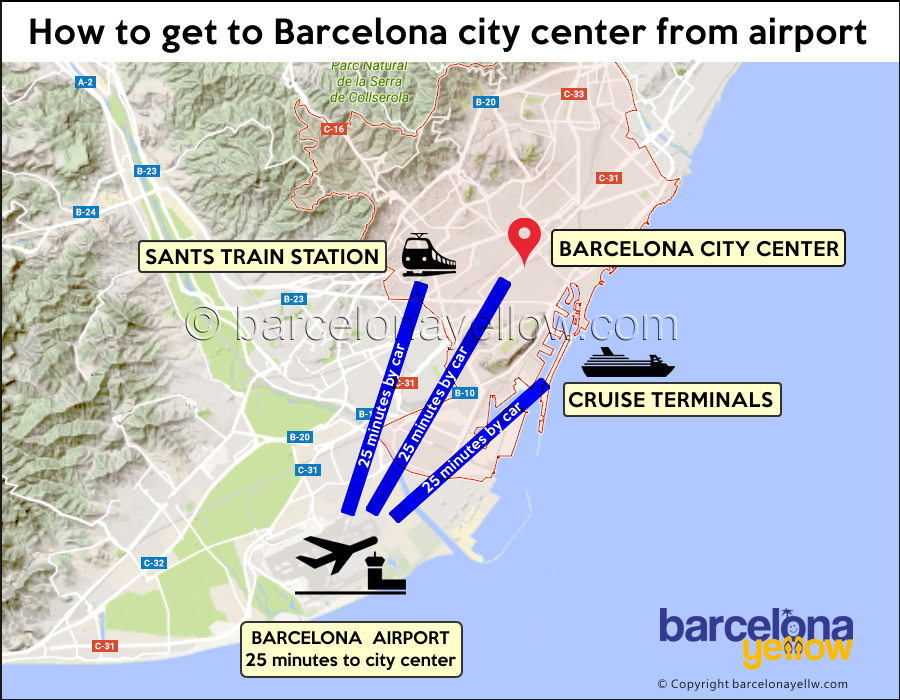 How to get from Barcelona airport to the city center
Updated July 2023

How to get from Barcelona's airport to the city center. This is an updated 2023 guide with essential and current information about the best way to and from Barcelona El Prat airport by taxi, by train, by airport bus, by car or by private airport transfer.



Our recommendation:

The easiest way to and from the airport for single travellers or groups of 2 to 4 travellers is by taxi outside terminal, or the official Aerobus airport shuttle bus. For larger groups, a private transfer is easier and comparable in price.

Note that some European low cost airlines, like Ryanair fly to all of the three airports near Barcelona, so make sure to check, which Barcelona airport your flight lands at.

You might also be interested in our guide to where to stay in Barcelona and

our recommendation

for a bag storage service is LUGGit


Barcelona airports information

There are three airports near Barcelona. Most airlines fly to the main airport which is Josep Tarradellas Barcelona – El Prat Airport. Some low cost European airlines, like Ryanair, fly into several of the three airports near Barcelona, so make sure to check, which Barcelona airport your flight goes to.



Josep Tarradellas Barcelona – El Prat Airport

Airport Code is BCN
The main Barcelona international airport is the El Prat airport which is located 25 minutes by car from Barcelona city center.
El Prat is Barcelona's biggest airport where most tourists arrive. Barcelona's main airport El Prat, has 2 terminal buildings called T1 and T2.


Girona/Costa Brava airport

Airport Code is GRO.
Small airport located near Spanish city Gerona 1 hour from Barcelona city center.
Regular bus connections to Barcelona city center which takes 1 hour.
More info



Reus airport

Airport Codesi REU.
Small airport located in town Reus 1 hour from Barcelona city center. Bus connections to Barcelona.
More info



Getting to & from city center to Barcelona airport

Josep Tarradellas Barcelona–El Prat Airport/Code BCN

El Prat airport is nearest airport to the Barcelona city centre. It is 20 km (12.4 miles) south of Barcelona city center and has 2 terminals. (Only T1 is operational due to Covid)

Barcelona Airport is called 'Aeropuerto de Barcelona' in Spanish - it was renamed in 2018 to Josep Tarradellas airport.

It is often called 'aeropuerto El Prat' because of the location in the area and town called 'El Prat de Llobregat.' (Prat means meadow in Catalan.)

Ths official name is Barcelona–El Prat Josep Tarradellas Airport (IATA: BCN, ICAO: LEBL)

This is the biggest airport near Barcelona with two terminals.

The average time that it will take you to get to and from the centre of Barcelona to the airport is around 30 minutes by car, taxi or mini-van - and about 30-45 minutes by bus, airport bus or train.

The most popular way of getting to Barcelona city centre from Barcelona airport in 2019 is by taxi/uber/cabify - or by Barcelona Aerobus airport bus, which is a direct shuttle bus from Barcelona airport to Plaza Catalunya in the city center.

From Plaça de Catalunya many can maybe walk to hotels or take a metro / taxi to your hotel.

The airport bus have 2 lines A1 & A2 which both leave from central Plaza Catalunya. The A1 Aerobus airport bus from Plaza Catalunya goes to the T1 terminal.

The A2 Aerobus from Plaza Catalunya goes to the T2 terminal. Scroll down this page for more information and to buy tickets.



Metro L9 to Barcelona airport

There is no direct metro line from Barcelona city center to Barcelona airport. The line L9 metro connects to Barcelona airport, but please note that the L9 metro is not a direct connection from the airport to city center.

This means it can take a while because you need to change trains and go past many metro stops to finally arrive at the airport.

This is a good alternative during Barcelona taxi strikes and other protests which occur from time to time.

Look on the Barcelona metro map to see where to connect from L9 to other metro lines to city center. Please note that you need an extra metro ticket for the L9 metro to the airport.
For visitors going from Barcelona airport to Fira Gran Via trade fair area, then the L9 metro is a direct and convenient connection.




R2 Nord Train to Barcelona airport

Another rail option from the center of the city to the El Prat airport is the R2 Nord train to Barcelona El Prat airport. The line name is R2 Nord Aeroport - Maçanet-Massanes.

R2 Nord timetable

There are only R2 Nord trains every 30 minutes. This means the R2 Nord train can take longer than airport buses or taxis - and the R2 Nord train only goes to T2 terminal at the airport.

It is not possible to walk between airport terminals T1 and T2 , but there is a free green shuttle terminal buses between terminals T1 and T2 which leaves every 5 minutes.

The travel time between the T1 and T2 terminal at Barcelona airport is 12 minutes on shuttle bus

The R2 Nord is fine if you are staying near the Adif station in Barcelona or near Barcelona Sants train station. Otherwise the Airport bus is a better option. If you are three or more persons, then sharing a taxi or booking a private airport transfer is also a better option to get directly to your terminal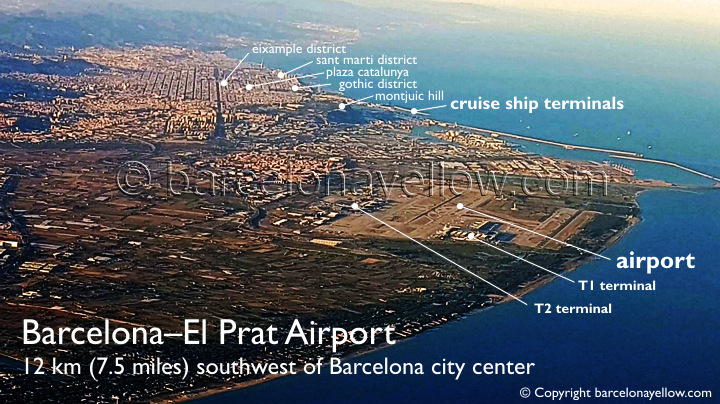 Article continues below ads
Barcelona airport bus Aerobus


Airport buses Aerobus A1 and Aerobus A2 in Barcelona connect Barcelona airport and the city center.

Airport buses depart 365 days a year every 5 minutes from Barcelona airport terminals 1 and 2 to Plaza Catalunya where they stop in front of the big department store on Plaza Catalunya called El Corte Inglés.

Plaza Catalunya has connections to metro, buses and taxi and many hotels are within walking distance from Plaza Catalunya.

The Aerobus airport buses are an cheap and reliable way of getting to and from Barcelona airport. Tickets Barcelona airport bus

The transport time from Barcelona airport to Barcelona city centre by Aerobus is 35-45 minutes depending on which terminal you are going to. Both airport buses leaves every 5-10 minutes from Plaza Catalunya with a few stops on the way including a stop at Plaza Espanya.

Most passengers take the bus at Plaza Catalunya, so the bus can be full during peak season, so if you are boarding on a bus stop after Pl. Catalunya.

Buy printable tickets online or have ticket sent to your smart phone. You can buy Barcelona airport bus tickets online and print them at home to present on airport bus or show on your smartphone.

You can also buy your ticket from the staff at the bus stops (cash only payments), or at the automatic sales machines at the bus stop (payment by credit card) or by paying the airport bus driver (cash only payments).

The staff can give you change for bills up to €20.

Note that the Barcelona metro and bus travel cards like Barcelona Card, T-10, T-Mes, T-50/30, T-Trimestre T-Jove, T-Familiar, T-Dia are not valid on the Barcelona Aerobus bus service.

Aerobus A1 goes to new Terminal T1
Aerobus A2 goes to old Terminal T2 - A, B & C section


Ticket price airport bus Line A1 & A2 (2022)

Single ticket: €5.90 (you can buy ticket on the bus)
Return ticket: €10.20 (you can buy ticket on the bus)

Return tickets are valid for 15 days.

A1 Aerobus departure times from Pl Catalunya

Line A1 - Barcelona center Plaza Catalunya to T1 Terminal
Line A1 - T1 Terminal to Barcelona Plaza Catalunya


A2 Aerobus departure times from Pl Catalunya

Line A2 Barcelona center Plaza Catalunya to T2 Terminal
Line A3 T2 Terminal to Barcelona center Plaza Catalunya


How to buy tickets airport bus?
Buy tickets airport bus on the Aerobus website and print at home, or buy tickets on the airport bus using cash or VISA credit cards. At Barcelona airport you can also buy Aerobus tickets in the automatic ticket machines.

Disabled access
The Barcelona airport buses are adapted for disabled access and have reserved zone for the disabled.

A1 and A2 route map with stops
You can find the route maps of Barcelona airport buses on the Aerobus website Please note stops are different on outbound and inbound routes.

Check your Barcelona flight terminal
A1/A2 Aerobus Barcelona
Buy Barcelona Aerobus tickets
Website Aerobus
Route and stops Aerobus airport buses
Aerobus Twitter page



Trains to Barcelona airport
R2 North line - Renfe Cercanias / Rodalies

The Barcelona airport train service is the Renfe R2 Nord line train on the Cercanias/Rodalies rail network.

The name of this network is "Cercanias" in Spanish - and " Rodalies" in Catalan language.

The train to Barcelona airport is cheap, but can be a longer journey becuase the train only leaves twice an hour and only goes to T2 terminal.

If you are going to terminal T1, you must transfer from T1 the T2 terminal using the free green shuttle bus between the terminals.

You can check R2 nord train times online - both for specific dates and times for the R2 nord train to Barcelona Airport. It leaves every 30 minutes from 3 different stations in Barcelona, which you can find further down this page.

The station nearest the Barcelona city centre, where you can catch the R2 airport train to Barcelona Airport, is the Passeig de Gracia station, which is also connected to the Passeig de Gracia metro station.

This airport station location on Passeig de Gracia (also called Paseo de Gracia in Spanish) is on the corner of the streets Arago and Passeig de Gracia. See map link below.

If you are connecting to the R2 Nord airport train by metro, then you can go from the Passeig de Gracia metro station to airport station underground, but there are many steps and long tunnels, so if you have heavy luggage, it is hot and hard work.

It will be easier to exit the metro station at Passeig de Gracia, then walk up the street of Passeig de Gracia and re-enter the AGIF airport railway station, but then you will have to buy a new metro ticket to use for the airport train.

If you are not connecting from a metro, then just go straight to the airport station on the corner of streets Passeig de Gracia and Arago.

Remember a metro ticket or one clip on a metro travel card will take you all the way to the airport. You will arrive by the T2 terminal. For the T1 terminal take green shuttle buses to terminal T1, which you can see as you get off the train.

Map R2 station on Passeig de Gracia
R2 Nord train to Barcelona airport
Spanish Renfe train timetables
Other ways to Barcelona airport

The R2 Nord line is marked 'Norte Aeropuerto - Sant Celoni/Maçanet.' These two names are the stations at each end of the R2 Nord line.

There are three metro/train stations in Barcelona where you can catch the R2 Nord line to Barcelona airport.

Barcelona Airport

Station: El Prat de Llobregat station: Bellvitge
Station: Barcelona - Sants
Station: Barcelona - Passeig de Gracia
Station: Barcelona - El Clot Arago

R2 Nord train journey duration to airport:
Barcelona Airport to Barcelona - Sants - 19 minute journey
Barcelona Airport to station on Passeig de Gracia - 26 minute journey
Barcelona Airport to Barcelona - El Clot Arago - 32 minute journey

R2 Nord train timetable From Passeig de Gracia
Earliest departure to airport from 05.08 / 5.08am
Latest departure to airport 23.07/ 11.07pm
Trains leave every 30 minutes.

R2 Nord airport train ticket price 2018:
Single ticket: € 4,20
R2 Nord timetable / prices

The Aeroport station is in the ticket system (zone 1) of the Barcelona Metropolitan Area so you can also use a normal metro travel card or ticket



Barcelona Travel cards
The most popular Barcelona metro travelcards for airport trains are :

Unlimited 2 Day Hola Barcelona Travel card T-Day € 14 more info
10 Journey Travel card T-Casual for €11.35 more info

Information telephone Renfe. +34 902240202



Taxi to Barcelona airport
The Barcelona taxis are yellow and black and Barcelona airport terminals have clearly marked taxi areas. The taxi journey from Barcelona city centre to Barcelona airport takes about 25-35 minute.

Barcelona taxi cost from the Barcelona airport should be between €30 and €40 depending on your departure point, the traffic and the time of day.

Barcelona taxi drivers are generally very honest and all use a taxi-meter, so you will not be cheated on the price.

Prices are shown on a sticker inside the cab usually on the side windows. There is no extra charge for suitcases.

Please note again that taxis leaving from the airport have a minimum fare of €20 euros for the ride. So even if the meter shows less, you will be charged €20 euros, if you take a taxi from the airport.

There is a fixed taxi rate from airport to cruise ships on Moll Adossat of €39 including all supplements and bags

Barcelona Taxi price calculator
Barcelona Taxi app Android
Barcelona Taxi app Iphone
Barcelona taxi fares
Barcelona telephone taxi companies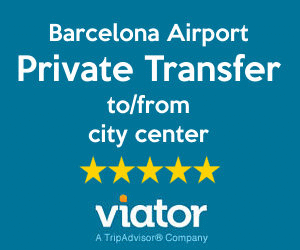 Airport transfer to Barcelona airport

Chauffeur driven taxi pick-up service from Barcelona airport to your hotel or other destinations in Catalonia are available. Prices are around 75-100 euros for a individual pick-up from Barcelona airport to a hotel in the centre but will vary depending on destination and group size.

Barcelona airport pick-up and transfer services



Night bus to Barcelona airport

N18 Nitbus (night bus) goes to Barcelona airport Terminal 1 and Terminal 2 from Plaça de Catalunya
N16 Nitbus (night bus) goes to Barcelona airport Terminal 2 from Plaça de Catalunya
N17 Nitbus (night bus) goes to Barcelona airport Terminal 1 from Plaça de Catalunya

Nightbuses typically run from 23:00 to 05:00 hours in the morning but check the times on the website to be sure.

The night bus journey time from Plaça de Catalunya is about 30-40 minutes

2020 night bus ticket prices is €2.40 for a single ticket to airport (2 zones).



Public airport bus
Bus number 46 to Barcelona airport. Day bus number 46 goes from Plaza Espanya to Barcelona Airport. The 46 route stops at airport terminals T1 and T2
Bus 46 Pl Espanya to Barcelona airport



Parking Barcelona Airport
Car parks at Barcelona International airport. Barcelona-El Prat airport has 10,900 parking spaces in terminal T1 car parks and 8,779 spaces in the terminal T2 car parks. There is also a long-stay car park with 995 places located two km from T1, and connected to both terminals by a shuttle bus. You will be issued a parking ticket when you drive in. Do not leave the ticket in the car, but keep it with you and do not lose it. The parking has security, but do not leave valuables in sight and be sure to lock the doors. Remember your parking space number.

When retrieving your car you must pay the parking fee before removing the vehicle. There are automatic payment machines located in the terminal lobbies, at the pedestrian entries to the car park After making the payment you have 20 minutes to leave the airport parking lot before the validated ticket expires. If you have lost the ticket or you have any problems, request information by pressing the button available on all of the automatic payment machines or go to the information centre. If your car battery does not work, the car park operators will start your car free of charge.

T1 / T2 Barcelona Airport parking
Long term parking Barcelona Airport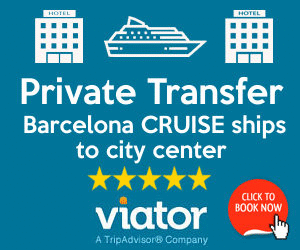 Related pages:
Best area to stay in Barcelona
Warnings about pickpockets Barcelona
Top 10 tourist attractions in Barcelona
Hotels in Barcelona
Holiday apartments Barcelona
Barcelona events calendar
Best books set in Barcelona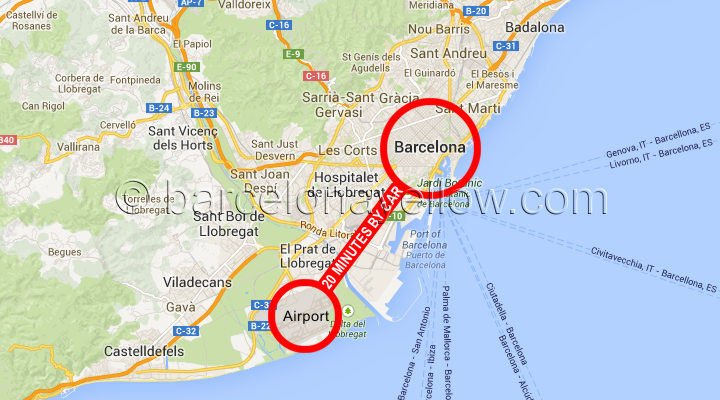 © Copyright Barcelonayellow.com
All rights reserved.
Do not copy anything on this page without permission.