Tramvia Blau
. Blue tram Barcelona.
TEMPORARILY CLOSED
from January 2018. Barcelona's blue tram, Tramvia Blau, is temporarily closed in 2018 due to safety issues. No date set for reopening yet. A replacement bus service is available.
Barcelona's blue tram was part of the original Barcelona tram system. The blue tram is the last vintage tram line in operation and it celebrated 100 years of service in 2011. Barcelona now has a new modern
tram
service in certain areas of the city.
All other vintage Barcelona tram lines closed in 1971, except the Tramvia Blau route, which stayed open as a tourist attraction to showcase transport in the early twentieth century in Barcelona and also to provide a fun way to get up to the
Tibidabo
fairground park on Tibidabo hill.
The Tramvia Blau tram line takes you from
Plaça de John F. Kennedy
up lovely
Avinguda de Tibidabo
, which is lined with wonderful old mansions. The blue tram does not take you all the way to Tibidabo. It ends at Plaça del Doctor Andreu, (also called Pl. Funicular) where it connects with the
Tibidabo funicular
railway. Click on the links below to see the Blue Tram route and start/end stations.
Although the name of the service is blue tram, you can sometimes also see a red tram on the route, which is tram number 129.
The Tibidabo fairground opens in spring. The Barcelona Tourist office sells a
Tibidabo classic ticket
which includes transport to Tibidabo on the Tram Blau, the ticket for
Tibidabo funicular
train and ticket to Tibidabo funfair and
some
rides at the fairground. The combined ticket
cannot
be bought on the blue tram itself.
Blue tram ticket price (2018)
Single (ida) € 5.50
All prices Blue tram Barcelona
Blue Tram route: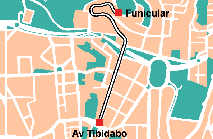 Bottom stop of Tramvia Blau:
The blue tram route starts on Avinguda Tibidabo 1 (above Plaza Kennedy.) To get to the Blue Tram by train take the L7 line of the FGC train network from Plaza Catalunya to station Avinguda Tibidabo
Route Blue tram Barcelona
Map Plaza Kennedy/Av Tibidado 1
- where Blue Tram starts
L7 train line FGC trains Barcelona
Top stop of Tramvia Blau:
The top station of the Blue Tram/Tramvia Blau is on Plaça del Doctor Andreu. From here you can take the Tibidabo funicular railway to reach the top of the Tibidabo hill and Tibidabo amusement park.
MAP Plaça del Doctor Andreu
top station of Blue traim
Both the tram line and funicular opened in 1901 for the Tibidabo fairground. The tram route is1,276m, reaching an altitude of 93m.
Blue Tram timetable
The Tramvia Blau runs every day during the summer, and also at Easter, Christmas, weekends and on public holidays.
From Av de Tibidabo 1:
Going up first departure 10:00 and last departure 19:45.
Departures every 15-30 minutes
From Plaça del Doctor Andreu:
Going down first departure 10:20
Last departure 20:05.
Departures every 15-30 minutes
Bus 195
. On weekdays and during the winter months when the Tibidabo amusement park is closed Bus 195 drives the same route as the Blue tram
Tramvia Blau timetable
Wikipedia history tramvia blau