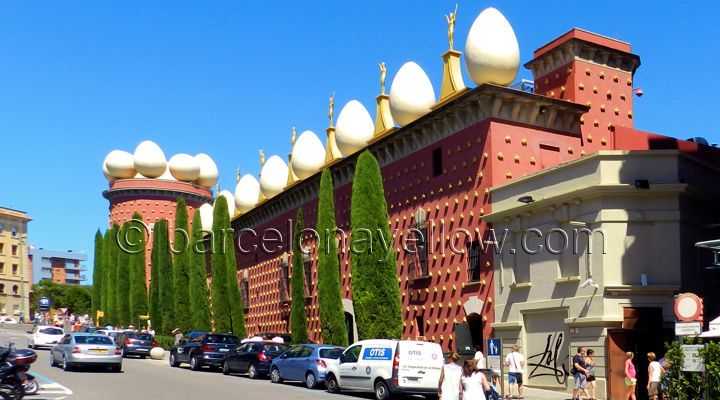 Salvador Dalí Museum near Barcelona

Salvador Dalí was the genius of the surrealism art movement. Dalí was a Spanish Catalan artist, illustrator, sculptor, author and film maker. Dalí is of one of most famous artists of the 20th century and he changed the world with his fabulous surrealist imagery and flamboyant personality.

Barcelona does not have a Dalí museum. There are three Dali museums near Barcelona. The main Dalí museum is called the Dalí Theatre-Museum and is in Figueres which is 2 hours north of Barcelona. You can get to the Dali museum by train or bus or on a group tour or small group tour. Figueres is the town where Dali was born and died. The Dali Theatre museum was created by Salvador Dalí himself in his home town. It is the biggest surrealist work of art in the world. You can also visit his home which is near Cadaques on the Costa Brava coast - and his wife's home called Castell Gala. Read more about the three Dali museums near Barcelona further down this page.

Photos Dali museums near Barcelona
Day tour Girona + Dali museum Figueres
Day tour High speed train + Dali Museum (April to Nov)

Don't miss a visit to the Dalí Museum in Figueres. It is a once in a lifetime experience. The Dalí museum is perhaps the most fun, original and creative art museuem in the world. It is also the largest surrealist work of art in the world it is the largest and most diverse collection of works by Salvador Dalí.

Salvador Dalí is one of the world's most famous artists and a key figure in surrealist art. Salvador Dalí was born near Barcelona in 1904 in Figueres in the north of the Catalonia province of Spain. Dali was born a few streets away from the musuem and he passed away living in the museum complex where he is now buried. So it is natural that Figueres is the site of Spain's biggest Dalí museum.



Dalí Triangle - el triángulo de Dalí

The Dali Triangle is a term used to describe the location of the three Dal museums in Catalonia. They are all quite close to Barcelona on the Costa Brava.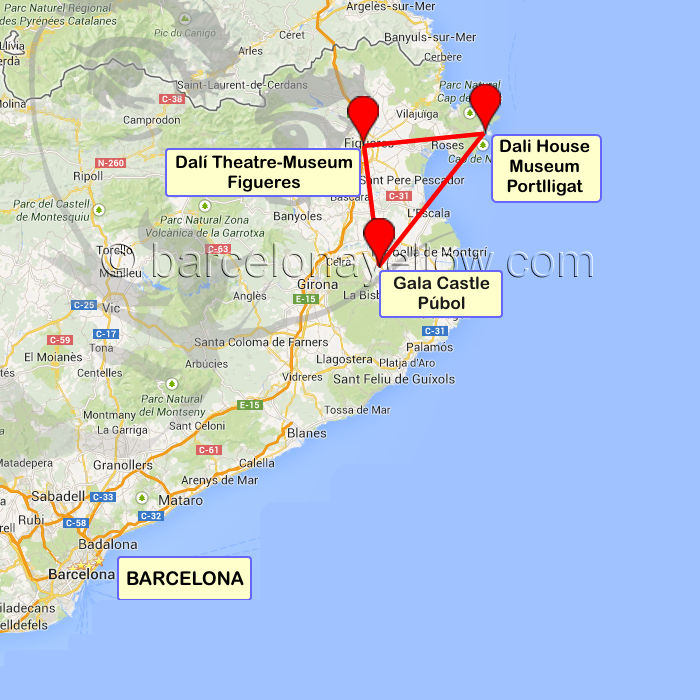 Three Dalí museums near Barcelona

Dalí Theatre-museum in Figueres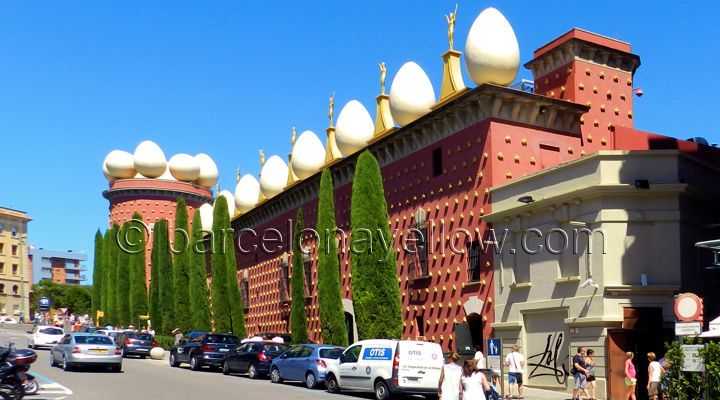 The Dalí Theatre-Museum in Figueres is the biggest Dalí museum in Spain. Figueres is the capital of the comarca of Alt Empordà, in the province of Girona, Catalonia, Spain. The Dali museum in Figueres was inaugurated in 1974. The Dalí Theatre-Museum was created from the ruins of the former Figueres municipal theatre, which was bombed in the civil war and never rebuilt as a theatre. In Dalí's early years this was the not only the town theatre, but also where he first exhibited in public. Dalí's first public exhibition took place here in 1919. Dalí himself had the idea to resurrect the theatre into a museum and in 1974 the old burnt-out theatre rose from the ashes as the Dalí Theatre-Museum. Dali designed the Theatre-Museum himself and donated many works from his private collection. He created many new pieces for the museum, including the wondorous Mae West room, the Palace of the Wind room, Monument to Francesc Pujols and magical Rainy Cadillac.

The museum is very big and so you will need 2 hours to fully enjoy the broad spectrum of works of Salvador Dalí from his early artistic experiences and creations through to works dating from the last years of his life. Noteworthy works are Port Alguer ( 1924), The Spectrum of Sex Appeal (1932), Soft Self-Portrait with Fried Bacon (1941), Poetry from America, the Cosmic Athletes (1943), Galarina (1944-1945), The Bread Basket (1945), Atomic Leda (1949) and Galatea of the Spheres (1952). Dalí conceived of and designed the museum himself and so also created specific pieces for the Theatre-Museum, including the Mae West room, the Palace of the Wind room, Monument to Francesc Pujols and Rainy Cadillac. The Dali musuem in Figueres is a unique and bewitching experience and unlike any other art museum. Everyone loves it. Dali spent his final years in the Torre Galatea of the musuem and is buried there. The museum also exhibits the Dalí-Jewels, a fabulous collection of thirty-nine jewels in gold and precious stones with drawings and paintings made by Salvador Dalí between 1941 and 1970.

Day tour Girona + Dali museum Figueres
Day tour High speed train + Dali Museum (April to Nov)




Salvador Dalí house-museum
In Portlligat near Cadaques in Alt Empordà region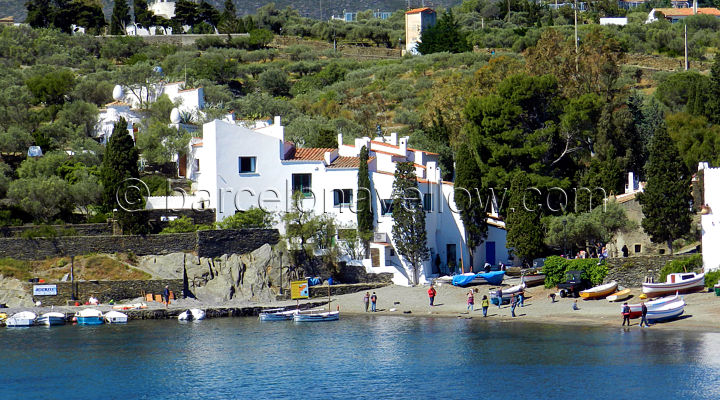 The crooked house that Dali built. The house in Portlligat is where Dalí and Gala lived for most of their lives. Port Lligat or Portlligat is a small village located in a small bay on Cap de Creus peninsula, on the Costa Brava of the Mediterranean Sea, in the municipality of Cadaqués in the Alt Empordà comarca, in Girona province, Catalonia, Spain. This is mostly where Dali created the persona that would become the world famous artist. His house is on the shore of a lovely little Mediterranean bay called Portlligat in the seaside town of Cadaqués on the Costa Brava. Port Lligat means "linked port" in Catalan. It will be linked with Dali for eternity.

This was Salvador Dalí's only permanent home for most of his life from 1930 until 1982. This is where Dalí and Gala would spend long summers and only leave for the winter which they spent in top hotels around the world. Regular favourites were the Hotel St Regis, the Hotel Le Meurice in Paris, the former Ritz Barcelona, now the Palace - and the Palace in Madrid.

The Portlligat residence started with one tiny fisherman's cottage and over time was enlarged with seven cottages and extensions to link everything in a maze of tiny multi-tiered rooms, llinked by passages. In 1971 a pool was added. It is generally considered that Dalí produced his most original and important works in the early years in Portlligat leading up to the Spanish civil war (1936-1939) It is was here he painted what has become one of the world's most famous paintings, "The Persistance of Memory" - the one with the melting clocks, which he painted in Port Lligat in early 1931, when he was only 27 years old.

During the Spanish civil war Dali and Gala went into exile, first in France and from 1940 to New York where they lived for eight years to also escape the second world war. In 1949 they returned to Port Ligat. Dali only left his beloved home after Gala's death on 10th 1982, aged of 87, after which he took up residence at what had been her last residencde, Gala Castle in Púbol near Girona. The Dali house in Portlligat is fascinating to visit and is exactly the way Dali and Gala left it including Dali's studio with 2 unfinished paintings. It is an intriguing time capsule that reveals the most private life of Dalí and Gala.





Gala Dalí Castle house-museum
In Púbol village near Girona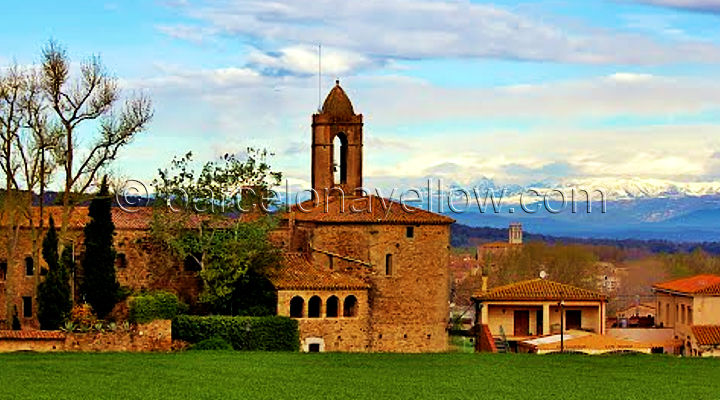 Castell Gala Dalí de Púbol. The Castle of Púbol Castle - also often called the Gala Dalí Castle - is in a tiny village called Púbol near Girona. Púbol is a small village in the municipality of La Pera, in the comarca (region) of Baix Empordà, in the province of Girona, Catalonia, Spain. Púbol is about 1 hour by car from Barcelona. In his youth In the 1930'ies Dalí promised Gala a palace and in 1969 he made good on that promise. Dalí bought and decorated this late fourteenth and early fifteenth century ruin of a stone castle in 1969 located in the village of Púbol near Girona and close to Santuari dels Àngels where they were married in 1958.

The castle was a ruin. Dali restored it completely in his flamboyant and original style as a small but palatial residence for the love of his life Gala even installing a throne room. Gala lived here from until her death in June 1982 at the age of 87. She actually died at Port Lligat in the early morning of 10 June 1982, but her body was moved in their Cadillac by Dali and his driver to Gala Castle. The Cadillac is still in the garage at Castell Gala Dalí. Gala is interred in the crypt at Castell Gala Dalí in the room known as el delma, which was the old sala del diezmo storeroom where villagers tithe taxes were stored.

When Gala lived in Gala Castle, Dalí was only permitted to visit if he had a written invitation from Gala. When she died, Dali moved out of Portlligat and into the Gala Castle to be closer to her. This was his last studio from 1982 to 1983. From 1983 then he was not able to paint anymore because of Parkinson's disease. In 1984, a fire broke out in Dalí's bedroom - apparently from a short-circuit causing sparks from his electrical nurse bell. Dalí suffered quite severe burns to his leg and arms and after this incident he was persuaded by friends to move to Torre Galatea of his Theatre-Musuem in Figueres, where he became a recluse and was rarely seen until he died six years later. Dali passed away while listening to his favourite Wagner music, Tristan and Isolde. Two tombs were prepared in the crypt of Gala Castle in Pubol, but Dali¡s deathbed wish was to be buried in the museum in Figueres. El Castell Gala Dali has also been left the way it was during the years Gala and Dali lived there. A fascinating final chapter to their life together.



Salvador Dalí biography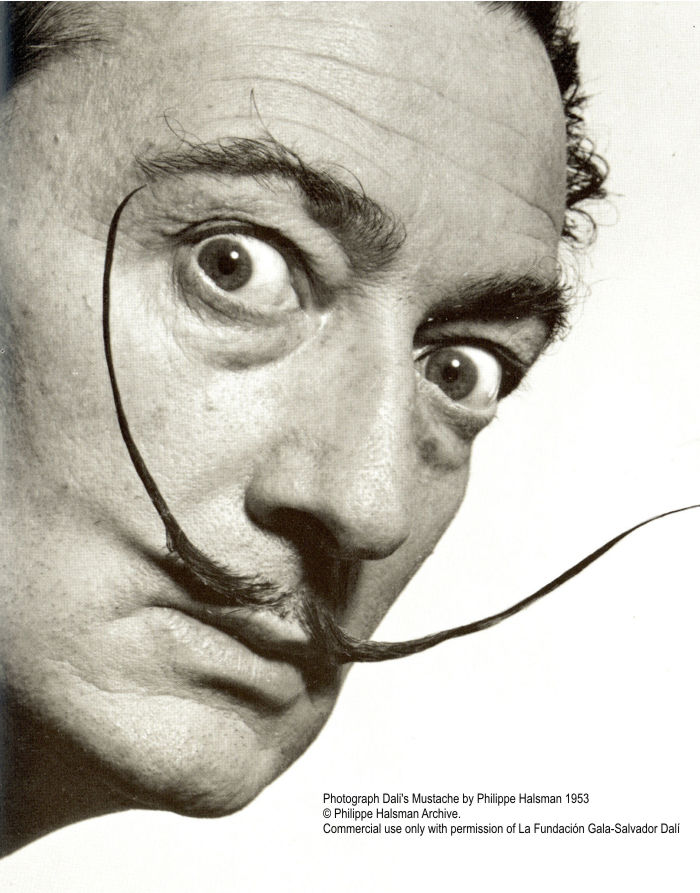 Salvador Dali is one of the world's most famous artists and a key figure in surrealist art. If you look up the word surreal in the dictionary it will tell you that surreal means unreal, dream like, basically not real or not a part of reality. In art it is a little more difficult to define. Surrealism was one of a number of new movements that challenged reality in the early years of the 20th century. Salvador Dali did not start the surrealist movement and in fact he became a surrealist quite late, but his flamboyant, exhibitionist and extroverted personality basically outshone even the founding surrealist artists and now if you mention surrealist art then Dali is the without question the first name that springs to mind.

Dalí was motivated by almost everything and in later years his works found inspiration in the Catholic faith, old Spanish masters, nuclear science and above all a passion for the landscape and shores of his beloved Catalonia, where he lived for most of his life.

Salvador Dali's best and most original work is generally regarding as being in the period before after he first moved to Port Lligat on the Costa Brava with the love of his life Gala. It lasted until the beginning of the Spanish Civil War when he and Gala went into exile in New York. The later decades were regarded by many as a recycling of old themes and a collection of often bizarre, huge and minutely detailed works.

Melting watches - Dali's most famous painting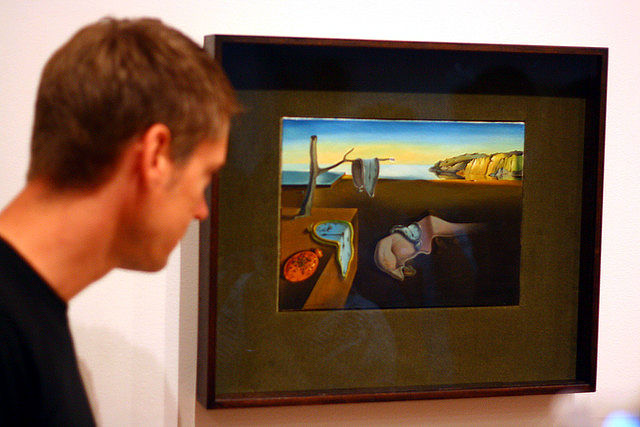 The Persistence of Memory painting

Dalí's most famous painting is the Persistance of Memory which hangs in MOMA the Museum of Modern Art in New York. It has been there since 1934. This is one of the most famous paintings in the world if not the most famous. It is also the most imitated painting. It is oil on canvas. and a small painting - only 24,1 x 33 cm. It was first exhibited at the Galerie Pierre Colle in 1931 in Paris.

It was originally sold for around 250 dollars to New York gallery owner Julien Levy, who was visiting Paris. The price was lower than other Dali works at the time, because it was agreed between Colle and Levy that Levy would buy it cheaply and then use it to launch Dali in New York and America.

Levy confessed later to Dali that although he thought the painting extraordinary, he had only bought it for promotional purpose and did not think any one would really want it. The painting toured America and was finally listed as being "for sale" on the final stop of the tour in Chicago in 1934.

It was sold and resold and finally donated to the Museum of Modern Art in 1934, where it has been ever since. It has been copied, and parodied countless times and is perhaps the most famous painting in the world to this day.


Dali famous quotes

"The only difference between me and a madman is I'm not mad." ― Salvador Dalí

"Each morning when I awake, I experience again a supreme pleasure: that of being Salvador Dali." ― Salvador Dalí

"I don't do drugs. I am drugs" ― Salvador Dalí

"A true artist is not one who is inspired, but one who inspires others." ― Salvador Dalí

"At the age of six I wanted to be a cook. At seven I wanted to be Napoleon. And my ambition has been growing steadily ever since." ― Salvador Dalí

"Have no fear of perfection - you'll never reach it." ― Salvador Dalí

"What is important is to spread confusion, not eliminate it." ― Salvador Dalí

"You have to systematically create confusion, it sets creativity free. Everything that is contradictory creates life" ― Salvador Dalí

Photos Dali museums near Barcelona
Day tour Girona + Dali museum Figueres
Day tour High speed train + Dali Museum (April to Nov)


© Copyright Barcelonayellow.com.
Do not copy from this page without permission
All rights reserved