How much does it rain in Barcelona?
How much does it rain in Barcelona?
Not much. But when it rains, it pours!

How often does it rain in Barcelona. Not much, but when it does rain it usually pours so dress accordingly and don't take chances if torrential rain is forecast.

Generally rain is rare in Barcelona because we are in Sunny Spain after all. in the winter and spring of 2018 Barcelona and Spain had more rain than usual. The rainy season in Barcelona is generally considered to be in the spring during months March and April and then again in autumn/fall from October onwards.

Usually it onlys rain for 1 or 2 days, but Barcelona can also get periods of rain that can last for a few days or most of a week. In the summer it's usually dry but sometimes in the summer the hot weather builds up and we get a day of storms and heavy rainfall.

Things to do when it rains Barcelona

The amount of rain that Barcelona gets in the winter is generally much less than northern Europe. It it really doesn't feel like it rains very often, even in the winter and spring. It is also quite rare in Barcelona to have many consecutive cloudy or rainy days like one often sees in the northern Europe. Most days in Barcelona the whole year round are sunny, bright and clear.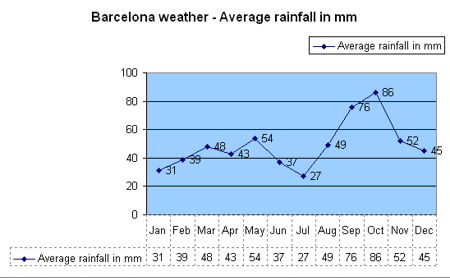 Weather in Barcelona, Spain
More Barcelona 'How Much' pages

© Copyright Barcelonayellow.com
Do not copy from this page without permission
All rights reserved


Last Updated on Monday, 05 November 2018 17:33