What's on Barcelona July 2020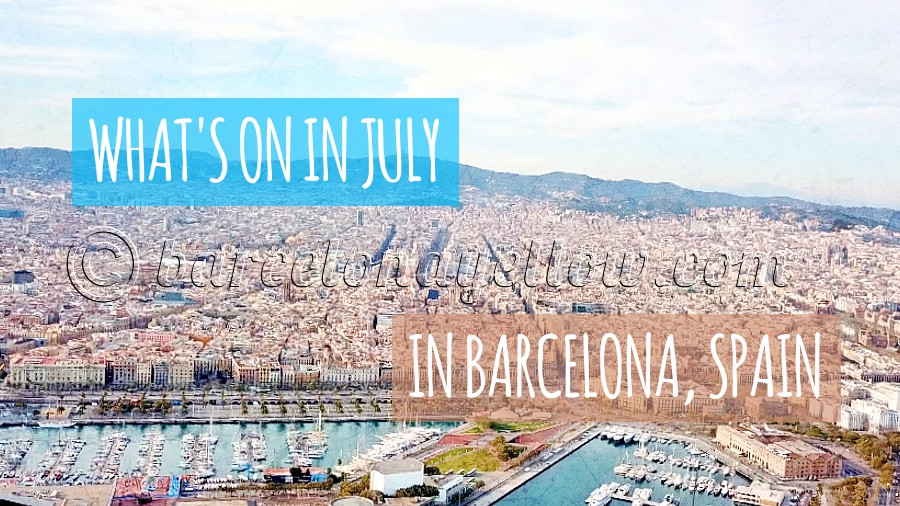 Barcelona in July 2019 - What's on?

Barcelona is hot, sunny and fun city in July and welcomes visitors with many music festivals and outdoor activities.

There are several popular music festival in Barcelona in July which include the Sonar Festival, the Festival Cruilla, RockFest, Barcelona Beach Festival and the 1 day Matinee Summer Festival.

Headliners at Cruilla include Black Eyed Peas on 3rd July, Kylie Minogue on 6th July and concerts by Bastille, Garbage and many more.

Top acts at the Barcelona RockFest festival include ZZ Top, Def Leppard, Hammerfall, Children of Bodom, Dee Snider and many more.

DJ Headliners at Barcelona Beach Festival include Alesso, David Guetta, DJ Snake and many more

For smaller more intimate concerts try the summer night al fresco jazz concerts on the roof terraces of three of the most famous buildings in Barcelona designed by Gaudí.

La Pedrera building has live jazz concerts on its roof-terrace in July - and you can experience rooftop concerts called Magic Nights on the roof of Casa Batllo building.

Palau Güell also offers a series of outdoor live concerts on Thursday nights in different styles on the lovely roof terrace of Palau Güell building in July.

Both these buildings were designed by Antoni Gaudí and both are on elegant boulevard Passeig de Gracia.

For theatre, dance and cultural performances check out the Grec Festival, called El Grec, which is annual summer festival of dance, theatre and music performances in Barcelona in July

To see a typical local neigbourhood festival with Catalan traditions in July in Barcelona visit the La Fiesta Mayor del Poble-sec which is in the Poble-sec neighbourhood of Barcelona.

A Festa Major is usually a week long festival with many local traditional Catalan activities including castellers human towers, colourful processions with giants, street parties, concerts and more.


Summer concerts outside Barcelona

North of Barcelona in the Costa Brava region, there are summer concerts at the Jardins de Cap Roig Festival where you can see big names in music in July and August. For this you need to rent a car and maybe stay a night.

You can enjoy free jazz and classical concerts in many Barcelona parks in the Barcelona summer music parks programme called 'Música als Parcs'

Sala Montjuic is a summer open air cinema event in Barcelona during July and the beginning of August. Three times a week you can see open air big screen classic movies at Montjuic Castle on Montjuic hill.

Many Sala Montjuic fans bring a picnic, while enjoying the movie and live jazz concerts before each film.

The Sala Montjuic movies are V.O. Version Original, which means they are shown in the original language with Spanish subtitles.

All events July 2018 Barcelona


Summer at the Museums

Families and children can enjoy over 120 activities at the more than 40 of the city's museums during summer in Barcelona. Activities include games, workshops, tours and visits.

For adults many museums, exhibition centres and heritage sites open late and offer special events such as concerts and film sessions.

The Macba musuem in the Raval part of Barcelona's old city - Ciutat Vella - is open during the summer evenings in a programme called Nits de Macba until mid-September.


Day Tours from Barcelona

If you are in Barcelona for a few days and would like to spend a day or half a day outside the city of Barcelona to see attractions like Montserrat mountain then we have a look at Daytripsbarcelona.com.
They offer day trips and half-day tours from Barcelona to beaches, restaurants and attractions outside Barcelona.

We can recommend their Express tour to Montserrat mountain near Barcelona. Find more ideas for day tours outside Barcelona


Swimming pools

When the Barcelona July weather gets hot and humid there are several places where you can cool off at Barcelona public swimming pools.
The open air pool with the best city views is the Olympic diving pool on Montjuic hill but there are a few other outdoor Barcelona swimming pools to choose from.


Best beaches

Check out the Barcelona beaches - or see how to get to even nicer beaches outside Barcelona.


Shopping and sales
Don't miss Barcelona summer sales and for shoppting tips visit our Barcelona shopping guide



Related pages July Barcelona:

Barcelona events July 2019
What to wear Barcelona in July
Barcelona Festivals in July
Jazz evenings La Pedrera
Grec Festival Barcelona
Cruilla Barcelona Festival
Music in the Parks
Sala Montjuic
Barcelona events calender

The above event are highlights. Find more top events in BCN and full details of July 2019 concerts and July 2019 summer events in our Barcelona Events Calendar

Enjoy Barcelona this July 2019 and thank you for visiting!

Contact us at BarcelonaYellow.com if you have questions.

This page is kindly sponsored by



© Copyright Barcelonayellow.com.
Do not copy from this page without permission
All rights reserved





Last Updated on Friday, 13 March 2020 12:28