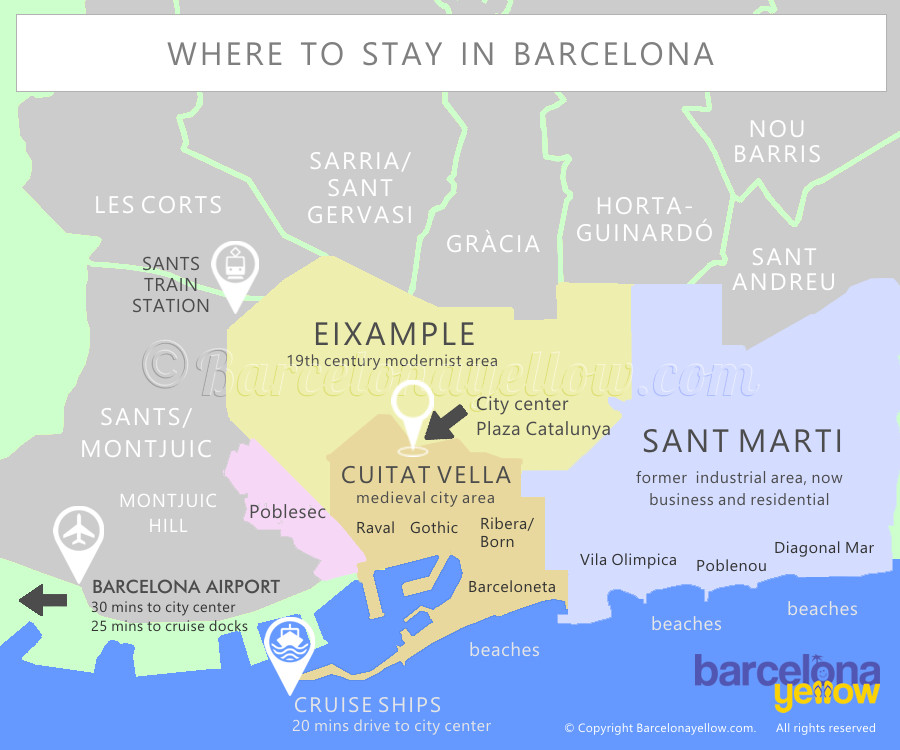 Which is the best area to stay in Barcelona?

There are 4 main areas which are most popular and consider to be the "best areas" for tourists to book hotels in Barcelona.

Welcome to our local 2018 Barcelona accommodation guide with area maps, tips and information about where to stay in Barcelona and which places are best to stay for first time visitors and tourists.

On the hotel maps further down the page, we recommend hotels in the most popular areas of Barcelona. You might also be interested in our guide to planning a 3 day Barcelona visit. If you prefer, you can go straight to our Barcelona hotel & apartment deals

Updated September 2018



Where to stay in Barcelona?
The short answer

Most first time visitors and tourists choose to stay in 4 central Barcelona city areas. Scroll down the page to see a complete and detailed description of each area.

1) Plaça de Catalunya - city square - area around city center central square

2) Eixample - city district - 19th century modernist area

3) Ciutat Vella - city district- old medieval city area

4) Sant Marti - city district - area near beaches

The short answer is that area around Plaza Catalunya is the 'best' place to stay in Barcelona, because it is most central and very well connected to everything. The city district Ciutat Vella and the district Eixample have most of Barcelona's Top 10 sights - and in the summer the coastal neighbourholds of thecity district Sant Marti are popular because they is close to Barcelona beaches and well connected to city center. Scroll down the page for more detail information, maps and photos about each of the above areas.

Like any city there are many choices, so bear in mind that the central and popular areas are more expensive, more crowded and can feel a bit more touristy. It is worth noting that all of Barcelona's 10 city districts are safe for tourists and the Barcelona metro system is cheap and safe. So if you don't mind a little extra transport time then there are great deals for tourists, who stay in the lesser well known Barcelont city districts and thanks to the excellent public transport, you can easily get around the city to all the top sights.




Barcelona's city districts, neighbourhoods and areas
The map below shows the names of the most popular areas in Barcelona in the 4 districts that are most popular to stay in. There are many choices so please read the article carefully to fully understand which Barcelona districts and neighbours attract tourists.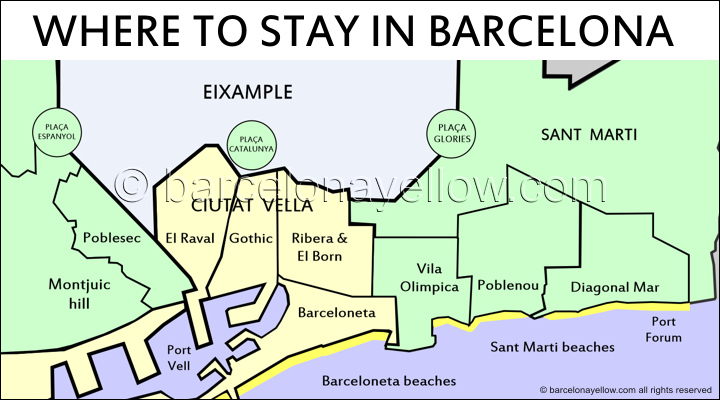 Barcelona is a quite a small city, although it is Spain's second largest city after Madrid.

Barcelona has 1,5 million inhabitants. Barcelona is organised as follows:

Barcelona has 10 city districts. Each district is divided into many neighbourholds.

Many tourists generally prefer to stay in 3 of the 10 Barcelona city districts.

The 3 districts that tourists prefer most are the districts called Eixample, Ciutat Vella and Sant Marti.

Inside these 3 favourite city districts most touriists prefer to stay in 4 popular areas/neighbourhoods which we will describe below on this page.




Where to stay in Barcelona?
The bit longer answer

Short overview of the 4 best areas / neighbourhoods to stay in Barcelona: Scroll down the page for a complete and detailed description of each area.


A) Stay downtown near Plaza Catalunya
Stay in the downtown city center area around Barcelona's most central square Plaza Catalunya. Well connected for sightseeing, shopping and transport.

The most popular Barcelona area to stay in is downtown Barcelona city center area around the central city square, which is called Plaça de Catalunya - often also called Plaza Catalunya. This area does not have a specific name, but is considered the city center

This is considering one of the best areas because staying on or near Plaça de Catalunya is most central and very well connected. The square is between the ancient medieval Barcelona city area - called Ciutat Vella - and the more recent 19th century modernist area of Barcelona - called Eixample.

So if you are stay on or near Plaça de Catalunya, then you are most central which is most convenient for access to attractions, trains, airport buses, tourist office, day tours etc. Find a more detailed descriptions of reason to stay near Plaça de Catalunya by scrolling down this page


B) Stay in Eixample area
The Eixample district is the 19th century modernist expansion area of the city. This emerged after Barcelona's medieval walls were demolished and the city grew. The area is quite big, so you can stay in Eixample and be near city center and central square Plaza Catalunya or in slightly off center locations. A new popular area of Eixample is the Sant Antoni neighbourhood in the right side of Eixample. Sant Antoni is quiet, residential, wuthentic with a wonderful market which has just reopened after years of renovation.


C) Stay in historic medieval Ciutat Vella area
Another popular choice for first time visitors is to stay in one of the neighbourhoods in the narrow winding streets of Barcelona´s medieval district - called the Ciutat Vella. The district Ciutat Vella is divided into five neighbourhoods which are called Poblesec, El Raval, Gothic, El Born/Ribera and Barceloneta


D) Stay in Sant Marti area near beaches
The Sant Marti district is the former industrial factory area. Sant Marti district is divided into several neighbourhoods and the most popular with tourists are Poblenou, Vila Olimpica and Diagonal Mar. This district is a mix of former industrial neighbourhoods and new modern residential areas, hi-tech offices and hotels that serve both business and tourists. In the summer from mid-May to end September, it is popular to stay in Sant Marti because of its close proximty to the Barcelona beach area.




Where to stay in Barcelona?
The long detailed answer
A. Staying in downtown Plaza Catalunya
In our opinion, the very best area to stay in Barcelona, is in downtown Barcelona on, or near the city central square of Plaza Catalunya. We have indicated this area with a blue circle on the map below.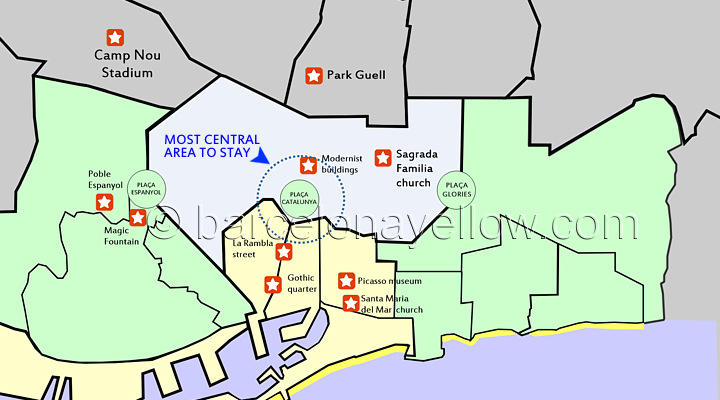 There are several advantages to staying in downtown Barcelona near central square Plaza Catalunya or a few blocks away. This area is:

* Near famous Gaudi modernist buildings
* Near top fashion brand flagship stores
* Near famous La Rambla walking street
* Near medieval city center of Ciutat Vella
* Near Aerobus airport buses on Plaza Catalunya
* Near hop-on-hop-off tour buses on Plaza Catalunya
* Many bus and metro lines on Plaza Catalunya
* Supermarket open till 10pm in Corte Ingles store on Plaza Catalunya
* Many top brand stores near Plaza Catalunya
* Main tourist office is on Plaza Catalunya

As you can see on the map above staying centrally in Barcelona's downtown city center is convenient for everything from shopping to sightseeing to getting around.

There are a couple of excellent hotels on the Plaza Catalunya itself, including the Hotel Oliva - rated EXCEPTIONAL - and Boutique Hotel H10 Catalunya Plaza - rated Excellent - or you can stay on the quieter side streets off Plaza Catalunya, like Bergera street, where you can find three nice hotels called Hotel Catalonia Plaza Catalunya and the Hotel Pulitzer both rated Excellent - and the Hotel Regina with a guest review rating of Excellent too.Close by is Pelai street, which connects Plaza Universitat with Plaza Catalunya are also a couple of recommended hotels popular for their convenience and value for money. Look at Hotel Lleo - rated Very Good - and the new hotel Midmost rated Superb by guest reviews.

There are many more hotels and apartments just a block or two from Plaza Catalunya and here are some ideas for you. Look at the hotel H10 Metropolitan - rated Wonderful, the Granvia hotel rated Wonderful, the Catalonia Square rated Wonderful - or the Adults only Guesthouse The Corner 592 rated Fabulous - to name but a few.

You can find more on the downtown Barcelona hotel map below. All these hotels are an excellent choice and in a great location. We like them because they are just outside the old medieval part of the city. If we had to choose, we prefer being just outside the old medieval city of Ciutat Vella, rather than just inside it. The old city can feel a little crowded and noisy compared to the quieter and more elegant 19th century Eixample area, so a hotel or apartment just outside the edge of the old city is in our opinion, the perfect choice for where to stay in Barcelona. Having said that, there are some very nice top hotels like the new Hotel Royal Ramblas rated Very Good or the the luxury Hotel 1898 rated Superb - which are both situated near the top of Las Ramblas street and just inside the medieval city area.

If you prefer the historic charm of the Gothic area's narrow streets, then of course there are several fine hotels there too. But if you stay inside the gothic area, then check if your hotel has soundproofed windows, especially if your room is facing the street.

We love Barcelona's medieval gothic areas, but for some guests, it can feel a little crowded and too noisy compared to the quieter and more elegant 19th century modernist Eixample area or the Sant Marti area, so a hotel or apartment just outside the borders of the old medieval city is, in our opinion, the best choice when choosing where to stay in Barcelona.


Hotels near Plaza Catalunya Barcelona
Olivia Plaza Hotel ★★★★ 4 star hotel on Plaza Catalunya
Catalonia Plaza Catalunya ★★★★ 4 star hotel on Pl Catalunya
Hotel Midmost ★★★★ 4 star hotel near Pl Catalunya
Hotel Pulitzer ★★★★ 4 star hotel on side street of Pl Catalunya
Hotel Regina ★★★★ 4 star hotel on side street of Pl Catalunya
Catalonia Square hotel ★★★★ 4 star hotel near Pl Catalunya
Catalonia Passeig de Gracia ★★★★ 4 star hotel near Pl Catalunya
H10 Urquinaona Plaza ★★★★ 4 star hotel near Pl Catalunya
Margot House ★★★★ new 4 star hotel near Pl Catalunya
H10 Metropolitan ★★★ 3 star hotel near Pl Catalunya
Hotel Ciutat Vella new ★★★ 3 star hotel near Pl Catalunya
Granvia ★★★ 3 star hotel near Pl Catalunya
Catalonia Portal de l'Angel ★★★ 3 star hotel near Pl Catalunya


Top self-catering apartments near Plaza Catalunya

Best reviewed Apartments near Plaza Catalunya
Ático en Paseo de Gracia - attic apartment near Plaza Catalunya
Apartamentos Barcelona Nextdoor - apartments near Plaza Catalunya
Inout Centre Apartments - Barcelona - apartments near Plaza Catalunya
DestinationBCN Apartment Suites - apartments near Plaza Catalunya
Apartment Central Suites - apartments on Rambla de Catalunya
You Stylish City Centre Apartments - apartments near Plaza Catalunya

B&B guest houses near Plaza Catalunya

Guesthouse The Corner 592



Map best hotels near Plaza Catalunya



Blue

markers show hotel and number of stars. Click on hotel map markers for links to hotel information

Open FULLSCREEN Map hotels close to Plaza Catalunya






B. Staying in Eixample area

Stay in Eixample (Expansion) 19th century modernist area of Barcelona. The Eixample is the area that was developed in Barcelona after the old city became overcrowded and the Expansion was planned. In the late 19th century the ancient medieval Barcelona city walls were demolished and a new part of the city called the Eixample was built. The name Eixample means 'Extension' in the Catalan language. The Eixample district is very central and borders on the old gothic city and on the central square Plaça Catalunya. Eixample is a very safe, interesting, stylish and central area to stay in Barcelona with many sights, stunning modernist architecture on tree lined streets and many high quality shop, cafes and restaurants.

The Eixample also has the most famous of the modernist buildings which were designed by Antoni Gaudi. Popular areas to stay in the Eixample part of Barcelona are near or on the most fashionable shopping street Passeig de Gracia, or near central square Plaza Catalunya, or near Barcelona's biggest attraction the Sagrada Familia unfinished church. Also very popular now is staying near Plaza Espanya in the Sant Antoni area near to attractions like Magic Fountain, the Spanish village Poble Espanyol and Montjuic hill.

Open FULLSCREEN map Hotel Eixample area




Hotels near Passeig de Gracia shopping street
Apartments near Passeig de Gracia shopping boulevard
Hotels near Sagrada Famila church
Apartments near Sagrada Famila church
Hotels near Plaza Espanya
Apartments near Plaza Espanya

Hotel America ★★★★ 4 star hotel in Eixample
Hotel Boutique Hostemplo ★★★ 3 star hotel in Eixample district
Hotel Casa Bonay ★★★★ 4 star in Eixample district
Hotel Praktik Rambla ★★★ 3 star hotel in Eixample
Villa Emilia ★★★★ 4 star hotel in Eixample
The One Barcelona GL ★★★★★ 5 star hotel in Eixample



C) Staying in Ciutat Vella

C) Stay in historic medieval Cuitat Vella district which has five neighbourhoods. The Ciutat Vella means Old City and is the medieval quarter of Barcelona which is the oldest area of Barcelona. This area of Barcelona is one of the biggest medievel city areas in Europe. It includes the five neighbourhoods of La Raval, Barri Gotic, La Ribera / El Born and Barceloneta. The most popular area to stay in the old city is the gothic area, which is the most central of the neighbourhoods. See pictures of Barcelona's gothic quarter. The Cuitat Vella neighbourhoods has charming narrow crooked streets full of small boutiques and cafes and this is where you can find Barcelona cathedral, several gothic churches, museums, markets and Barcelona's Roman history with fragments of ruins of the original Roman city called Barcino. The tree lined pedestrian street La Rambla cuts through the old city of Barcelona and has many hotels nearby. Each of the five neighbourhoods in the old city of Barcelona has its own special spots and atmosphere. The Raval area is a little more edgy than the others and not entirely safe in the very early hours of the morning in the area nearest to the harbour, but during the day and evening until 1am, it's safe, very colourful and bohemian.

Another popular area to stay in the old city of Barcelona is near street Via Laietana, which is the street that divides the Gothic area and the El Born/Ribera areas of the old city. Via Laietana itself is a noisy busy street, but the location puts you between two of the medieval quarters close to sights of the Gothic area and the Born area. The Born area is very trendy with many restaurants, cafes and boutiques dotted around the famous gothic Santa Maria del Mar basilica. Barceloneta area is also popular for being near the beach and close to Port Vell marina. Barceloneta is the old fisherman's quarter in Barcelona and has many great fish restaurants and cafes.


Map hotels Ciutat Vella district of Barcelona



Open FULLSCREEN version of this map
Hotels Gothic area old city Barcelona
Apartments Gothic area Barcelona
Hotels on La Rambla street
Apartments on La Rambla street



D) Staying in Sant Marti area of Barcelona
D) Stay in modern Sant Marti district and be close to beaches.
Sant Marti district. Sant Marti is the district of Barcelona that borders the city coastline. It is the former industrial area of Barcelona and the most recently modernised and developed area of Barcelona. Sant Marti is a little off centre, but it's quiet, nice and quite easy to get to the city center by metro or taxi. Sant Marti is a nice mix of hi-tech business, residential apartments, a university campus and many new hotels. In the summer the Sant Marti area is perfect, if you also want to spend a few hours at Barcelona's beaches. Most popular areas in Sant Marti are the residential neighbourhoods of Poblenou and Vila Olimpic (the former Olympic Village) which have apartments and hotels. Before the 1992 Barcelona Olympic games Sant Marti was the industrial part of Barcelona called the "Manchester of Barcelona" because of the many factories. There were beaches on the coast, but before 1992 they were full of slums and shanty towns. Since the Barcelona Olympic games the entire area has changed into a trendy, modern new residential, business with a new beach coastline. See our guide to Barcelona beaches.

Hotel Arts Barcelona ★★★★★ 5 star hotel on beach
Hotel W Barcelona ★★★★★ 5 star hotel on beach
Barceló Hotel Atenea Mar ★★★★ 4 star hotel near beach
Hotel Hesperia del Mar ★★★★ 4 star hotel near beach
Hotel 54 Barceloneta ★★★ 3 star hotel near beach
Map Barcelona beach hotels
Guide to hotels near Barcelona beach
Apartments near Barcelona beaches
Guide Best Barcelona beach hotels

Apartments near Barcelona beaches Sant Marti
CasaGrand Luxury Suites
Map hotels near Barcelona beach
Map all best Barcelona hotels
OPEN FULLSCREEN MAP

Related pages for hotels

Barcelona Top Hotels
Best Barcelona Bed and Breakfast and guesthouses
Top Barcelona Boutique hotels

© Copyright Barcelonayellow.com.
Do not copy from this page without permission
All rights reserved