La Torre Glòries pictures Barcelona

La Torre Glòries Barcelona (formerly called Torre Agbar) is the bullet shapped building on Barcelona's skyline in the Glòries area of Barcelona around the Glòries plaza

Torre Glòries is a fairly recent and popular addition to the Barcelona skyline. It started life as the "Agbar Tower", and the design was created to symbolise a water geyser spouting up from the earth. In May 2022 La Torre Glòries opened a 360 degree panaormic public viewing platform where you can see the city from a height of 125 metres.

Light times.

The tower is lit up at night. Torre Glòries illumination times are as follows:

Summer - from 28 March to 31 September lit up daily from 21:00 to 24:00. Winter - from 1 October to 27 March lit up daily from 19:00 to 23:00.

More information about Torre Glòries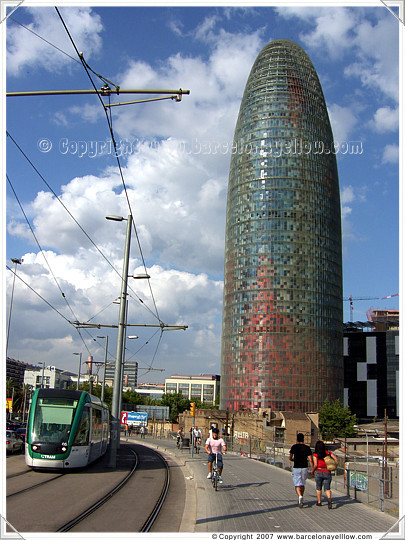 Torre Agbar, now Torre Glòries, was built in 2004 and is 144 m / 474 ft high. It was designed by French architect Jean Nouvel, who also designed the nearby Poblenou park.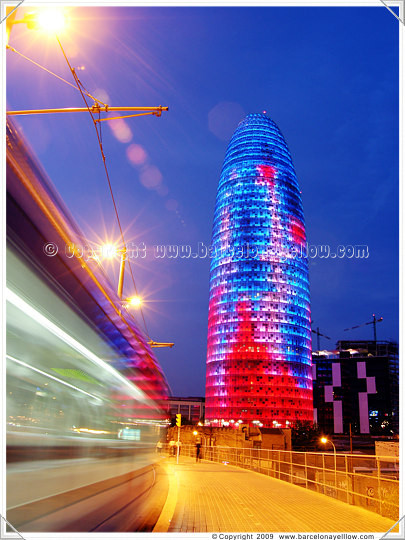 The tower has 33 floors of offices: The original name was Agbar Tower, because it was built to consolidate all the offices of the water company Agbar in one building. It is not called Torre Glòries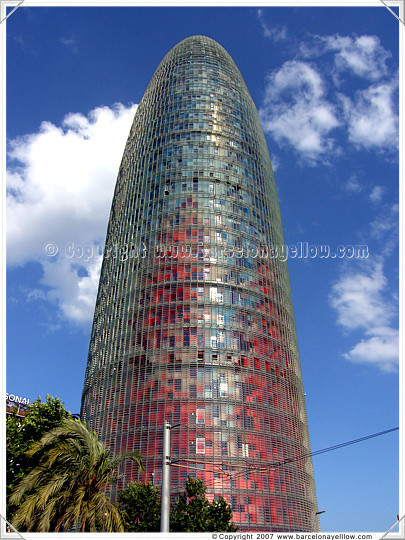 The design symbolises a water geyser. It has also become a symbol of the change in the former industrial area of Poblenou which was formerly known as the "Manchester" of Catalonia because of the many factories in the area. Poblenou is now home to the new hi-tech business area called @22 Barcelona and a popular area for foreigners to live in Barcelona.




A public viewing deck opened in 2022.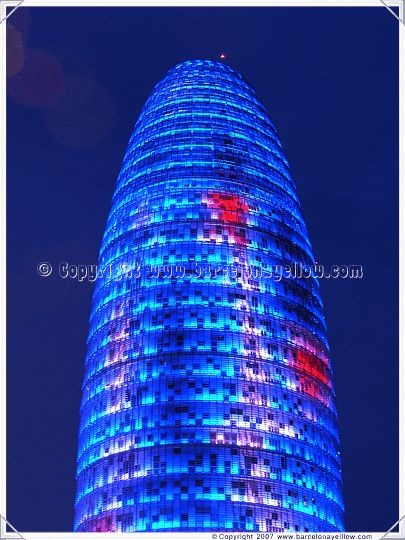 Torre Glòries is illuminated at night in a dazzling array of 4,500 yellow, blue, pink and red lights on the outside.

Normally the illuminations are static, but on some occasions, such as New Year's Eve and Christmas the tower has a special light show.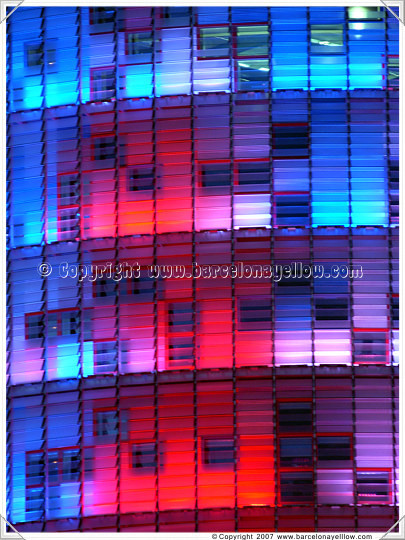 To get to Torre Glòries take the red line number 5 to Metro Station Glories. It's about 7 minutes from the centre of Barcelona and Plaza Catalunya and the shopping centre Les Glories is just across from the tower.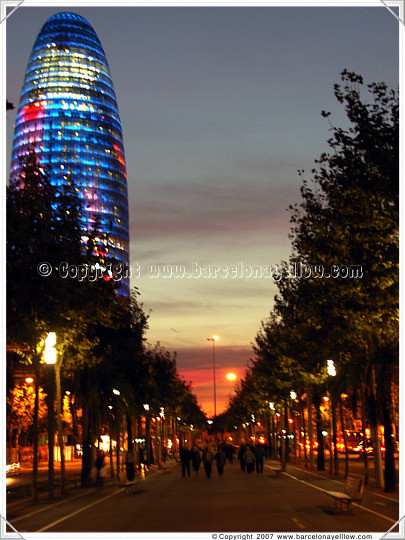 Christopher Columbus has a new Barcelona skyline neighbour. He will never see it because he is looking the wrong way!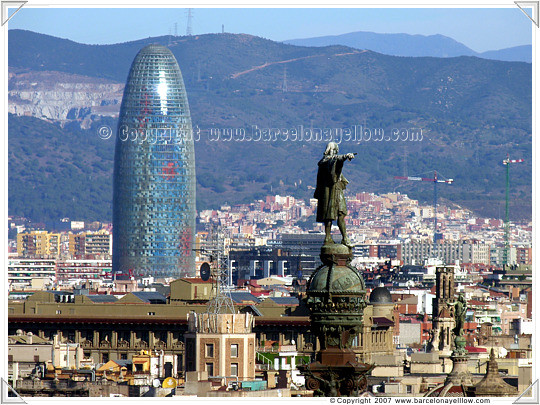 Torre Glòries reflected in the glass of a tram stop on Av Diagonal.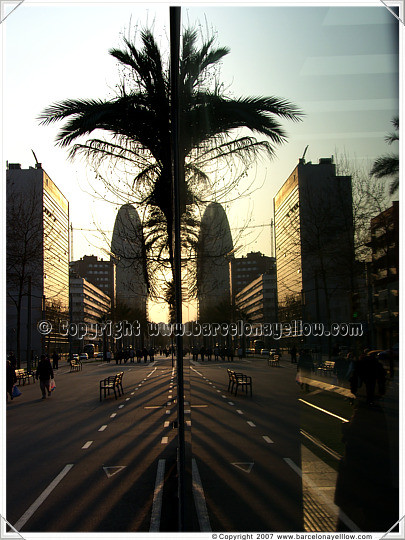 For more information, photos and more visit the official website of the Torre Glòries in Barcelona

Barcelona photo gallery
Book day tours of Barcelona
Book Barcelona hotels


Jeg beklager meget og forstår glimrende din frustration. One.com sendte alle kunder en email 15 dage inden migreringen, dernæst en email dagen før migreringen og til sidst en velkomst email efter migrerigen var afsluttet. Det kunne måske godt være gjort med lidt længere varsel, men det kan vi desværre ikke lave om på nu.

...

Tak for din venlige henvendelse

Jeg beklager enhver forvirring og her kommer forklaringen.

Grunden til, at du ikke kan logge ind længere hos os, er at vi fornylig er blevet en del af et andet og større internet firma, som hedder one.com

Som en følge af denne overtagelse, flyttes alle hjemmesider fra Simplesite over til one.com inden årsskiftet.

Dit 123hjemmside/SimpleSite abonnement nr XXXXX for hjemmesiden XXXXXX er allerede flyttet over til one.com

One.com har sendt dig flere informations emails vedrørende flytningen.

Efter flytningen var gennemført, fik du en Velkomst-email fra one.com med instruktioner om, hvordan du aktiverer dit abonnement hos one.com og hvordan du logger ind fremover for at bruge one.com's online redigeringsværktøj.

Velkomst-emailen fra one.com indeholder dit nye brugernavn - som er din emailadresse XXXXXX - samt link, du klikker på for at oprette et nyt password.

Bemærk: Som en del af proceduren for at lave et nyt password, får du en 6 cifret én-gangs sikkerhedskode på email, som du skal taste ind på skærmen for at få lov til at oprette dit nye password

Når du er færdig med at lave nyt password, og efter det er bekræftet, kan du logge ind på linket herunder med emailadresse XXXXXXX + det nye password:

https://login.one.com/cp/

Bemærk

: Du logger kun ind til din nye konto hos

one.com

én

gang Dit password er det samme for begge dine hjemmesider, så du behøver kun oprette ét nyt password.

Velkomst-emailen fortæller dig også den nye abonnementspris , som du første skal betale, når din nuværende periode hos os udløber.

Hvis ikke du kan finde velkomst-emailen fra one.com (husk at kigge i spamfolderen også), så kontakt venligst one.com kundeservice for hjælp til at logge ind på dit nye abonnement hos one.com. De vil med glæde hjælpe dig

Her er deres kundeservice side, hvor du kan kontakte dem via kontaktformular eller chat

Du kan finde mange svar på spørgsmål om flytningen på denne one.com informationsside:

https://help.one.com/hc/da/articles/7811627598737

Fremover kan du ikke logge ind hos os, men skal logge ind hos one.com og bruge deres redigeringsværktøj, som jeg håber du bliver glad for. Det er noget anderledes, men kan meget mere.

1000 tak for tiden hos os og vi ønsker dig al det bedste fremover hos one.com

Jeg beklager, at jeg ikke kan hjælpe dig mere her fra Simplesite kundeservice.