Pictures Magic Fountain Barcelona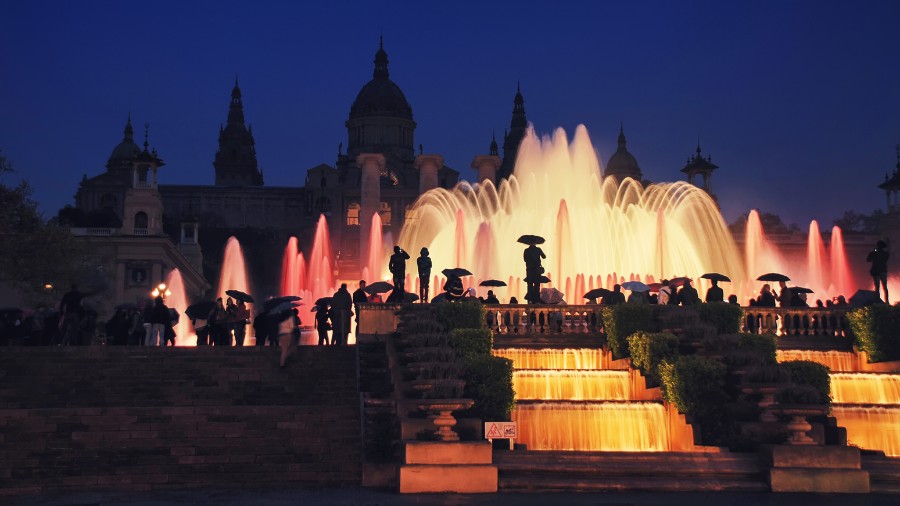 Pictures Magic Fountain Barcelona

Pictures and opening times Magic Fountain of Montjuic 2022. The amazing Font Màgica de Montjuïc was built in 1929 for the Barcelona World Fair and Universal Exposition. It is one of the Top 10 Barcelona attractions with around 2.5 million visitors a year.

The Magic Fountain show is a truly special and magical experience, so don't miss it during your visit to Barcelona. Note that Magic Fountain barcelona show times and hours are different in summer and winter.

Hashtag: #FontMàgica


Magic Fountain opening times 2022
DAY time show times summer
Sundays 11am to 3 pm.
Weekdays 11 am to 1 pm and 4 pm to 6 pm
Mondays which are public holidays 11am to 3 pm


NIGHT show times with music & light
SPRING

Magic Fountain opening times From 1 April to 31 May
Closed Sunday to Wednesday
Open Thursday, Fridays and Saturdays from 9pm - 10pm


SUMMER

Magic Fountain opening times From 1 June to 30 September
Closed Monday and Tuesday
Open Wednesdays to Sundays from 9.30 to 10.30pm


AUTUMN/FALL

Magic Fountain opening times From 1 October to 31 October
Closed Sunday to Wednesday
Open Thursdays, Friday and Saturdays from 9pm - 10pm


WINTER

Magic Fountain opening times From 1 November to 6 January
Closed Sunday to Thursday
Open Thursdays, Fridays and Saturdays from 8pm to 9pm

From 7 January to 28 February
The Magic fountain closes for annual maintenance

From 1 March to 31 March
Closed Sunday to Thursday
Open Fridays and Saturdays from 8pm to 9pm

Article continues after ads

The Magic Fountain show times indicate when the different music sets start every 30 minutes, but you can go to the Magic Fountain anytime during show times and access to the area around the fountain is open and free

There is no seating and no tickets, so you can move around or just find a spot to stand or sit and enjoy the show. This is a truly a magical and lovely experience, not least because of the fountains and the backdrop of a palace and the city views with Tibidabo hill and church Sagrat Cor in the background.

Magic Fountain address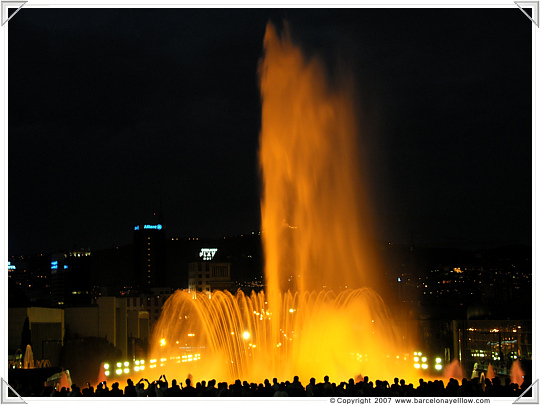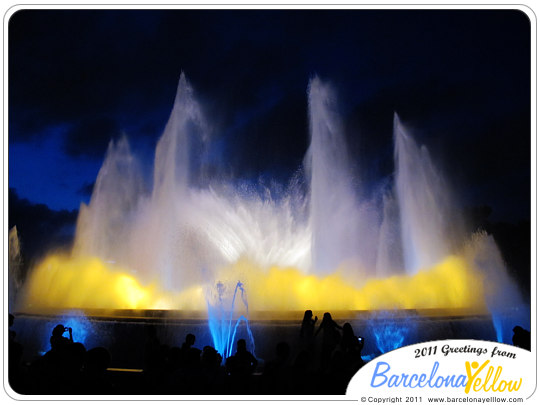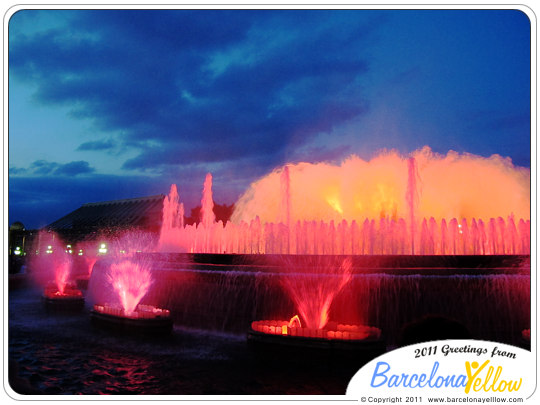 The fountains start from the venetian towers at Plaza Espanya and go up the Avinguda Maria Cristina to the National Palace which is the MNAC art musuem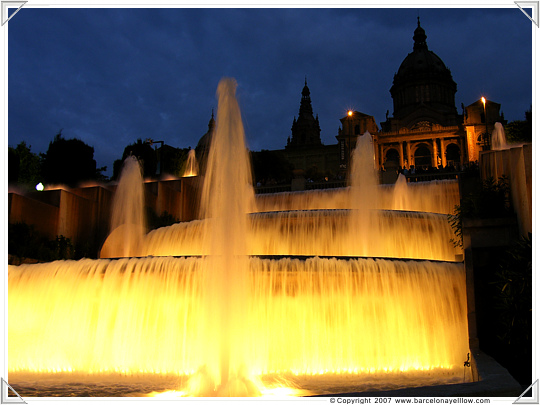 Les Quatre Columnes Barcelona. The 4 columns are a replica of the original 'Quatre Columnes'sculpted by Josep Puig i Cadafalch. The new columns were erected at the Magic Fountain in 2011. The columns symbolise the four stripes in the Senyera Catalan flag. The original columns were demolished during the dictatorship of Primo de Rivera in 1928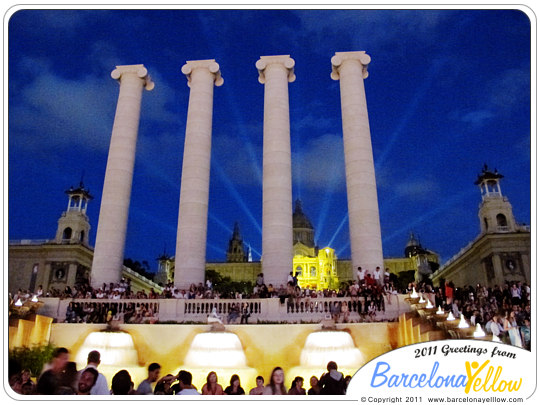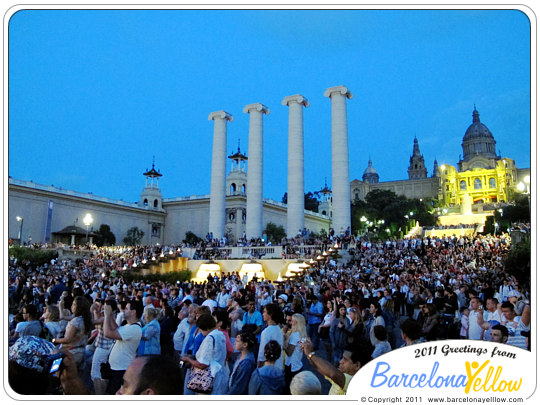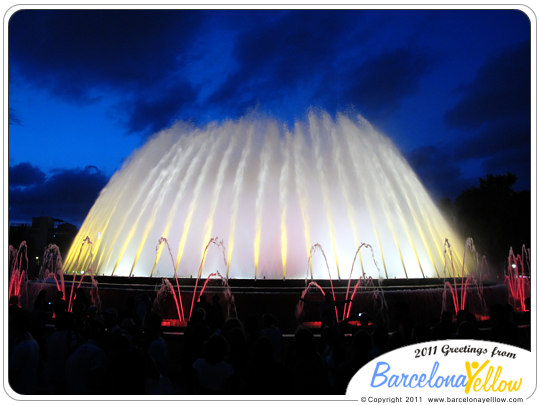 The Magic Fountain show is an amazing display of light, music and water and is inspired by the value of water and the need to cherish and preserve it. There are different musical tracks which often change to combine popular music and classical music.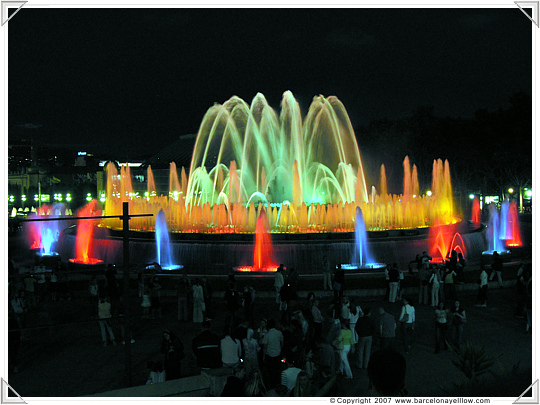 The lamps of the magic fountain are all white and are set inside 5-sided prisms, which create the amazing changing colours and shades as they rotate around the white light.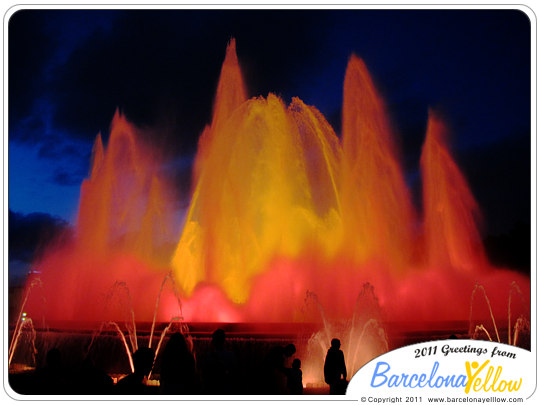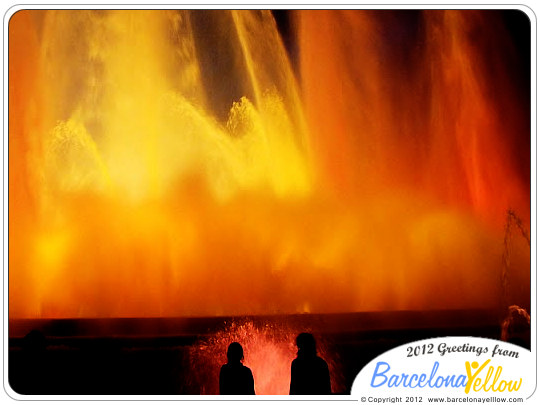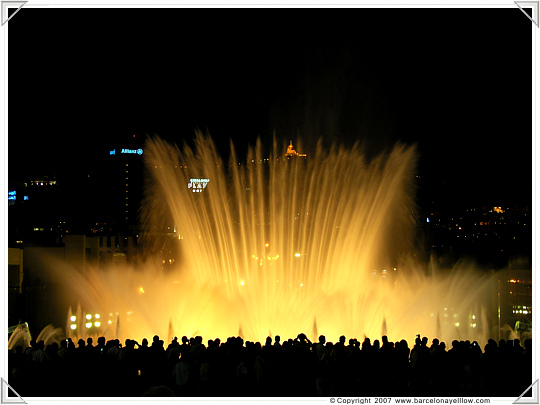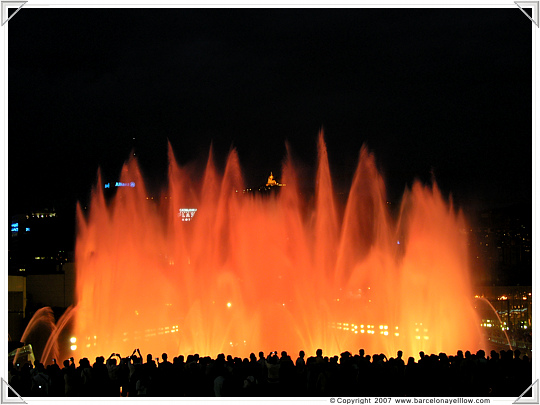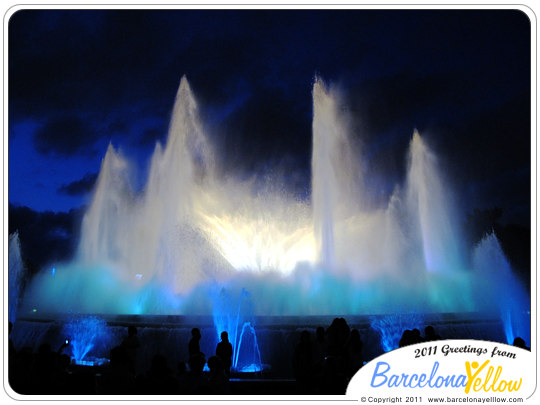 The lighting system of the Barcelona Magic Fountain was designed by engineer Carles Buïgas and is still in use to this day.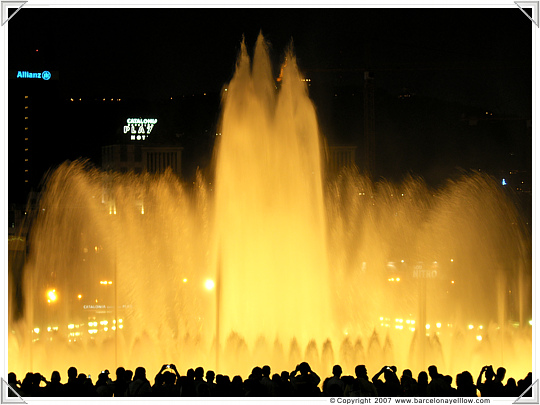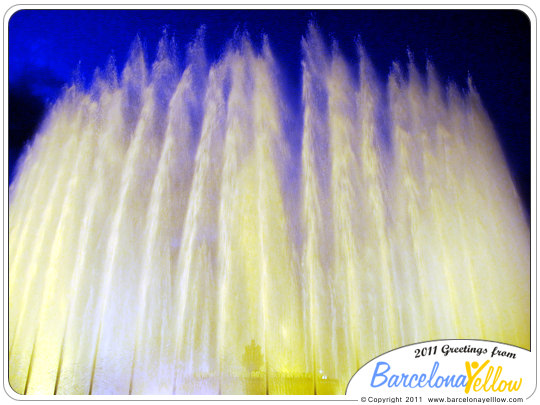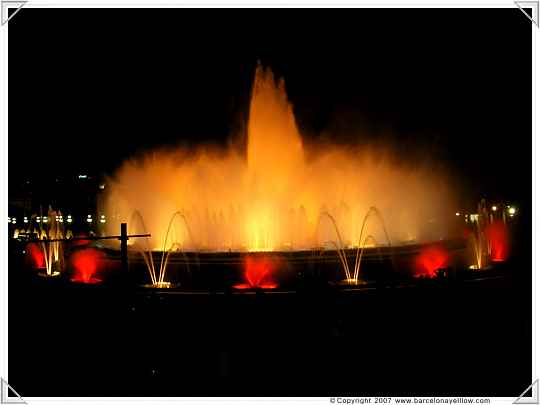 Palau Nacional - national palace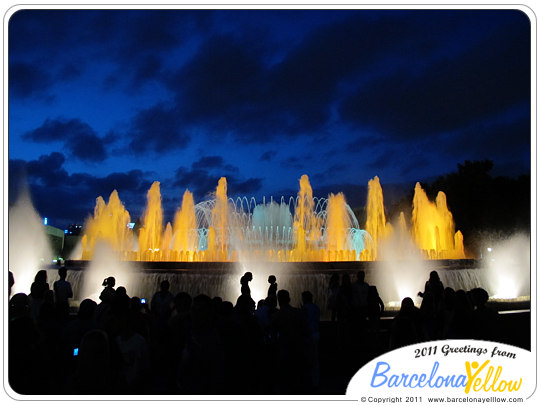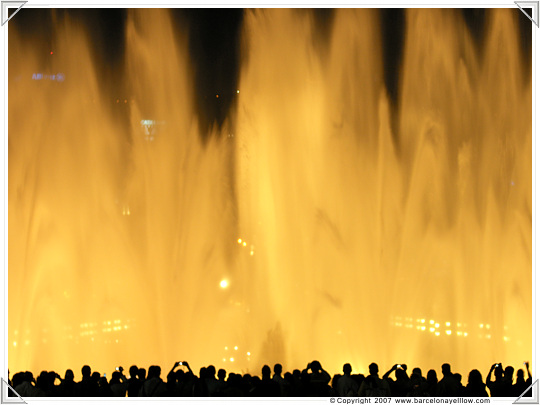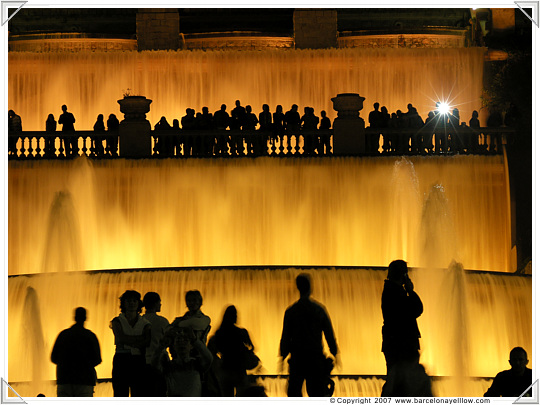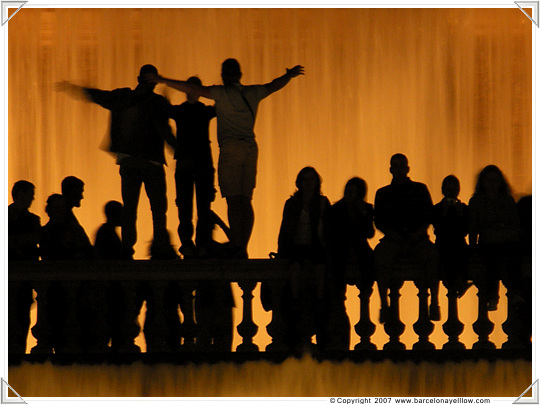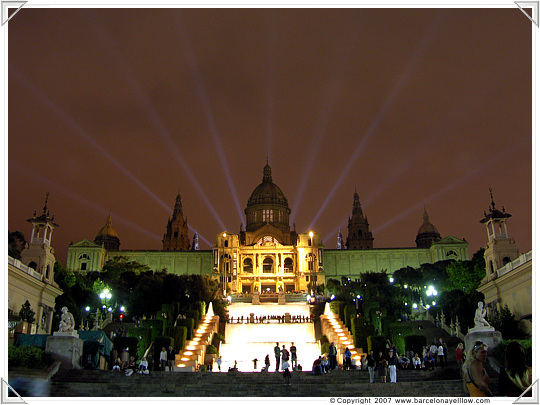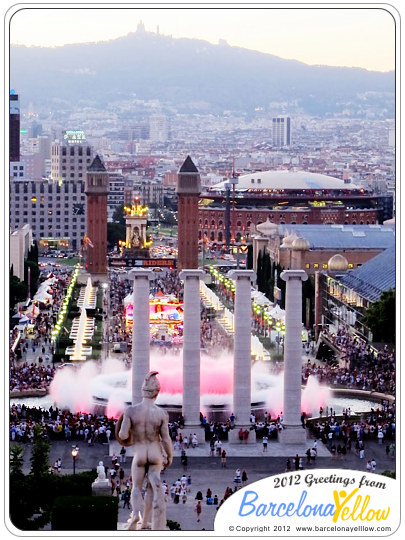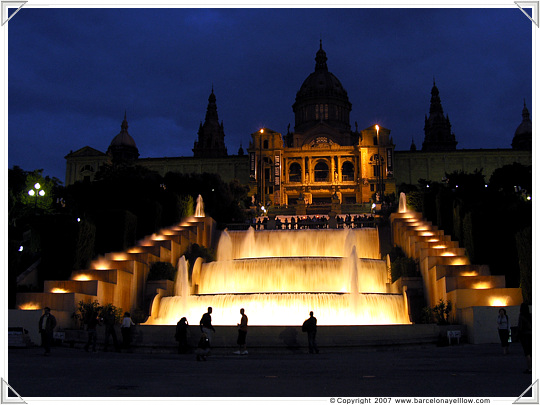 Pictures of Barcelona attractions

Last Updated on Sunday, 18 December 2022 13:27